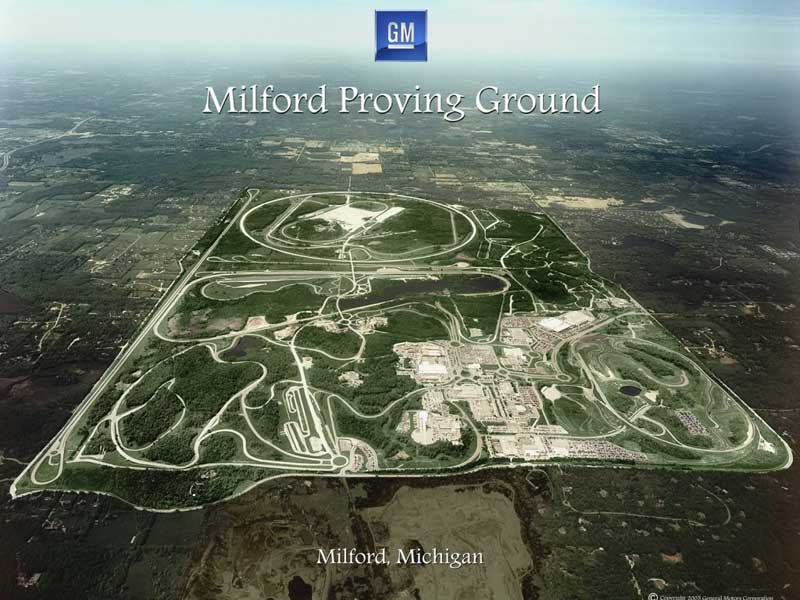 gm milford
Today (October 24th) marks the 90th birthday of the General Motors Milford Proving Ground. When the site opened in 1924 the Milford, Michigan facility was the first dedicated to automobile testing. Today the proving ground covers 4,000 acres and has over 130 miles of roads that represent the wide array of surfaces found on public roadways (think smooth surfaces, worn roads, cobblestones, speed bumps, and potholes) and can put a vehicle through an entire lifecycle in only 18 months.
Before a vehicle is released for production it must successfully endure the abuse dished out by the Milford durability team. The team drives the test vehicle up to 25,000 miles in such extreme conditions that it represents 100,000 normal real-world miles like you and I would drive. They perform tests where the car is driven for entire days on the Belgian Block loop, pothole drives, chatter bumps, twist ditches, speed bumps, and more. Humidity chambers were built in the 1960s, with more added during the 1980s. Cars spend hours at a time in these corrosion booths where they endure high temperatures and humidity.
The facility also includes a 3.8 mile oval, a 4.5 miles banked circle, the 6.225 mile North/South Straightaway with two 2.5 mile straightaways joined by curves, the 3.1 mile East/West Straightaway with two 1.2 mile straightways joined by curves, and the Vehicle Safety and Crashworthiness Lab.
Just yesterday GM announced that they are nearly finished building one of the largest active automotive safety testing areas in North America at the Milford Proving Ground. Work started on the 52 acre Active Safety Testing Area (or ASTA) in June 2013 and will cost $12 million. Specifically designed for developing, testing, and validating Active Safety features, the facility includes a 16 acre dynamics pad and various road networks in order to evaluate sensors, algorithms, and the performance of these features, including systems involving autonomous control and vehicle-to-vehicle communication.
Together the new Active Safety Testing Area and the continued development of existing facilities at the Milford Proving Ground should help improve General Motor's ability to bring both new safety technologies and quality automobiles to the market in the future.