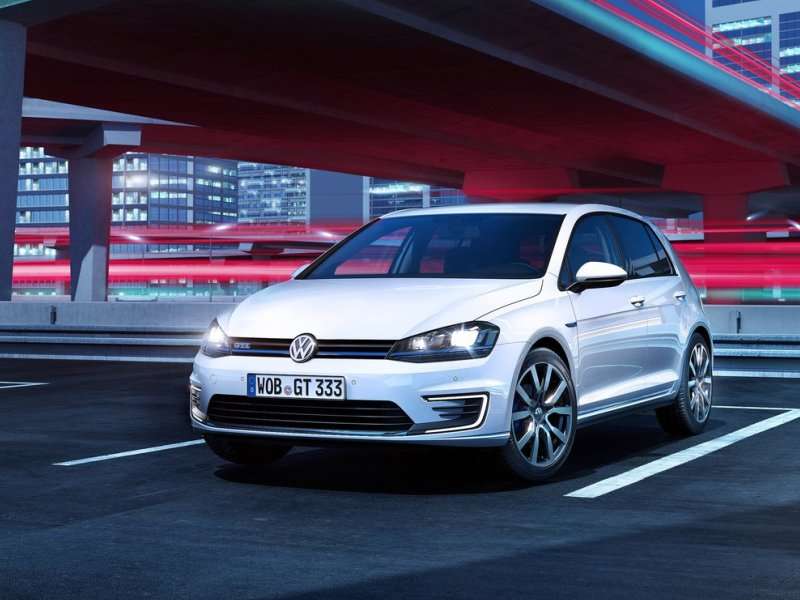 There are no plans to bring it to the United States—at least not yet—but a plug-in hybrid version of the 2015 VW Golf will be introduced at the upcoming Geneva International Motor Show. It's called the Golf GTE, and no, that name doesn't signal a renaissance for General Telephone & Electronics; it leverages the ol' brand equity of the GTI hot hatch (and the Golf GTD with Diesel fuel injection).
Now, it's true that the car gets some noticeable style and content adjustments to set it apart from the rest of the 2015 VW Golf family, but the real difference-maker is its powertrain. The setup combines the efforts of a 1.4-liter four-cylinder engine, with VW's signature TSI turbocharging and fuel-injection technologies, and an advanced electric motor, with the system delivering a total of 201 hp and 258 lb.-ft. of torque. The transmission is the expected six-speed DSG automatic transmission, but this one has been optimized specifically for use in hybrid applications. Also in the mix is a liquid-cooled, 8.8-kWh lithium-ion battery that can be recharged in about 3.5 hours with a "conventional wall outlet" or 2.5 while using a "wallbox or a public charging station."
Just remember, those numbers are for the 2015 VW Golf GTE in Europe, and don't necessarily reflect what the car's performance would be in the United States—where it won't be sold anyway. Engineers also managed to keep the vehicle's curb weight down to a fairly trim 3,360 lbs., which is no mean feat when you realize that battery pack weighs about 265 lbs. and an entry-level 2014 Golf comes in at 3,102 lbs. (Although, to be clear, the entry-level 2015 VW Golf tips the scales at 3,075 lbs.)
Checking the tale of the tape in terms of performance, VW claims:
• 0-62 time—7.6 seconds
• Top speed—135 mph
• Top EV-only speed—81 mph
• EV range—"up to 31 miles"
• Total range—584 miles
• Combined fuel economy (European driving cycle)—157 mpg
Needless to say, and despite the current party line from Volkswagen, if there's ever a sudden demand for plug-in vehicles in this country, I'm willing to bet the Golf GTE would arrive here forthwith.