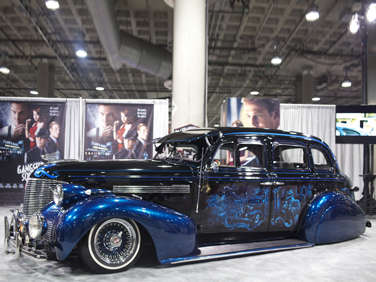 What better way to celebrate a Gangster movie than with a gangster car?  That is exactly what the massive production house Warner Bros. was thinking when they teamed up with local Los Angeles street art sensation Mister Cartoon.  On the outside, the highly customized 1939 Chevrolet Master Deluxe has been upgraded with a Bentley Black base coat, highlighted by white gold leaf and candy blue accents.  Meanwhile a set of Zenith 72 spoke wire wheels are tucked way up underneath a set of sparkling Candy Cobalt Blue flaked fenders thanks to a custom air cushioned suspension.
The custom nature of the Gangster Squad Chevy continues onto the inside with diamond pattern suede inserts from an Aston Martin, hand woven floor mats and leather from Japan to cover the seating surfaces.  Meanwhile in car entertainment has been upgraded with a Rockford Fosgate stereo system as well as TVs that have been molded into the dash.  However the pièce de résistance are Mister Cartoons hand crafted murals that adorn the doors of the classic custom Chevy, who had this to say about the project: "It's a great experience to be able to attach my brand to another piece of art, such as the film Gangster Squad…It's artistic filmmaking and I'm honored to be involved. These are some of my favorite actors and I treat this as a collaboration with them".
As we learned from Mister Cartoon at SEMA, all of this hard work would be for not if the paint weren't cared for properly.  So in order to make sure that there is a car care product gangster enough to take care of such a sweet ride, Mr. Cartoon has come out with a limited edition product line featuring an all new spray detailer as well as tire glaze with label art designed by Cartoon himself that are guaranteed to keep the classic custom Chevy rolling cleaner than a stack of C-notes.