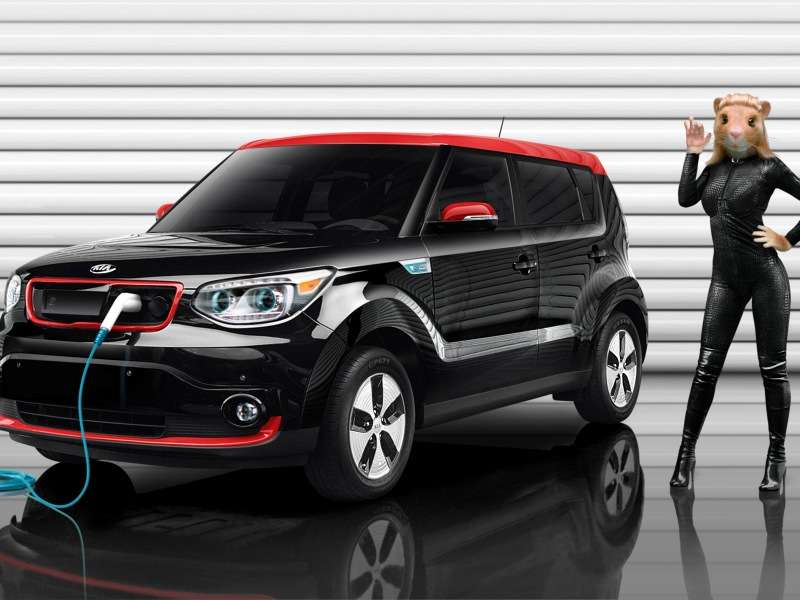 electric kia with hamster posing
Positioned as a "mass-market" vehicle, the 2015 Kia Soul EV will be backed by a massive, "Fully Charged" promotional campaign ahead of its September debut, with highlights including a brand-new music video starring a certain trio of high-profile hamsters. This time around, the setting is a high-tech lab where the hamsters have apparently swapped fashion for physics—but not for long, of course. 
After a freak accident leads to the creation of the 2015 Kia Soul EV—and a hamster fatale for the obligatory helping of hetero sex appeal—the trio relies on the electrified urban passenger vehicle to help create awareness of greener alternatives to gas-only driving. (Just kidding! You can find out what really happens with the 2015 Kia Soul EV either by waiting for the ad's official premiere, on August 24 during this year's MTV Video Music Awards, or checking out the extended cut of the 60-second spot at www.Kia.com/KiaSoul.)
Also notable: A new single from the band Maroon5—appropriately enough called "Animals"—sets the soundtrack for the ad, and Kia will offer up to 200,000 complimentary downloads of the tune ahead of its iTunes release.
The party line from Michael Sprague, executive vice president of sales and marketing for Kia Motors America: "From hip-hop to pop, the hamsters have always had an ear for music and their paws on the pulse of pop culture. This year, the smartly dressed trio are breaking new music from Grammy Award-winners Maroon5 and celebrating the expansion of Kia's line of eco-conscious vehicles by sharing 'Animals' for free at Kia.com."
Pricing for the 2015 Kia Soul EV, however, has yet to be announced, although the company has provided some details about the car's performance: Relying on a 27-kWh lithium-ion polymer battery, as well as an 81-kW electric motor, the 2015 Kia Soul EV is expected to provide an all-electric, real-world driving range of between 80 and 100 miles; complementing that range will be multiple charge options that allow the 2015 Kia Soul EV to achieve an 80 percent charge in as few as 33 minutes.
Keep reading Autobytel.com for the latest updates on the 2015 Kia Soul EV.