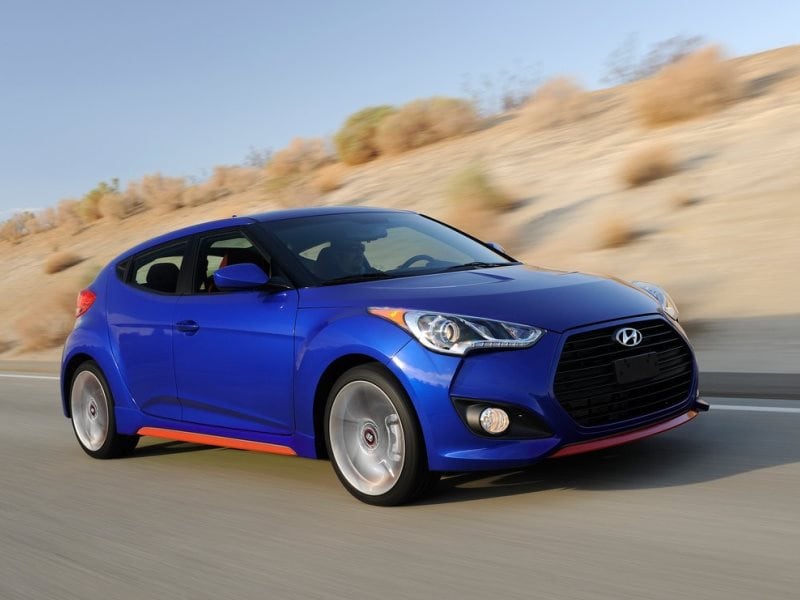 2015 hyundai veloster
The automotive elite may consider "Front Wheel Drive Sports Cars" a bit of an oxymoron, but in today's industry—which features four-door coupes and a distinct inability to call a station wagon a station wagon—proper nomenclature has become a thing of the past. At the same time, the recent horsepower wars have seen all kinds of vehicles tuned-up to showcase superior athleticism, providing customers with the sort of driving excitement that used to be limited to "true" sports cars. 
With that in mind, our latest list puts its focus on front-wheel drive and extra performance without regard to body style or rear-/all-wheel-drive bias, and instead showcases a fresh mix of FWD coupes, hot hatches, sedans and even a crossover.
2015 Kia Forte Koup
Flying well under most folks' radar, the 2015 Kia Forte Koup lands on our list of Front Wheel Drive Sports Cars thanks primarily to the powerful turbocharged engine available in the SX model. The 2.0-liter unit boasts both direct injection and dual continuously variable valve timing, along a standard six-speed manual transmission, and can provide drivers with 201 hp and 195 lb.-ft. of torque—increases of 28 hp and 41 lb.-ft. as compared to the regular Forte Koup.
That may not seem like a lot of pop, but this killer Kia is fairly light, too, with a curb weight as low as 2,925 lbs. for a better power-to-weight ratio. Additionally, engineers have deployed bigger 11.8-inch front brakes and a sport-tuned suspension, while Kia stylists ensure the vehicle looks the part, with more aggressive front and rear fascias outside and alloy pedals inside.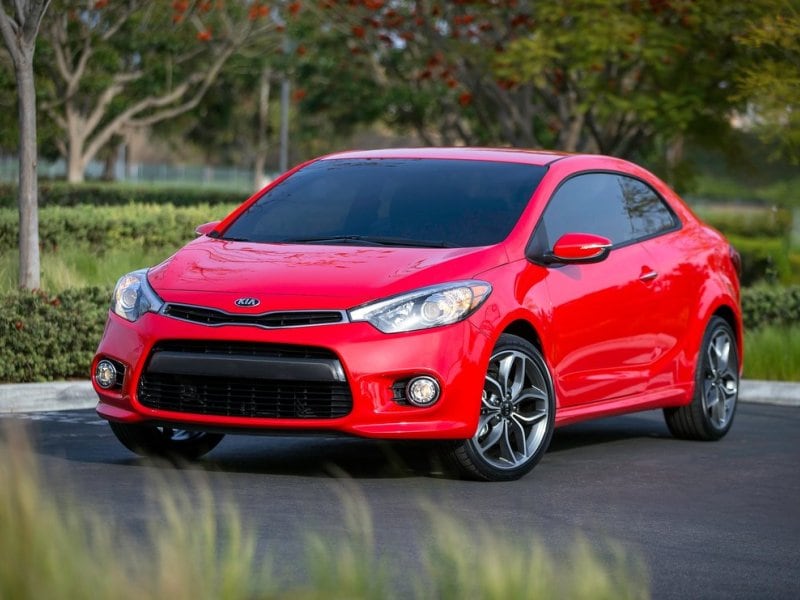 2015 Volkswagen Golf GTI
The 2015 Volkswagen Golf GTI no longer ranks as the most powerful entry in the Golf lineup, but since the 292-hp R model comes with standard all-wheel drive, it obviously can't qualify as one of our favorite Front Wheel Drive Sports Cars. Besides, it's not like the GTI is any kind of slouch in the performance department.
The next-gen GTI relies on a 2.0-liter TSI four-cylinder turbo that makes 210 hp and 258 lb.-ft. of torque, with that output representing jumps of 10 hp and 51 lb.-ft. of torque. Then, later this year, Volkswagen will launch a new Performance Package that delivers another 10 ponies, for a total of 220 hp, and complemented that upgrade with bigger stoppers and an electronically controlled, torque-sensing limited-slip differential.
The GTI also is a Top Safety Pick of the IIHS.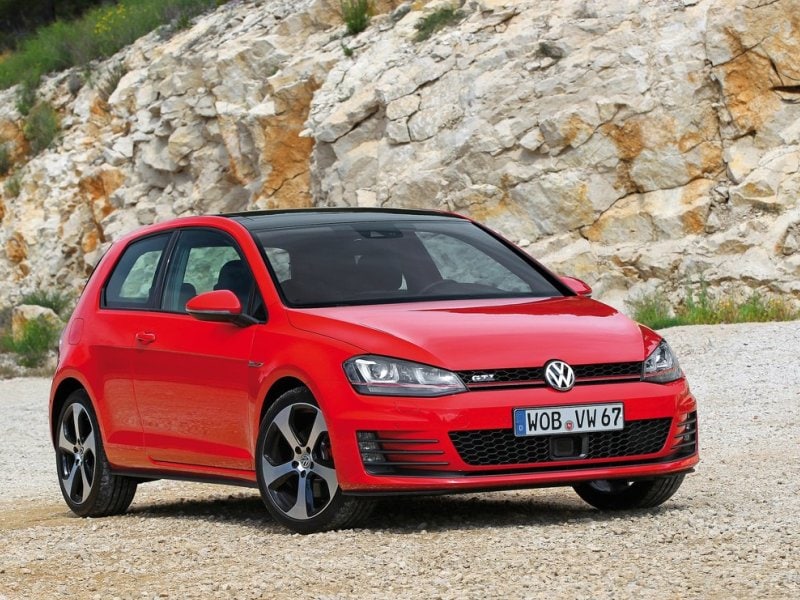 2015 Ford Fiesta ST
Our team of Front Wheel Drive Sports Cars also welcomes the 2015 Ford Fiesta ST. The Blue Oval's pocket rocket is indeed both pocket-sized and powerful, however, with a length of just 159.7 inches and 197 horsepower—and 202 lb.-ft. of torque—beneath its hood; that output naturally comes from an EcoBoost power source, in this case a 1.6-liter four-cylinder unit.
A sporty suspension is par for the course, as are hi-po brakes pads, and the Fiesta further sets itself apart from the crowd with high-tech features like a three-mode electronic stability control system, with "sport" and "off" modes, as well as Torque Vectoring Control (for optimum power distribution), a full aero kit (including rear spoiler and fascia extensions), and available Recaro racing-style seats.
Summer performance tires—and a six-speed manual transmission—are standard, with all-season rubber and an automatic also available.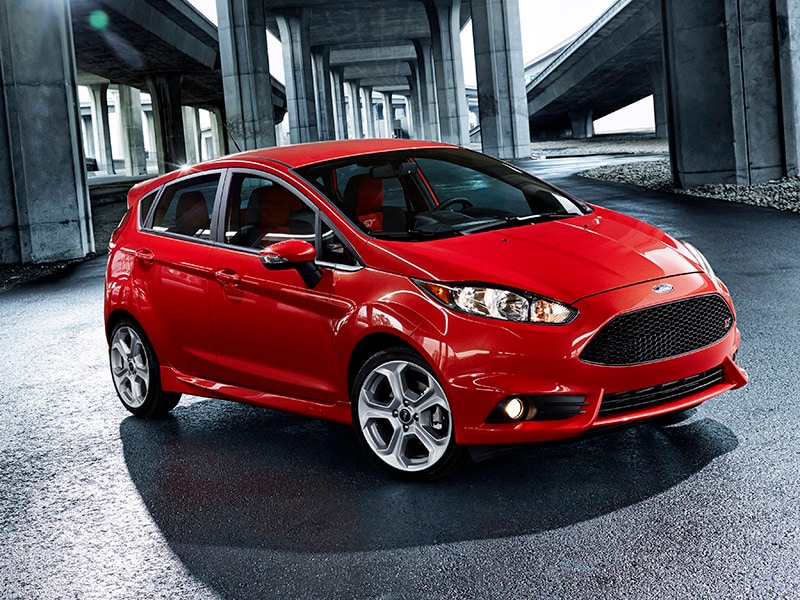 Photo by Ford Media
2015 Buick Regal GS
Even Front Wheel Drive Sports Cars should have features like a high-powered engine, a manual transmission, a robust braking setup and a sophisticated suspension system, and—surprise, surprise—the 2015 Buick Regal GS checks every one of those boxes:
Motivation comes from an eager-to-please four-cylinder turbocharged powerplant that can extricate 259 hp and 295 lb.-ft. of torque, with full twisting power available at 2,500 rpm.
Although a six-speed automatic is standard, a six-speed manual is a no-cost option.
Brembo stoppers, including four-piston calipers and larger rotors, are deployed up front.
The Regal GS offers both a HiPer Strut front suspension, specifically engineered to reduce torque steer and improve steering feel, as well as Computer Damping Control and a five-mode Interactive Drive Control setup with a dedicated GS mode as a "track-oriented competitive setting."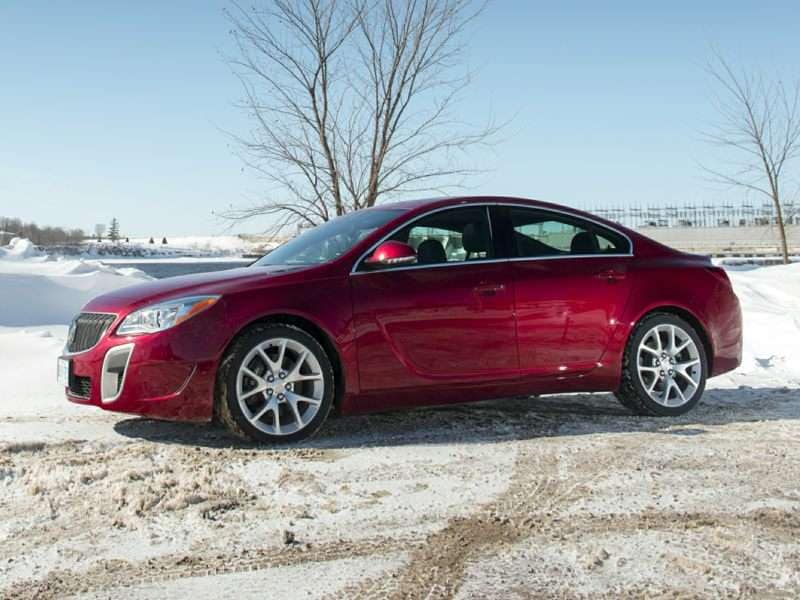 2015 Nissan JUKE NISMO RS
The 2015 Nissan Juke may not look like one of the country's top Front Wheel Drive Sports Cars, but it sure acts like one—especially in its NISMO RS trim
With Nissan's in-house performance experts on the case, the JUKE's 1.6-liter turbo engine has been opened up to make 215 hp and 210 lb.-ft. of torque, allowing drivers to enjoy an extra 27 hp and 33 lb.-ft. of torque over the standard powerplant. That output is then managed by a standard six-speed manual transmission, with a limited-slip differential in the mix for improved traction and cornering capabilities. NISMO nation also worked its magic on the JUKE's suspension and braking systems, re-engineering both for yet sharper reflexes, while also adding performance upgrades not found even on the "regular" JUKE NISMO model. Among them: Vented rear brake rotors and Recaro front sport seats.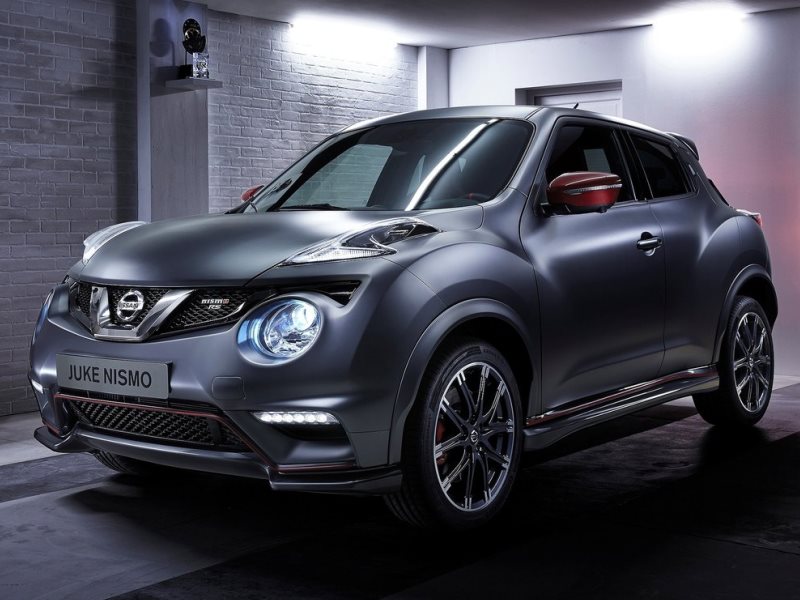 2015 Fiat 500 Abarth
If you're looking for a particularly stylish take on the whole Front Wheel Drive Sports Cars thing, you won't get stung by the 2015 FIAT 500 Abarth. The "Abarth" name—and its signature scorpion badging—are go-fast guarantees from Fiat's own in-house tuning department, and they're complemented by a four-cylinder MultiAir turbo that can wring up to 160 hp and 183 lb.-ft. of torque from its 1.6 liters of displacement. (Not at the same time, however, as the standard five-speed manual benefits from the full horsepower mark and 170 lb.-ft. of torque, while the available six-speed automatic allows max torque but with 157 horses.)
The 500 Abarth also boasts track-ready suspension and braking components, then puts those features to the test by including standard track-day owner events as part of its purchase price.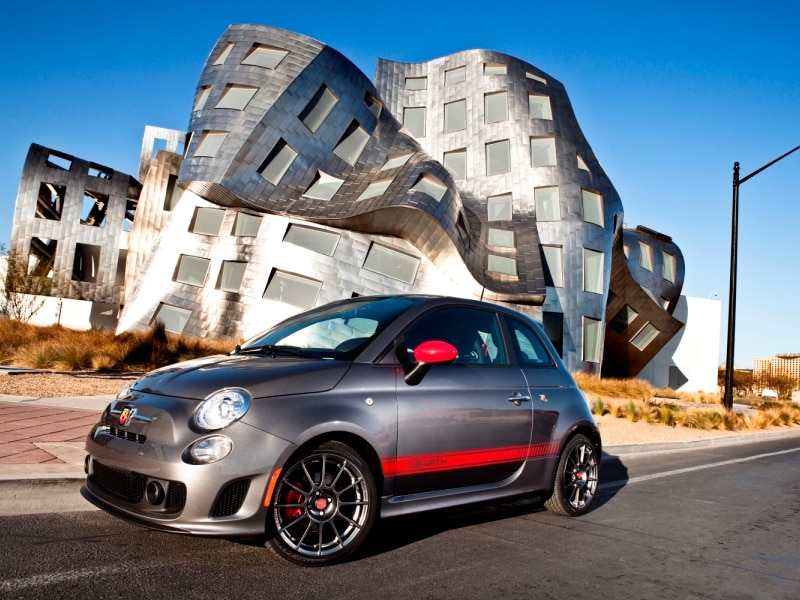 2015 Volvo S60
How did a Volvo find it way onto our list of Front Wheel Drive Sports Cars? Well, it helps that one of the automaker's new "Drive-E" engines has found its way beneath the hood of the 2015.5 Volvo S60. That advanced four-cylinder powerplant offers just 2.0 liters of displacement, but it's both supercharged and turbocharged to provide the sexy S60 with 302 hp and 295 lb.-ft. of torque.
Further, while the car doesn't come with a DIY transmission, it is one of the first Volvo models with paddle shifters, which are then connected to an eight-speed Geartronic automatic with Advanced Quick Shift technology. Integrated as part of the "Sport" setting in the S60's multi-mode driving system, it reduces first-to-second shift time by up to 50 percent for quicker off-the-line acceleration, and further cuts shifting time by 20 to 30 percent moving from third to sixth gears.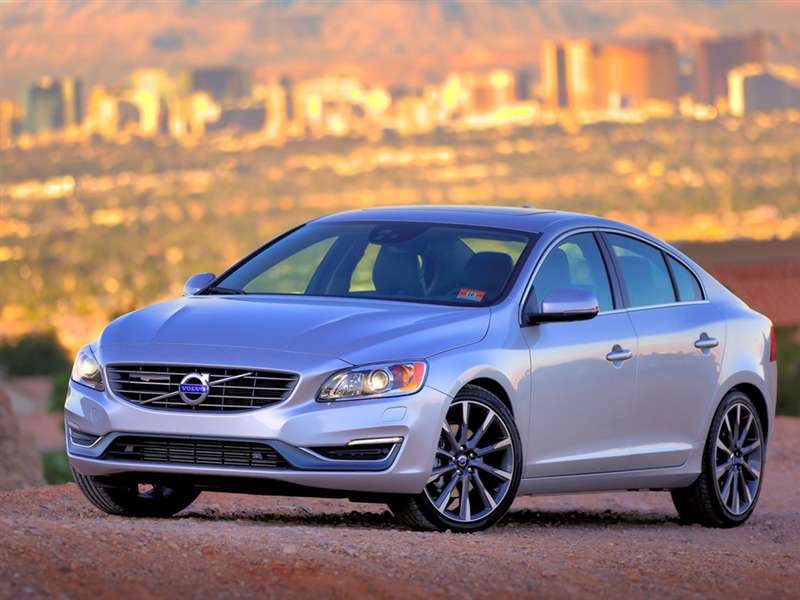 2015 Hyundai Veloster R-Spec
Hyundai's hottest hatch can cook up a full 201 hp and 195 lb.-ft. of torque from its 1.6-liter turbo engine, but that's just part of the performance package for this next member of the Front Wheel Drive Sports Cars roster.
The 2015 Hyundai Veloster Turbo R-Spec also showcases significant chassis and suspension revisions, along with a six-speed manual transmission—handled by a short-throw sport shifter from B&M Racing—and Torque Vectoring Control. When the Veloster enters a corner, this latter technology provides active braking to the inside front wheel, and more torque to the outside, for what Hyundai calls "an incremental margin of cornering precision during enthusiastic driving."
That being said, there's also plenty of enthusiasm building for the 2016 Veloster Rally Edition, due this May with yet another round of handling upgrades, a tuner-style body kit, and ultra-lightweight RAYS wheels.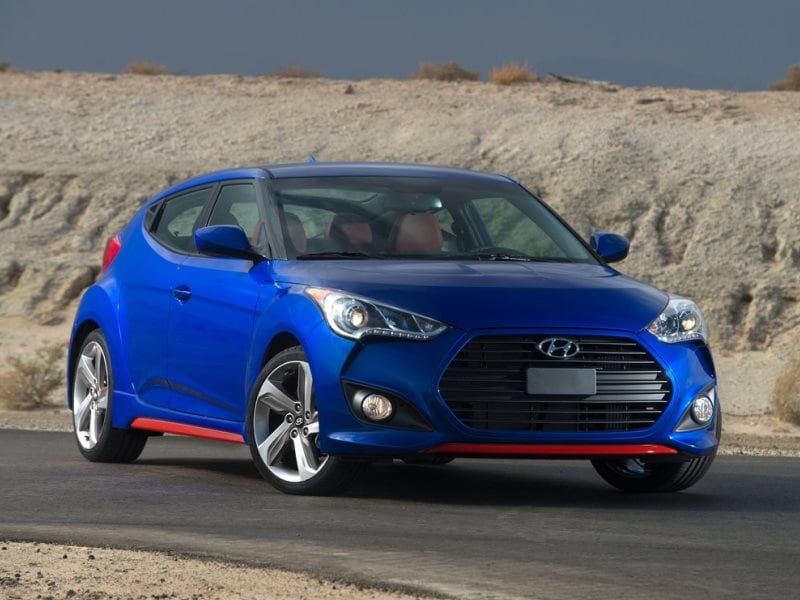 2015 Honda Civic Si
A sport-compact icon, the 2015 Honda Civic Si remains a popular choice among Front Wheel Drive Sports Cars today, backed by 205 hp and 174 lb.-ft. of torque beneath the hood, along with an athletically tuned suspension beneath its skin.
The output comes from a 2.4-liter, naturally aspirated four-cylinder engine that also features Honda's signature i-VTEC valve technology and is mated to a close-ratio six-speed manual transmission. As for the handling prowess here, it comes courtesy of a MacPherson strut front suspension and a multi-link setup at the rear, with a helical limited-slip differential added for enhanced cornering capabilities. 
Honda then complemented this peppy package with dynamic design cues including sport seats, aluminum pedals and a radically sculpted body kit that benefits from a massive rear spoiler.
As a further advantage, the Honda Civic Si is offered in both coupe and sedan configurations.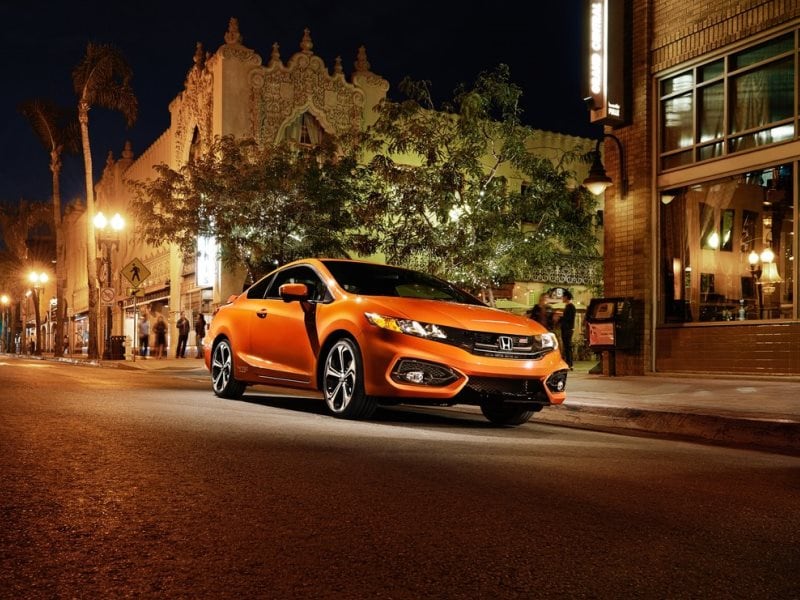 2015 MINI John Cooper Works Hardtop
For maximum fun in one of our Front Wheel Drive Sports Cars, it's going to be hard to beat the 2015 MINI John Cooper Works Hardtop.
That names tells the story, too, as what we have here is a next-gen MINI Hardtop with a full makeover from the brand's John Cooper Works performance house, complete with an innovative 2.0-liter TwinPower engine capable of unleashing 228 hp and 236 lb.-ft. of torque. MINI claims that motivation "even leaves top-class sports cars in the dust," and points to a 0-60 time of under 6 seconds as proof. Top speed is now up to 153 mph, but drivers can rely on a standard Brembo braking system, created specifically for the Cooper Works car, to rein in performance as needed, and they can count on a unique suspension, with a front single-joint spring-strut setup matched by a multi-link rear axle, for impeccable handling at any speed.