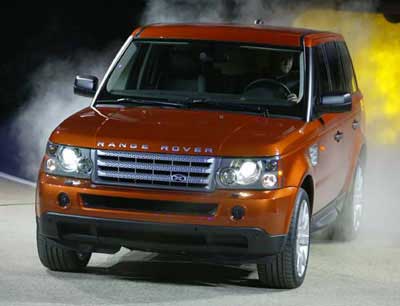 While it's true that cars were the primary focus of the 2005 North American International Auto Show in Detroit, SUVs continued to soak up a good deal of the spotlight on a number of stages. From the RX-8 influenced Mazda MX-Crossport, to the hybrid-powered GMC Graphyte and the supercharged Land Rover Sport, manufacturers showed that they are intent on providing an SUV for every taste.
With the introduction of the 2006 Land Rover Sport at the 2005 North American International Auto Show, it's clear that the company can create a utility vehicle that is just as capable on the road as it is off.
GMC Graphyte Concept Front
At the 2005 North American International Auto Show in Detroit, GM debuted the GMC Graphyte Concept, an all-wheel-drive SUV equipped with the company's two-mode full hybrid powertrain, which supplies a 25-percent increase in fuel economy with no loss of power and performance over a regular mid-size SUV.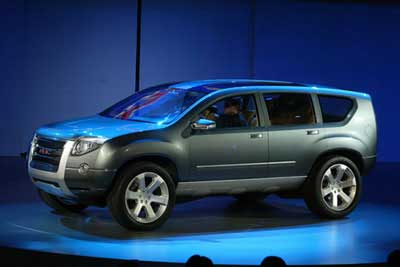 GMC Graphyte Concept Rear
Though it looks like a crossover suv, the GMC Graphyte Concept possesses rugged ladder-frame construction, with an independent air suspension that allows the ride height to be adjusted by 4.7 inches for either increased ground clearance or road-hugging stability and aerodynamics.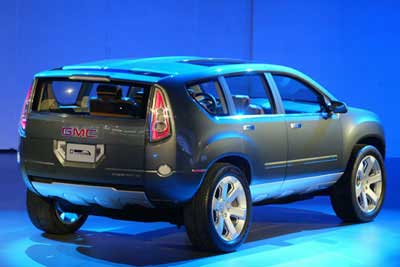 Infiniti Kuraza Concept Front
Helping to form the Infiniti Kuraza's attractive silhouette are glass roof panels, flush suicide style rear doors, and brushed aluminum that outlines the grille and roof.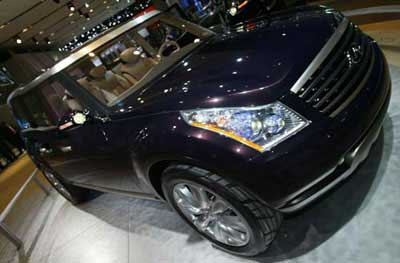 Infiniti Kuraza Concept Interior
Words and phrases used by Infiniti representatives during the Kuraza's debut included "strong," "vibrant," "rewarding," "offering a highly social space that provides panoramic views." One of the goals of the design was to exhibit gracefulness and serenity, which reflects the Japanese culture from which it was born.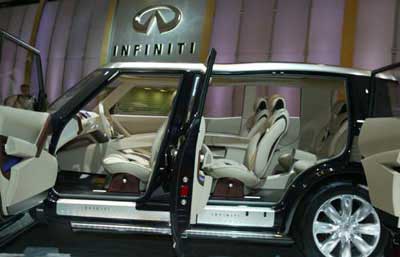 Jeep Hurricane Concept Front
Within the context of what is possible and what is reality, the Jeep Hurricane does amazing things. Strange things, things that make you rub your eyes hard and blink twice. Things like all four wheels turning in opposite directions, thus enabling the vehicle to navigate a turn radius of zero - absolute zero.
Jeep Hurricane Concept Interior
Dual 5.7-liter Hemis power the Jeep Hurricane's front and rear wheels, with central transfer case controls mounted in the center console.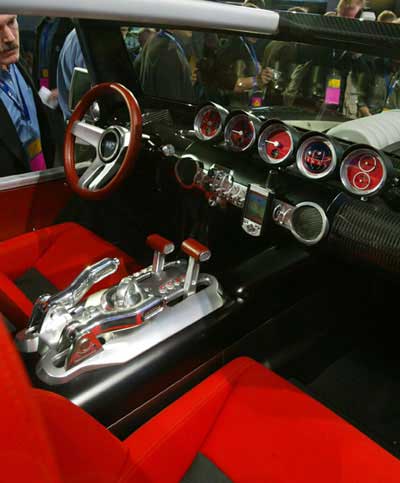 Jeep Hurricane Concept Rear
The Jeep Hurricane has an approach/departure angle of 64.0 and 86.7 degrees -close to vertical - and it can even travel sideways.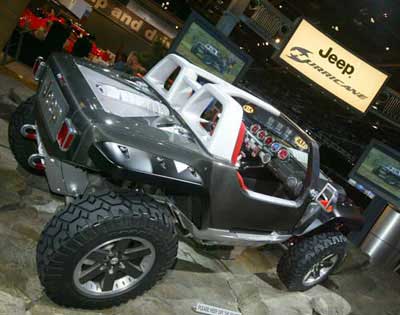 Kia Mesa Concept Front
The Kia Mesa features body-on-frame construction, a fully-boxed frame, full-time four-wheel-drive with low range, and a limited slip differential. In concept form, power is provided by the Sorento's 3.5-liter V6 and is controlled by a five-speed automatic transmission. However, the Kia Mesa has been designed to accept a wide range of future engines.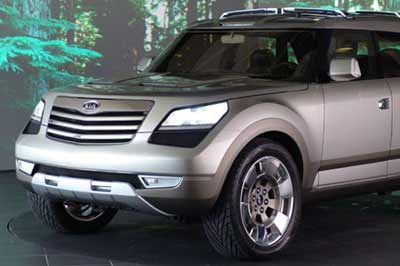 Kia Mesa Concept Rear
Accented by huge 22-inch alloy wheels, the Kia Mesa features a clean shape that is enhanced by muscular wheel flares.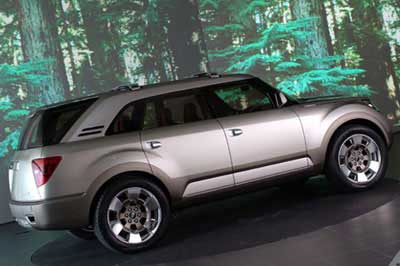 Land Rover Range Rover Front
Bid the BMW V8 under the Land Rover Range Rover's hood goodbye, because for 2006 it's being replaced with Jaguar-sourced powerplants in both normally aspirated and supercharged formats. The standard 4.4-liter V8 makes 305 horsepower, and the 4.2-liter supercharged V8 cranks out 400 horsepower.