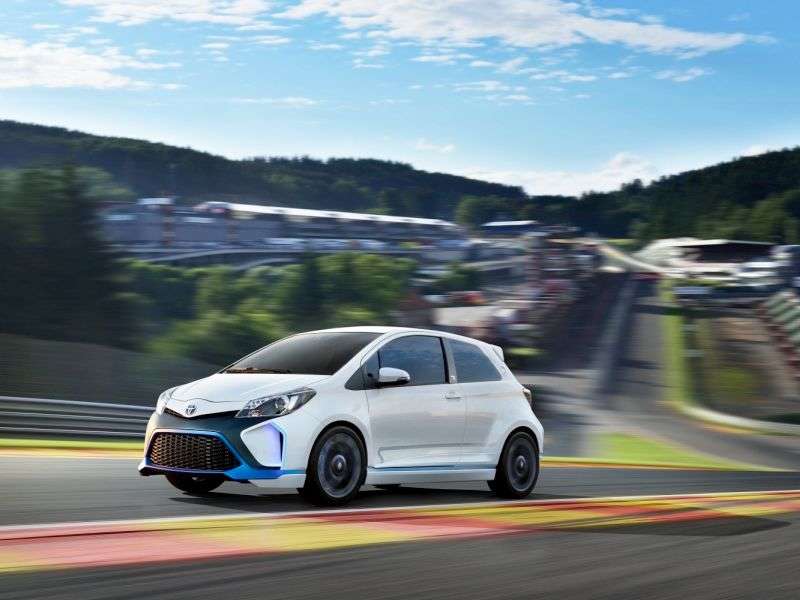 Looking back in Toyota's history, the company has produced some of the most exciting and fun vehicles ever: Celica AllTrac, Supra Turbo, Corolla AE86, and the MR2. You can't say the same about their hybrid lineup. The Prius? Fun and exciting aren't the first two words that come to anyone's mind. But Toyota has been hard at work to change that. For example, the TS030 Hybrid LMP1 which took second place at the 24 Hours of Le Mans this year. Their next move is the Yaris Hybrid-R Concept.
The Yaris Hybrid-R Concept is definitely a looker. Toyota made a number of changes to make it stand out and provide performance enhancements. The front end features a new fascia with a wider grille, black and blue details contrasting with the white body, and large air ducts that feed air to the brakes. Along the sides are eighteen-inch TRD wheels fitted with Michelin Pilot Sport Cup tires. Behind the wheels are a set of massive brakes. Finishing off the side is an R graphic running along the bottom edge. In the back is a rear spoiler and diffuser.
Inside, there are a set of Recaro racing seats and the CAN-Gateway ECU system. Borrowed from the Toyota GT86 (Scion FR-S to us), the CAN-Gateway ECU gathers data such as GPS data, steering angles, gear changes, engine speed, and vehicle speed that can be downloaded to a USB key or a Smartphone. From there, drivers can input that information into the upcoming Gran Turismo 6 Playstation 3 game and create a virtual lap with that information, which they can then play.
The Hybrid-R Concept takes that a step further, by going in reverse. If you do a number of laps in the game, data from there can be sent to the vehicle's ECU. From there, the ECU can adjust certain items such as phases of energy recovery and the traction control to anticipate the driving conditions of a track.
Powering this pocket rocket is a powerful hybrid powertrain. It starts with a 1.6L turbocharged and direct-injected four-cylinder engine producing 300 horsepower that goes to the front wheels via a a six-speed sequential gearbox. The back axle houses two electric motors on either end that produce 60 horsepower for each rear wheel. Total output stands at 420 horsepower. There is a third 60 horsepower electric motor whose primary duties are to provide traction control during acceleration and as well as act as a generator under braking to feed the TS030-derived super capacitor. The super capacitor provides a higher power density and faster charge/discharge speed than a normal battery.
The super capacitor can also provide more power for a brief window depending on what setting you have the Hybrid-R in. If you have the vehicle in 'Road', the super capacitor can provide an extra 40 horsepower for ten seconds. In 'Track', the super capacitor can provide an extra 120 horsepower for five seconds.