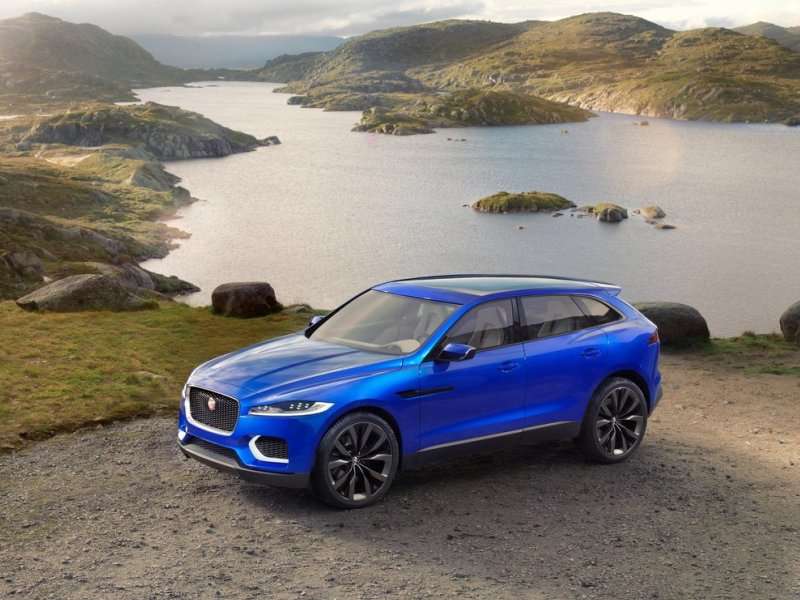 Jaguar is foreshadowing what's to come in their lineup in the future with the introduction of the C-X17 concept on the eve of the Frankfurt Motor Show. The C-X17 concept is something a bit different for Jaguar as it's their first crossover concept.
The C-X17 looks to be your standard crossover shape, but with a number of design cues from current Jaguar vehicles. The front end looks to be directly inspired by the XJ with an oversized grille and narrow headlights. Around the back are muscular haunches and taillights pulled from the F-Type. A set of twenty-three inch wheels finish the exterior look.
Moving inside, the C-X17 is luxury paradise. Two-tone Connolly leather lines the four seats, door panels, dash, and armrests. Milled aluminum and black brushed anodized metal provide a contrasting tone. Jaguar also fitted the C-X17 with the Interactive Surface Console. Placed in the center tunnel of the vehicle, the console uses a series of touchscreens and in-car Wi-Fi to allow passengers to connect and share experiences with other passengers and people outside the vehicle.
Jaguar doesn't say what is powering the C-X17, but it does say it is fitted with the company's 'intelligent' all-wheel-drive system with a brake-based torque-vectoring setup to provide traction.
Underneath the sheetmetal, the C-X17 has something very important that will play a role in Jaguar's future. The C-X17 is riding on a new aluminum unibody architecture. This architecture is much more rigid, lightweight, and sustainable than Jaguar's current aluminum architecture. More importantly, this new architecture will support a wide range of models and let Jaguar build different vehicles on the same production line at the same time. This new architecture will debut in a new midsize luxury sedan in 2015.