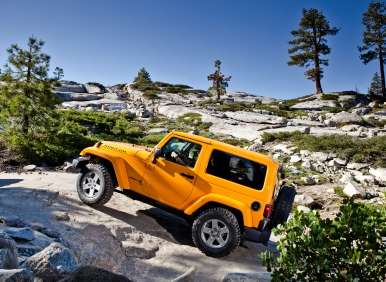 Long the off-road reader's publication of choice, Four Wheeler magazine recently honored two Chrysler products as part of its annual year-end roundup. The 2012 Jeep Wrangler earned the much-coveted "Four Wheeler of the Year" award, while the 2012 Ram Power Wagon hauled off the "Pickup Truck of the Year" recognition.
For the Wrangler, it's further confirmation that Jeep's wholesale upgrades have indeed upped the performance of its rock-crawling icon. Thanks to a brand-new, modern-day interior that was launched on the 2011 model, and the all-new powertrain that debuted for 2012, the Wrangler has also been named "Four Wheeler of the Year" by Petersen's 4Wheel & Off-Road magazine, "Mid-size SUV of Texas" by the Texas Auto Writers Association and "Hottest 4X4 SUV" by the experts at this year's Specialty Equipment Market Association (SEMA) show. Further, both ALG and Kelley Blue Book's KBB.com recognized the Wrangler for its stellar residual value, with the latter naming it among the top ten vehicles in the industry in this measure.
"The 2012 Jeep Wrangler Rubicon owned nearly all aspects of off-road testing during our annual 'Four Wheeler of the Year' competition," said Four Wheeler editor John Cappa. "The grueling 1,000-mile trek put each contending vehicle through its paces in several on- and off-road environments, including high-speed graded roads, jagged rocks, shifting sand dunes, and more. The universal do-all capability of the Jeep Wrangler Rubicon allowed it to outperform the other competing 4x4s, making it our 2012 Four Wheeler of the Year award winner."
The Power Wagon—built on the solid foundation of the Ram 2500HD—is supported by features like front and rear electric-locking differentials, a sway bar that can be electronically disconnected when necessary, uniquely tuned Bilsten shocks, 33-inch BFGoodrich off-road rubber, plenty of underbody skid-plate protection and a custom-built 12,000-lb. winch from Warn. And for the new model year, customers will be able to enjoy all that hardcore capability in three different flavors: The high-value Power Wagon ST, the Power Wagon SLT (with added comfort and convenience features), and the range-topping Power Wagon Laramie, for the ultimate mix of luxury and capability.
The result, according to Cappa, is that the Power Wagon is "nearly unstoppable off-road, yet it's still civilized enough to be daily-driven. The Power Wagon crawls over the most difficult rocky terrain just as easily as it speeds over rough dirt roads or commutes on smooth highways. Add in a 10,200-pound towing capacity along with multiple useful storage compartments, including the RamBox, and you end up with a remarkable factory-built ¾-ton truck that easily deserves Four Wheeler's 2012 'Pickup Truck of the Year' award."
Both the Wrangler and the Power Wagon are on sale at local dealerships now.