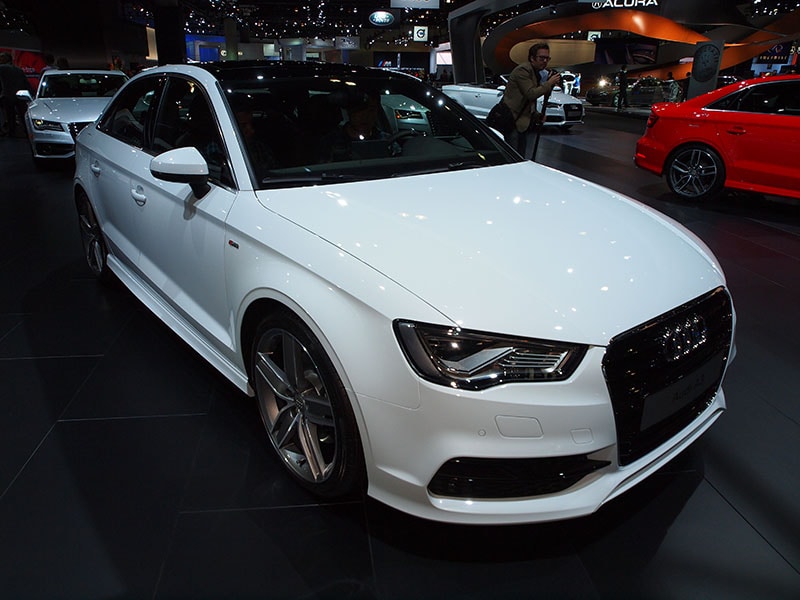 audi a3
The brand-new 2015 Audi A3—a key to the brand's record-setting sales this year—has completed the safety-ratings double play, recently adding a 5-Star overall crash score from NHTSA to its previously acquired Top Safety Pick+ recognition from the IIHS. (And just to be clear, the NHTSA rating also covers the high-performance 2015 Audi S3, which wasn't available during the IIHS evaluations.)
Said Filip Brabec, director of Product Planning for Audi of America: "The Audi A3 and S3 exemplify the best in a long line of Audi vehicles designed to be premium, sporty and, above all, safe. Both vehicles establish a high safety standard with new and innovative features designed to help protect vehicle occupants as well as others on the road."
In terms of specific grades from the individual NHTSA tests, the 2015 Audi A3 earned 5 stars for side-crash protection and 4 stars for both frontal-crash and rollover protection, then also was recognized for offering two NHTSA-recommended safety measures: forward collision warning and lane-departure warning. It's also worth noting that the 2015 Audi A3 introduced a pair of significant pre- and post-collision technologies to its segment. The basic "pre sense" setup, a standard feature on the car, can detect a potential emergency situation and automatically prepare key vehicle systems—including its passenger restraints—for a possible impact.
If a collision does occur, the also standard "secondary collision brake assist" feature can apply the brakes to prevent the 2015 Audi A3 from possibly rolling into another incident.
As mentioned, that kind of commitment to safety—and a comprehensive next-gen redesign—also has had a positive effect on the sales picture for the 2015 Audi A3. Consider: The A3 was essentially off the market in 2013, when Audi sold just 857 examples of the previous version. But during the three years before that, from 2010-2012, the company delivered a total 20,324 A3 units; that's just a few hundred more than the 19,560 2015 models sold in just 11 months of 2014.
Audi was thus able to notch its 47th monthly sales record in a row in November, when volume spiked by 22 percent on 16,640 deliveries. Which, in turn, helped Audi claim its fifth consecutive annual sales record in this country, with December numbers still to come.