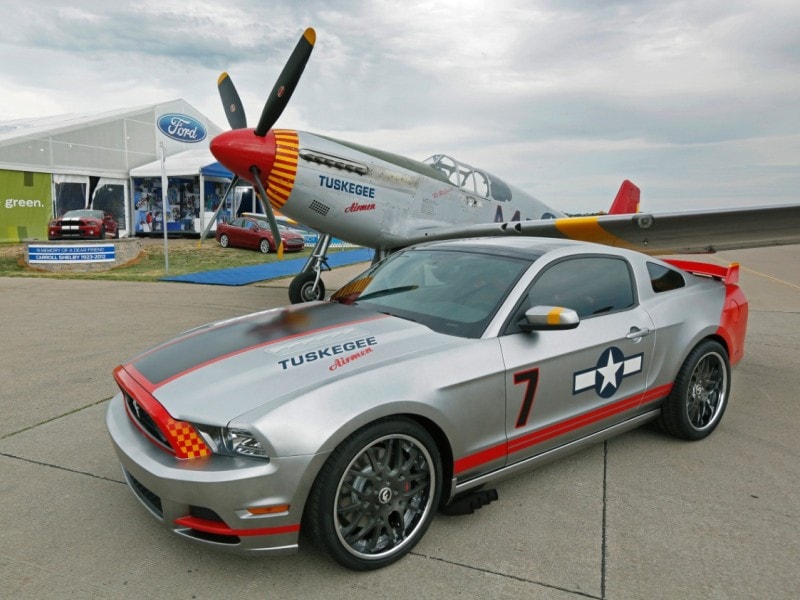 red tails mustang
Few things are as quintessentially American as baseball, apple pie, and hot dogs. One of these is Ford's Mustang. Introduced in 1964, the Mustang is currently enjoying its 50th Anniversary. With the eminent launch of the all-new 2015 Mustang, let's take a look back at some of the special edition Mustangs produced over the years. While Ford's Mustang team has produced many of them in-house, a handful of aftermarket manufacturers have produced some highly notable ones as well. One such manufacturer, Carroll Shelby, was so successful at it, Ford named the highest performing variant of the Mustang ever produced for him, even though the engineering was done at Ford.
Anniversary Editions
Over the past 50 years, there have been a number of special Anniversary Edition Mustangs, starting with the 1984 20th Anniversary GT-350. Painted white with special striping and a red interior, power came from either a 5.0-liter V8 or a 2.3-liter turbocharged four. The 40th Anniversary Car (concept version pictured above) was offered in 2004 as an appearance package for the standard Mustang models. Offered in Crimson Red, white, and black, the Crimson Red paint was exclusive to the package. The 50th Anniversary model is offered in Kona Blue or Wimbledon White (the launch color of the original Mustang) and is based on the all-new 2015 Mustang GT. The company is producing 1,964 copies of the 50th Anniversary car.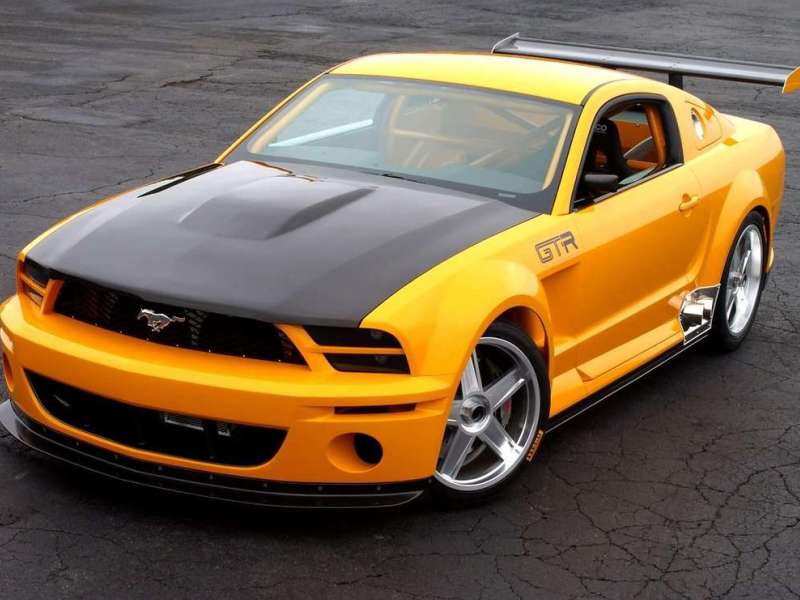 Blue Angels
Produced for theExperimental Aircraft Association's AirVenture Oshkosh gathering, the 2012 Mustang Blue Angels car was powered by a 624-horsepower supercharged version of Ford's 5.0-liter V8. The engine was paired with a full-on chassis upgrade featuring the Ford Racing handling pack and racing brakes. A performance exhaust system was fitted as well. Painted to resemble one of the US Navy's Blue Angels aerobatic team's jets, the interior treatment was inspired by the Blue Angels' flight suits. Sold at auction for $400,000, the proceeds were donated to the EAA's Young Eagles organization for budding engineers, scientists, aviators, and astronauts.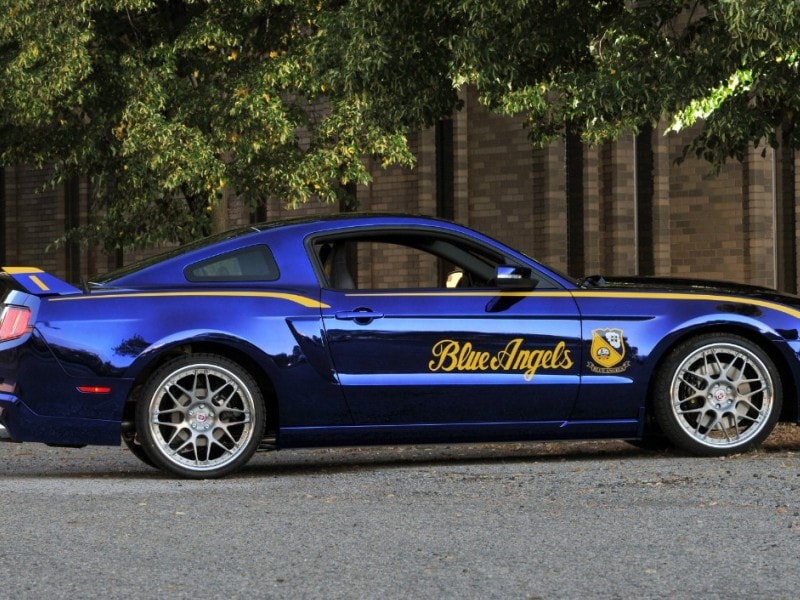 Boss 302
Originally produced for the Trans Am racing series, Boss 302 Mustangs appeared in 1969.  Designed by Larry Shinoda, their most distinguishing visual characteristic, the side hockey stick striping, was introduced on the 1970 model.  Power came from a 5.0-liter V8 rated at 290 horsepower, later revealed to be closer to 380 horsepower. Ford also did 8000 Boss 302s in 2012 and 2013, based on the Mustang GT. The engine was reworked to produce 444 horsepower and the suspension system was modified to improve handling. The "Laguna Seca" version featured a red roof and additional performance upgrades.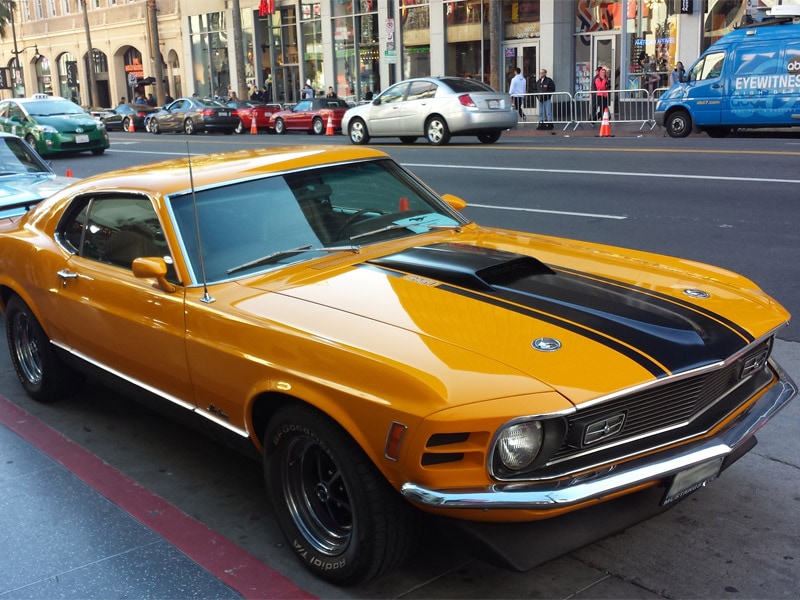 Bullitt
Steve McQueen added considerable luster to Mustang's lore when he piloted a Highland Green Fastback in the 1968 film, Bullitt. In homage to that car, Ford issued its first Bullitt model in 2001. Modified specifically to improve handling, its ride height was lowered ¾ of an inch, and other suspension modifications were undertaken to support this goal. The engine was reworked to produce some 265 horsepower and certain interior features were patterned after the 1968 Mustang. For 2008 and 2009, Ford did a second Bullitt model. Following essentially the same strategy, the car's handling, performance and appearance were upgraded over standard Mustang GT fare.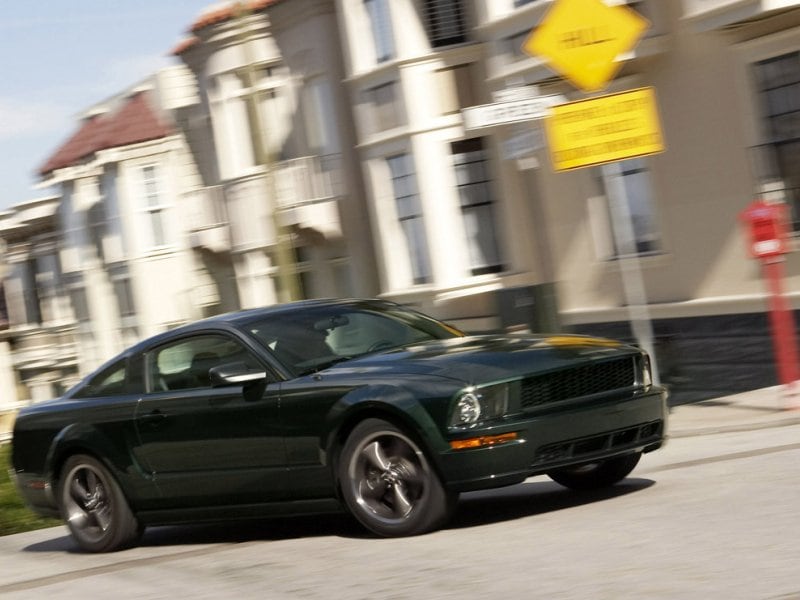 Mach 1
Mach 1 was introduced in 1968 as the highest performing Mustang variant. The marketing team felt the GT nomenclature didn't adequately convey the performance, thus the term Mach 1. Mach 1 Mustangs were all fastbacks (Ford referred to the fastback as the "Sportsroof") there were never any factory Mach 1 convertibles. Cosmetics included a matte black hood treatment with pins and a scoop. A variety of high performance engines came into play after the Mach 1 completely supplanted the Mustang GT in Ford's lineup after 1969. The original Mach 1 ran from 1968 to 1978, and was revived for 2003 and 2004.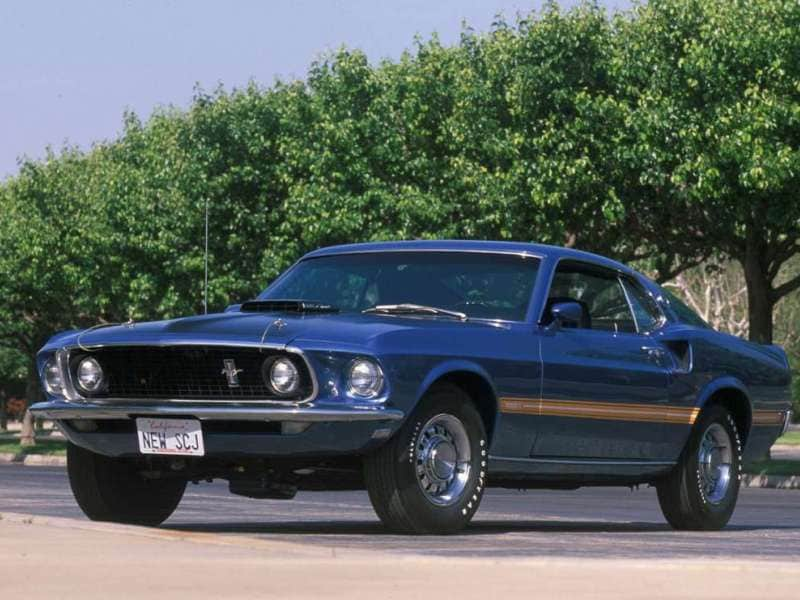 Mustang Club of America
For the 2011 model year, to honor the Mustang Club of America, Ford introduced the Mustang Club of America edition, Equipment Group 203A, as a $995 option for the V6-powered Mustang and convertible models. An appearance package, it adds special side stripes, a blackout stripe between the taillights, a billet grille with a tri-bar Pony badge, fog lights, and metallic sterling grey 18-inch wheels. The package is available only in Premium V6 trim, and also features carpeted floor mats with the Mustang Club of America logo. Still offered, the package can be had with the all-new 2015 Mustang V6.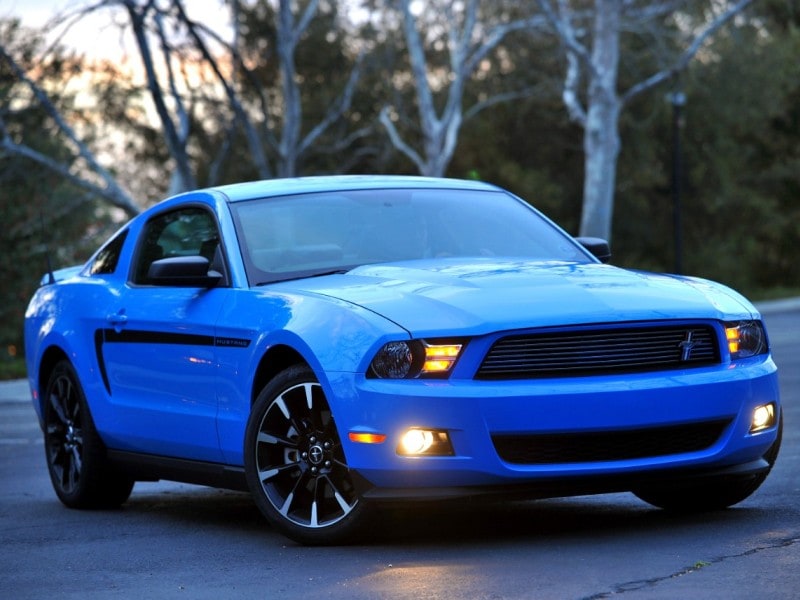 Mustang SVO
Offered from 1984 to 1986, Ford's Mustang SVO was a car well ahead of its time. Arguably the first application of Ford's current "EcoBoost" strategy, the car featured a fuel-injected turbocharged 2.3-liter inline four. At introduction, the powerplant produced 175 horsepower and 210 ft-lbs of torque. When it was discontinued after the 1986 model year, it was making 200 horsepower and 240 ft-lbs of torque. This was a mere five less horsepower than Ford was getting out of the 1986 Mustang GT's 5.0-liter V8. Ironically, the 2.3-liter (sans turbo) was originally fitted to the Ford Pinto.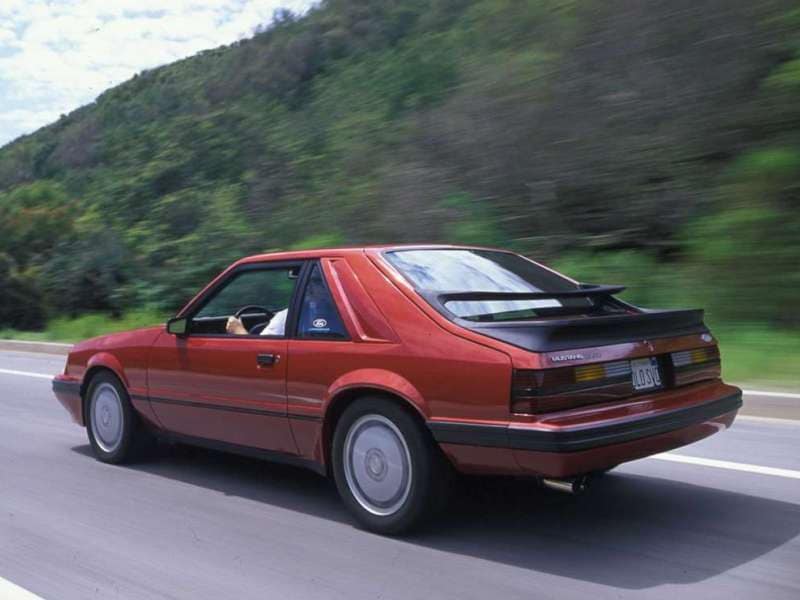 Mustang SVT Cobra
Offered from 1993 to 2004, the Mustang SVT Cobra was the highest performing variant of the Mustang of its time, positioned above Mustang GT. At introduction, the SVT Cobra's 5.0-liter V8 was making 235 horsepower and 280 ft-lbs of torque. The ultimate iteration of the car appeared in 2003, producing 390 horsepower from a supercharged 4.6-liter V8. Heavily reworked, the cars featured special engine components, recalibrated suspension systems, and transmissions configured to handle the increased torque output. To purchase the even higher performing 1993 Cobra R version of the car, Ford required customers to have an active and valid racing license.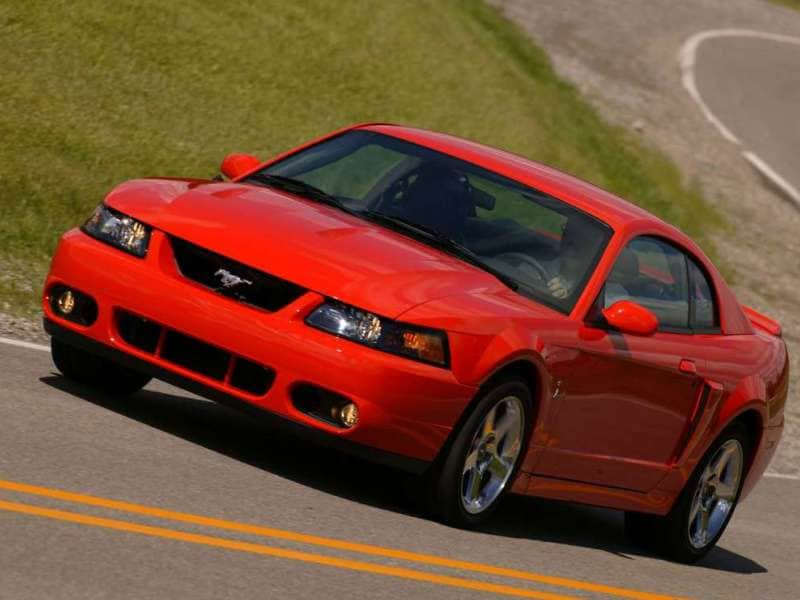 Red Tails
The 2013 "Red Tails" Mustang commemorated the contributions of World War II's Tuskegee Airmen. The pilots flew the P-51 Mustang fighter for which Ford's pony car was named. Modifications to the standard Mustang GT included a Ford Racing 2.3-liter twin-screw Whipple supercharger, a handling package, a unique side exhaust system, Forgiato 20-inch aftermarket wheels, GT500 Brembo brakes, and a rear air diffuser. The glass roof of the 420-horsepower car was meant to evoke the canopies of the P-51 Mustang fighter planes. Sold at auction for $370,000, the proceeds were donated to the EAA's Young Eagles organization for budding engineers, scientists, aviators, and astronauts.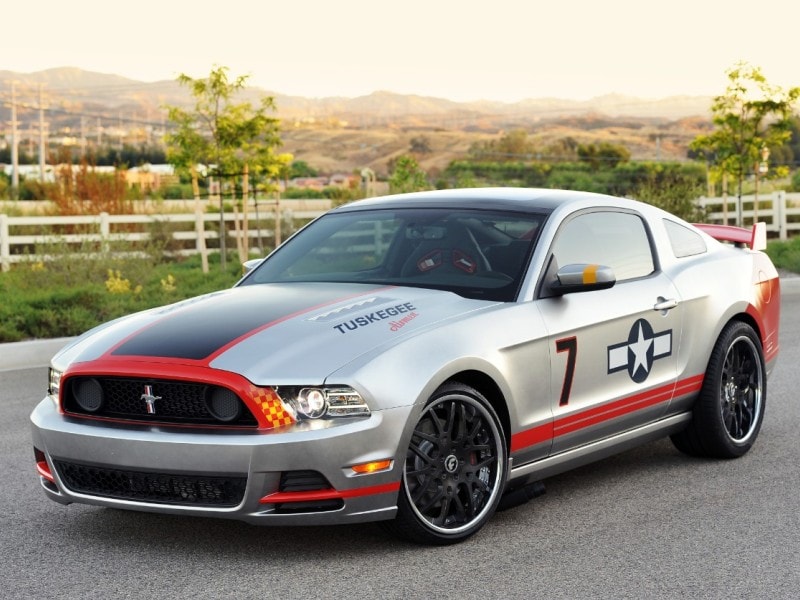 Roush Mustangs
A former Ford engineer, Jack Roush started Roush Performance Products around three performance packages for the Mustang in 1995. Two of the packages were primarily suspension and appearance mods, but the Stage 3 package coaxed 360 horsepower and 375 ft-lbs of torque out of a supercharged version of Ford's 4.6-liter V8 fitted with a new intake manifold, high performance fuel injectors, an air to water intercooler, and a lightened flywheel (for manual transmission cars). By 2005, Roush was getting 415 horsepower and 385 ft-lbs of torque out of the powerplant. Upgraded suspension, braking, and aero components were added. For 2007 and 2008, Roush came up with a 510-horsepower version of the Mustang dubbed P-51A and P-51B.