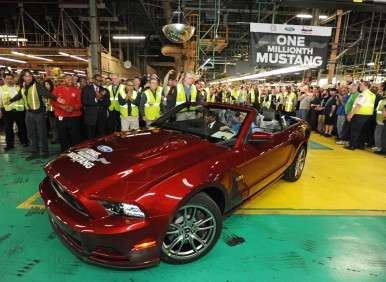 Yesterday, the Ford Mustang celebrated its 49th birthday and to properly celebrate this momentous occasion, Ford's Flat Rock, Michigan plant built their one millionth Mustang. The millionth Mustang was a 2014 GT convertible painted in Ruby Red .
Even though the Mustang has been in continuous production for 49 years, the place where it called home has changed. When the Mustang first went into production, it was built at Ford's River Rouge assembly plant in Dearborn and it would stay there for 40 years. In 2004, Ford made the decision to move Mustang production to Flat Rock. This decision was made to help make room for Ford's other iconic vehicle, the F-150 pickup.
The millionth Mustang is Flat Rock's latest milestone since production of the Mustang began nine years ago. Other milestones for the plant include,
2006: Built the Shelby GT-H Mustang to pay homage to the 1966 Shelby GT350H rental car for Hertz Rental Car
2007: Shelby GT500
2008 - 2009: Bullitt Mustang
2012 - 2013: Mustang Boss 302
"Mustang is one of the most beloved nameplates in the industry, with fans around the world and throughout Ford Motor Company. The team here at Flat Rock Assembly has built an outstanding reputation for quality while producing one million Mustangs over the last nine years, and we expect that to continue for many years to come," said Raj Nair, Ford's group vice president for global product development.