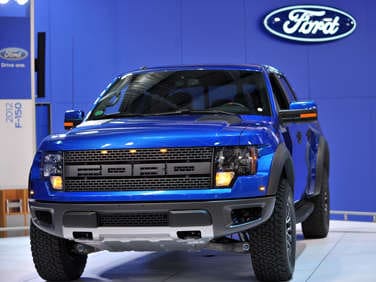 Ford's off-road monster is improved for 2012. The F-150 SVT Raptor gets a few new features that will be a real asset to those who really use this truck.
The best improvements this year are all in front of the driver. There is a new Torsen-developed front differential. Unlike last year's open front differential, the Torsen unit has the ability to send more power to a specific wheel. In this case, if only one of the front wheels has traction, this differential can send over 70% of the truck's front-end torque to the wheel with grip. This can aid in pulling the truck up steep, uneven terrain like what is typically found in rock climbing situations.
Also up front is a new camera system. It utilizes a lens mounted in the grille to report info through the navigation screen. Similar to a backup camera, the readout focuses on what is immediately in front of the vehicle, and it even offers visual guides for placing the tires. The camera should act like a welcomed extra set of eyes when crawling over rough terrain or steep inclines that block the driver's view from the windshield. This option is available with the navigation system, and it even includes a dedicated washer mechanism for the camera.
There are other updates for 2012, but most are just simple appearance options. This includes a new side graphics package, and the interior color accent option has changed from orange to blue on all Raptors models (except on ones with the new Race Red exterior color.) Other additions this year include cooled seats and a new Euroflange wheel, which has weights on the inside to better protect from off-road debris and obstacles.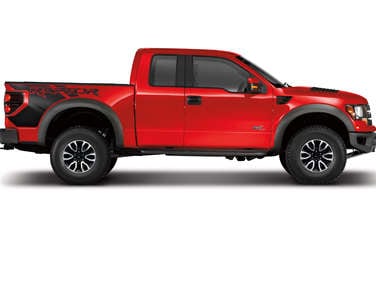 Carrying over from last year is the 6.2-liter V-8 as standard equipment. It is the largest powerplant in the F-150 stable, and it produces 411 hp and 434 lb-ft of torque. The choice of SuperCab or SuperCrew cab option also carries over into 2012. As always, the 4x4 drivetrain is standard.
The SVT Raptor is an admirable truck from Ford. It is built to be a rough and tumble pickup, and it is not ashamed to say so. The Raptor's machismo brings in plenty of customers that do not need a desert-ready pre-runner truck. But even if the image alone sells the vehicle, Ford has come back every year since the Raptor's 2010 introduction with improvements that make sure that those who really take this truck off-road will not be disappointed.