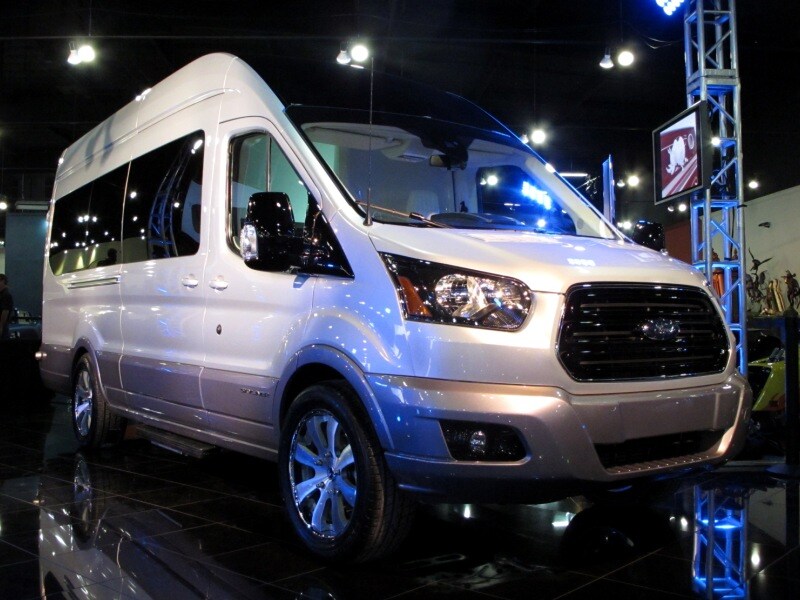 Vans are big business for Ford. The decades-old E-Series van dominates the commercial market, but Ford is about to replace it with a something completely different: The European-developed Transit. The purpose of the Transit Skyliner Concept is to show what's possible with this new format of van. Outfitted like a road-going private jet, the Transit Skyliner Concept seats four very lucky people and provides them with reclining first-class seats, a full bar, and the mother of all mobile entertainment systems -- and the whole setup fits neatly inside a stock Transit body shell.
What's New for the Ford Transit Skyliner Concept:
Ford calls the Transit Skyliner Concept "the future of ultra-luxury land transportation," and we think they may well be right. The passenger area is centered around four first-class seats with retractable footrests, which can be positioned to face each other over an electric folding table or turned forward to enjoy the scenery, perhaps with a cold drink from the built-in bar and tunes on the Marantz surround-sound system with its custom-designed Focal Utopia speakers (which alone probably cost as much as the Transit Skyliner's 3.5 liter EcoBoost V6 engine). For boring stretches of interstate, the Transit Skyliner has a 52-inch retractable projection screen that can display DIRECTV satellite television or a movie from the Kaleidescope media server, its 16 TB of storage providing enough space for 300 Blu-ray movies or a thousand DVDs. There's a hand-laid wood floor below, six-plus feet of headroom above, and everything from the reclining seats to the multi-color LED lighting is controlled from a tablet or smartphone using a custom-coded Crestron automation system.
The Ford-conceived Skyliner was built by Galpin Auto Sports, a Los Angeles Ford megadealer credited with kicking off the custom-van craze of the 1960s and '70s. How much would something like this cost? No one at Ford would give us an estimate, but they didn't bat an eye when one of our colleagues ventured a guess of $250,000. Ford does not plan to put the Skyliner into production, though Galpin Auto Sports would most likely build bespoke versions for well-heeled clients.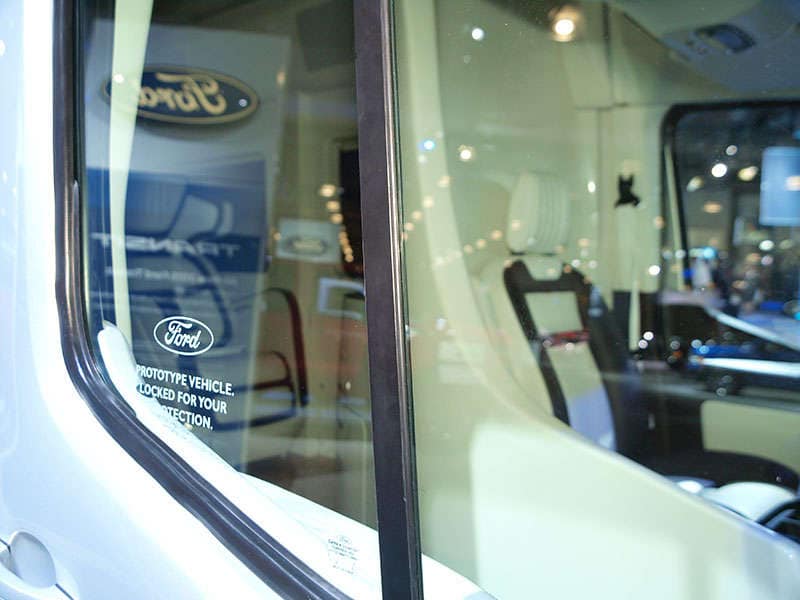 Ford Transit Skyliner Concept: What Autobytel Thinks:
Ford must know it's going to have a hard time convincing millions of satisfied E-Series operators that the Transit is better, and the Skyliner certainly shows off what can be done with the Transit's 487 cubic feet of interior space, which happens to be 75% more than the largest E-Series. The point Ford is making is clear: You couldn't do this in a conventional van.
Problem is, Ford isn't the only to offer European-style vans; the Mercedes Sprinter and Nissan NV are already well established, and Chrysler has just introduced the Fiat-sourced Ram Promaster. But Ford has a significantly bigger chunk of the commercial van market, and we're sure vanatics will be watching. We'd certainly love to ride home from the New York Auto Show in the Transit Skyliner Concept -- and for once, we'd be happy to let someone else drive.