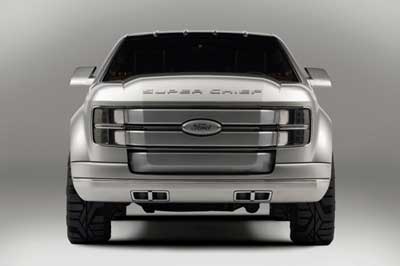 Ford does big best. And right now, that's something they probably don't want people to think about, given the consumer obsession with fuel economy and crossover vehicles. But the facts are nonetheless there, and built on decades spent crafting big trucks that Americans love to drive. Which makes the Ford Super Chief Concept such a notable hit. On the surface, it's a big truck that looks like it was chipped out of rock, with a fancy hydro-ethanol-gas powertrain and a futuristic interior. Underneath the surface, however, it is no less than the direction Ford will take with its next batch of heavy-duty trucks.
Massive grille
Based on the reception it received at the 2006 North American International Auto Show, it looks like the truck-buying public just got an eyeful of the next F-250. Even the name is intriguing: like the bright yellow Tonka Concept that came before it, Ford has taken an American icon – this time, the heritage of big trains – and wrapped its truck intentions around the theme. Beefy and heavy shouldered, the Super Chief has Ford's new three-bar grille up front, has a sheet metal body that looks like burnished aluminum, and carries a high stepped beltline. As a concept, the truck has no B pillar, so the doors swing out to provide maximum ingress and exgress. Inside, there are foot rests (it is a concept), leather everywhere and walnut trim – but don't count on much of the interior making it to a production truck, as this is intended as a show car. What hints there are of a future production line big truck lie in the design and the powertrain: Ford is tipping its hand with a V10 engine built to run on what they call a triplex system of hydrogen, E85 ethanol fuel, and gasoline. Of the three, hydrogen is the farthest out in terms of actual production. Like GM, Ford is actively developing vehicles that can run on either gasoline or E85, which is a mix of gas and ethanol. Many experts believe that this ethanol-gas mix is a good way to lower emissions, while providing better performance – without any inconvenience to the driver.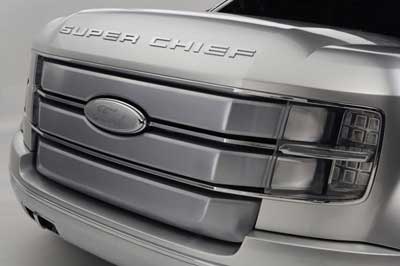 Triplex power
The Ford F-250 Super Chief Concept exists for two reasons: first, to gauge response to the next round of changes coming for Ford's F-250 truck, including the introduction of Ford's new three bar grille, and also to shoehorn in on General Motor's bio-ethanol obsession. More precisely, the Super Chief has a V10 engine that runs a "triplex" system of hydrogen, E85 ethanol fuel, and gasoline. Which is pretty cool, if totally unrealistic. But that's another reason for the Super Chief to exist: 'cause it's cool, big, has a train vibe and may one day end up in a Ford museum somewhere.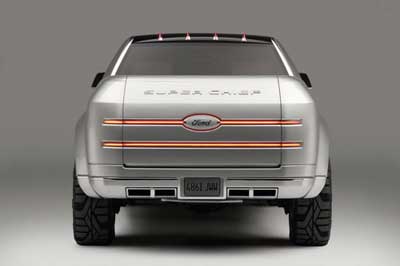 Triple threat
Ford calls the V10 engine that hides under the hood of the Super Chief Concept a representation of the "triplex system" of hydrogen, E85 (a mixture of gas and ethanol), and gasoline. It's also known as Present (ethanol), Past (gasoline) and Future (hydrogen). Or – depending on what you like -- fact (gasoline), fiction (ethanol), and pure fantasy (hydrogen). Pardon the cynicism. It's a nice thought, and as a concept the Super Chief does indeed represent the best options to-date for new energy sources. According to Ford, if they did mass produce an engine such as the supercharged, 6.8-liter V10 in the Super Chief, if would generate 280 horsepower running on hydrogen, and 310 horsepower with gasoline or E85, all at 4,250 rpm. In case you're interested, that's about 10 more horsepower than the 5.4-liter V8 currently offered in the Ford F-250.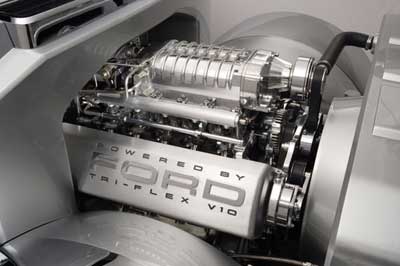 Interior comfort
There's a glass roof, first of all. And if that's not concept cool enough, the Ford F-250 Super Chief has walnut floors trimmed out in aluminum. This would be the most comfortable truck ever built, as well, with ottomans in back, recliner-type seats, with separate cushions for top and bottom.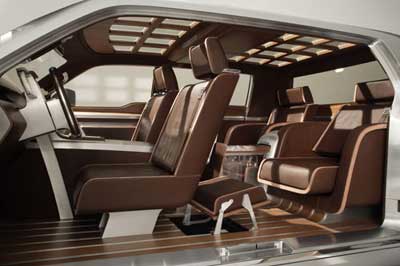 Chiseled metal
The Ford F-250 Super Chief has that typical shiny, aerodynamic concept look, to be sure, but the thing that really stands out is that big, honking grille, three bars slapped on the front of a big snout emblazoned with "Super Chief". It's also got a long cabin, two feet more than the existing F-250. As with many other concepts, the doors open outward, in order to show the interior completely – and because people thing suicide doors are really cool. The trucks' 24-inch wheels are surrounded by exaggerated flares.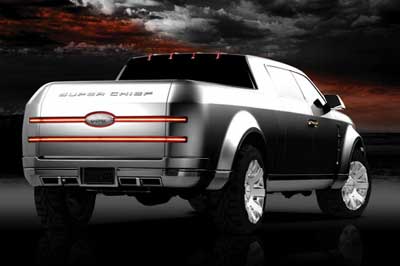 Key specifications
Engine Size and Type: Supercharged, 6.8-liter tri-fuel V10 Engine Horsepower: Hydrogen: 280 at 4,250 rpm; Gasoline: 310 at 4,250 rpm; E85 310 at 4,250 rpm Torque (ft-lb): Hydrogen: 400 at 3,250 rpm; Gasoline: 425 at 3,250 rpm; E85: 425 at 3,250 rpm Fuel Economy: Hydrogen: 13.6 miles per kg; Gasoline: 12 mpg; E85: 8.6 mpg Emissions: Hydrogen: SULEV; Gasoline: ULEV; E85: ULEV Range: Hydrogen: 150 miles; Gasoline: 336 miles; E85: 241 miles
Photos by Ford Motor Co., Ron Perry