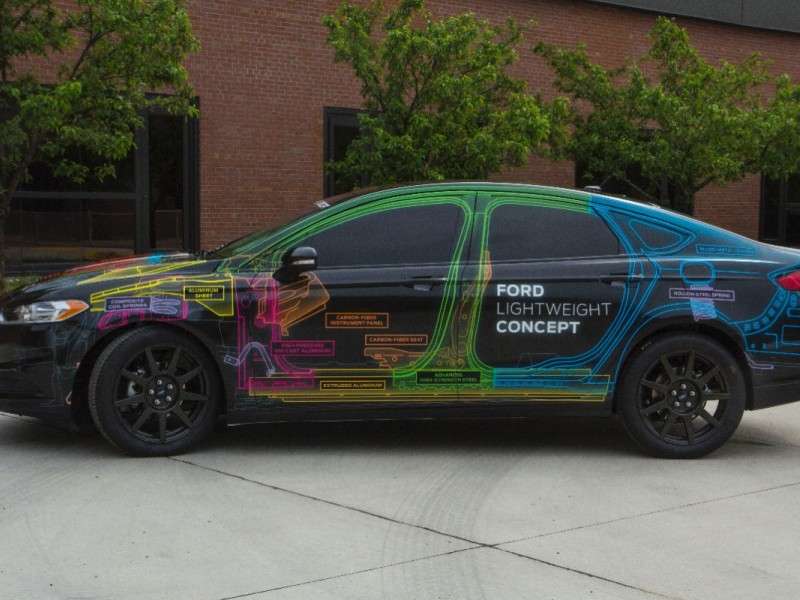 Ford appears to be in the throes of a weight-loss craze. It began with the introduction of the 2015 F-150, which boasted a drop of 700 pounds thanks to the extensive use of aluminum. Now, the company has revealed that the new Fusion lightweight concept only weighs as much as a the compact Fiesta.
"Consumers today want better fuel efficiency, but they also want more technology and features in the car, which usually adds weight to the vehicle. A focus on light-weighting will be fundamental to our industry for years to come, and we are investigating many advanced materials applications as possible solutions for weight reduction in our vehicles," said Raj Nair, Ford group vice president of Global Product Development. "
Ford's approach to shedding weight from the Fusion Lightweight concept was holistic and achieved by using a number of advanced materials throughout the entire vehicle. The body is comprised of high-strength steel and extruded aluminum. Composite materials for the front springs, an aluminum subframe, and hollow steel springs for the back comprise the suspension. Other tricks Ford used include the 1.0L three-cylinder EcoBoost that powers the vehicle, carbon fiber being used for the seat frames and dashboard, and brake rotors made out of aluminum. Ford says with all of these materials being used, the Fusion Lightweight concept is 25 percent lighter than the standard Fusion.
"Our goal was to investigate how to design and build a mixed-materials, lightweight vehicle that could potentially be produced in high volume, while providing the same level of safety, durability and toughness as our vehicles on the road today. There's not a one-size-fits-all approach to light-weighting. The Lightweight Concept gives us the platform to continue to explore the right mix of materials and applications for future vehicles," said Matt Zaluzec, Ford technical leader for Global Materials and Manufacturing Research.