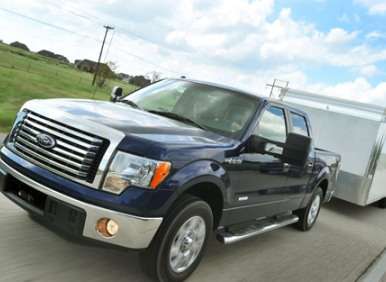 Ford is recalling certain 2011 F-150 pickups as well as 2012 F-250, F-350, F-450, and F-550 automatic transmission trucks. About 16,000 Ford trucks produced during a two-week run this past September were given a defective shift interlock actuator. This could allow a driver to inadvertently shift the vehicle into gear without the brake pedal being depressed, potentially resulting in a crash.
One of the main functions of the shift interlock device requires drivers to step on the brake before shifting an automatic transmission out of park. Audi first installed this function on its cars in response to unintended acceleration claims made in the mid-1980s. It has since become required on all automatic transmission vehicles under Federal Motor Vehicle Safety Standard (FMVSS) rule 114.
Ford is recalling all vehicles that are potentially affected by this defective part, including those heavy enough to be ruled outside of FMVSS 114. Dealers have been instructed to inspect the Brake Transmission Shift Interlock (BTSI) switch on trucks produced between September 9 and 22. Any faulty parts will be replaced free of charge. Ford has begun inspecting any trucks that are still on dealer lots, and it will begin to notify owners shortly.