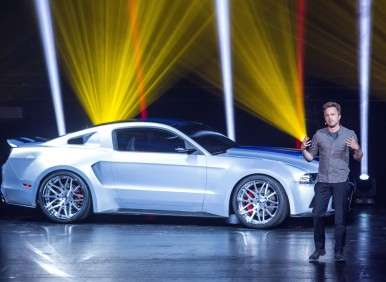 Chalk another film role up for the Ford Mustang. Ford, DreamWorks, and Electronic Arts announced that the Mustang will play the hero car role in the upcoming Need For Speed movie, coming to a theater near you next February. The Mustang for the movie is a one of a kind vehicle with a supercharged V8 engine, widebody kit, larger air intakes twin hood scoops, and twenty-two inch wheels.
This comes as part of a partnership made by Ford and Dreamworks that will also see a number of Ford vehicles making an appearance in the film. Also, Ford has provided an F-450 truck that will be called "The Beast" in the film and another Mustang to be used as a camera car.
"Ford Mustang is a symbol of freedom and optimism that allows you to be the person you dream of being, making it the perfect fit for this story. Ford is excited to partner with DreamWorks and Electronic Arts as they bring the epic gaming franchise of 'Need For Speed' to the big screen, allowing us to go further with them as they tell their great story on the global stage," said Ford Motor Company's Executive Vice President, Jim Farley.