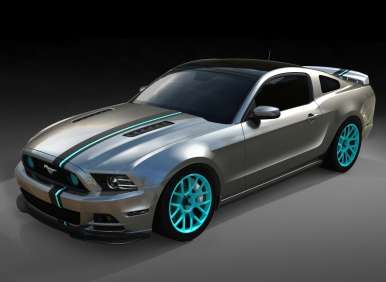 A unique collaboration between Ford and the Specialty Equipment Market Association (SEMA) is out to show that some of the country's most dedicated car guys aren't guys at all: They're the female volunteers who are participating in the inaugural SEMA Mustang Build Powered by Women.
Developed to help encourage more women to pursue careers in the automotive aftermarket, the project will see an all-women team of performance enthusiasts put together a custom 2013 Ford Mustang GT for the annual SEMA extravaganza in Las Vegas later this year. And, after online voting on three potential designs, it turns out thatwhat show-goers will see is the "High Gear" Mustang, penned by Ford's Jennifer Seely.
According to Seely, the goal of her design was "to fuse luxury with the concept of power that the Mustang is known for," and the High Gear Mustang GT will achieve this through touches like its rose-gold chrome accents (inside and out), satin-black exterior finish, quilted ultra-suede interior, five-spoke stain-chrome wheels and "angel eye" headlight treatments, which feature a halo of lighting that remains on at all times for a subtly luxurious appearance.
Naturally, there will be plenty of "go fast" and "go loud" additions as well, although Mustang lovers will have to wait for the car's debut in October to see them. Afterward, the High Gear Mustang will be auctioned on eBay to support the SEMA Memorial Scholarship Fund—"dedicated to fostering the next generation of automotive aftermarket leaders and innovators."
And if Seely is right, expect many of them to be female.
According to her: "It's a great time for women to actually step forward and say I want to be a part of this."
2013 Ford Mustang GT Reset
The 2013 Ford Mustang family enjoys a wealth of upgrades for the new model year, including quite a few that are specific to the GT. Perhaps the most important upgrade comes where it matters the most, too: After the success of the Mustang Boss 302, Ford engineers were able to leverage its powertrain improvements with the 2013 Mustang GT and squeeze 8 more horses out of its 5.0-liter V8. The engine now delivers 420 hp to go with a robust 390 lb.-ft. of torque.
Other significant enhancements include:
Revised exterior styling, with a bolder grille/front splitter, new front and rear fascias, LED taillamps, HID headlights with LED accents, functional heat extractors, body-color rockers, and more
Interior enhancements like available Recaro seats (cloth or leather-trimmed) and a choice of two new sound systems, including a nine-speaker Shaker Pro setup
More useful technologies, such as a 4.2-inch LCD productivity screen that can be used with the new "Track Apps" to display performance-oriented metrics from g forces to 0-60 times
GT drivers looking to spur their steeds on to yet more performance also will be able to choose a new Track Package that delivers an engine cooler, upgraded radiator, hi-po brake pads, 14-inch vented front disc brakes with Brembo components, special 19-inch alloy wheels wrapped up in summer performance tires.
The 2013 Ford Mustang GT is on sale now starting from $30,300 for the coupe and $35,300 for the convertible.