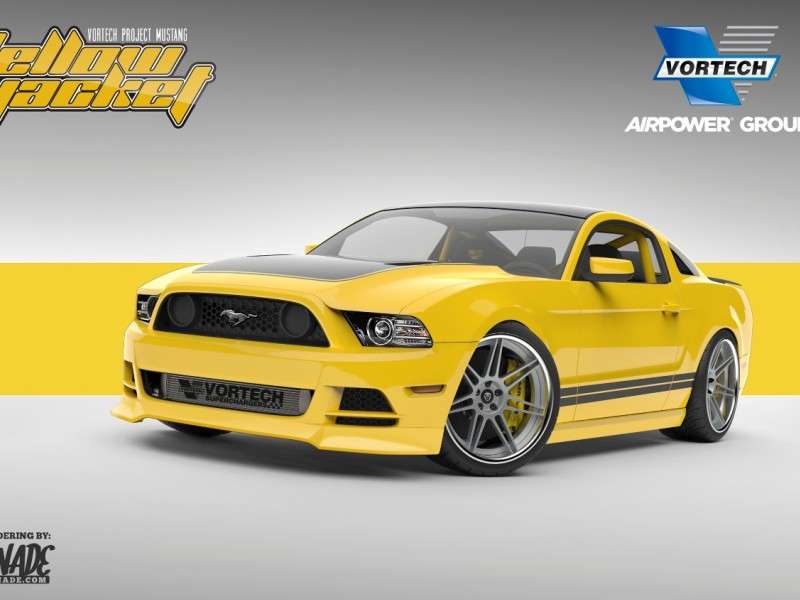 SEMA is just around the corner and automakers are beginning to announce what they will have in store. Yesterday, Ford revealed a Mustang with a bit of a sting. Meet the Project Yellow Jacket Mustang: created by Ford and Vortech Superchargers, the Yellow Jacket is a stunner.
"As a lifelong Ford fan, I was inspired to create this project car when I realized Ford doesn't offer yellow on the 2014 Mustang. We wanted to create something really eye-popping with a mechanical package to match the appearance," said Brian Ellis, sales, marketing and social media manager for AirPower Group.
The Project Yellow Jacket Mustang starts with a 3D Carbon Boy Racer body kit, a carbon fiber cowl-induction hood, iForged Icon wheels, and a bright yellow paint job. Power comes from a 5.0L V8 with a Vortech V-3 Si supercharging system that makes 605 horsepower and 473 pound-feet of torque. Not bad when you consider the base 5.0L V8 produces 420 horsepower and 390 pound-feet of torque.
Other changes include a tuned suspension, six-piston brakes from Baer, and a custom Webasto electronic sunroof.