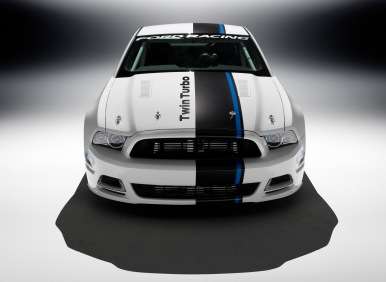 It was perhaps inevitable that Ford would get around to combining its robust 5.0-liter V8 engine with EcoBoost twin-turbocharging technology, and that day has now dawned in Las Vegas—where the Ford Mustang Cobra Jet Concept debuted during the 2012 SEMA Show. It hints at a future iteration of Ford's factory-built Cobra jet drag racer, which, since its launch in its current configuration in 2008, has become the most successful such car in America.
"Ford has embraced turbocharging technology and a lot of our production engineers are working with the technology on a daily basis, so we have a lot of knowledge," said Rob Deneweth, Cobra Jet powertrain development engineer. "We decided to apply that knowledge to the Mustang Cobra Jet to showcase what our engineers and suppliers know how to do."
Of course, gearheads probably think a street-legal Ford Mustang would be an even better showcase, and they just may be right. This is sheer speculation on our part, but there are plenty of rumors about the big changes in store for the next-gen version of Ford's modern-day muscle car, and an EcoBoost V8 would seem to be a logical choice to go under the hood.
For now, however, let's take a quick look at Ford Mustang Cobra Jet Concept itself …
Ford Mustang Cobra Jet Concept: Backgrounder
The Ford Mustang Cobra Jet Concept owes its inspiration to the original Cobra Jets that debuted in 1968, packing a massive 7.0-liter V8, four-barrel carbs, a performance-tuned suspension, and the driver's choice of a four-speed manual or three-speed automatic transmission. These cars were about as fast as they are rare—which is "very" in both cases—and were instant winners both on the street and on the strip.
Ford brought back the Cobra Jet for the current Mustang generation, in 2008, with the car adopting then-current powertrain technologies, and the most recent version can be had with a supercharged 5.0-liter V8. But here's the hitch: Since superchargers run off the engine, a fair number of horses that would otherwise go into acceleration are used to drive the supercharger itself. But because turbochargers are driven by the engine's exhaust gases, there are no "parasitic" power losses and drivers gain more power more efficiently.
Further, according to Ford engineer Dave Born: "To overcome the biggest perceived drawback of turbocharging—the lag—we've selected the smallest possible turbos that will give us the airflow we need. We've also got some other enhancements to help improve the responsiveness; we have very low inertia and very low internal friction."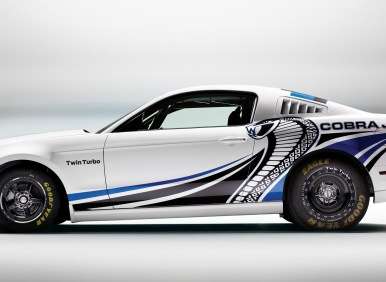 Ford Mustang Cobra Jet Concept: The Road Ahead
Even if the Blue Oval does offer a retail version of the Ford Mustang Cobra Jet Concept, the company will likely sell just a handful to the hardest of the hardcore enthusiasts, which may not seem like much of a return on investment. But—like Ford—you also have to look at how show cars like this can influence production vehicles. The party line from the automaker is that: "One of the top reasons for a car company to go racing is the rapid learning curve it provides and the lessons that can be fed back into the vehicles customers drive every day," and that's already happening with the new Ford Mustang Cobra Jet Concept.
For example, although its forced-induction system is based on the one used in the hi-po Ford Focus ST, the car's power-booster boasts titanium aluminide turbine wheels and low-friction ball bearings for nearly instant-on horsepower.
And guess what? Per Born: "We're already using ball bearings in the turbocharger of the 6.7-liter Power Stroke diesel V8 in Super Duty trucks. We're also evaluating materials like titanium aluminide for the turbine, and it could find its way into future production programs as the costs come down."