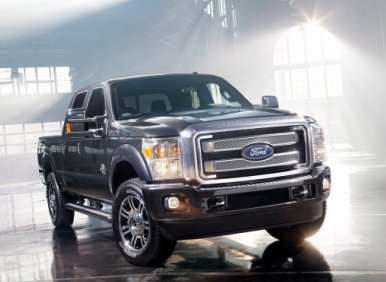 Timed to coincide with the Professional Bull Riding's (PBR) recent Last Man Standing challenge in Motor City, Ford has unveiled an all-new 2013 Ford F-Series Super Duty Platinum edition. Ford has been a decade-long sponsor of the PBR Built Ford Tough Series, and the ever-growing popularity of bull riding competition has provided a perfect market forum for Ford's, as more than fifty percent of attendees own and drive full-sized trucks.
Today, buyers want their personal pickups more luxurious and tech-smart than ever, so Ford has added the glitter and glam to its heavy-duty-hauler truck line. Available later this year, this special-edition model will get gussied-up design cues on the exterior, a luxury-appointed cabin, and a bevy of appealing standard amenities like SYNC, MyFord Touch, navigation, rear view camera, Remote Start System, power-telescoping mirrors and power-adjustable pedals.
Now popular as a top-of-the-line edition on the ½-ton Ford F-150s, it is the first time Platinum trim comes to the 3/4 –ton, 1-ton and even ---range of pickups known for toughness and work cred'. It's also the first truck-specific application of SYNC with MyFord Touch; the telematics and communications system has been crafted with tactile button controls and large rotating knobs to bring ease to truckers that wear work gloves.
"The F-Series Super Duty Platinum is the latest expression of Built Ford Tough truck luxury," said Brian Rathsburg, F-Series Super Duty Marketing manager. "It has a distinct appearance and a long list of features to deliver a superior experience. Along with that, it has all of the capability F-Series trucks are famous for."
Truck Trim History
The Blue Oval automaker originated the uplevel luxury truck segment in 1999, with the special-edition 2000 Harley-Davidson F-150, co-branding with the famed motorcycle manufacturer. In 2003, the first King Ranch Super Duty followed, designed with trim touches and materials that are bespoke of the legendary Texas ranch; this led to the addition of a Harley-Davidson version to the Super Duty stable. Ford has been successful with Lariat and King Ranch Super Dutys and sees the all-new Platinum as a timely addition to its line-up of workhorses. Lariat and King Ranch high-end trim levels will also get MyFord Touch for the 2013 model year.
Platinum sales of the light-duty F-150, which debuted in 2009, are now 5-to-ten percent of F-Series sales and Ford marketers think the take-rate for the uplevel version on the heavy duty trucks to be the same. The uplevel trim will be offered in a crew cab model only, on the platforms of the F-250, F-350 or F-450 pickups. This trend for more premium truck models has also led to upscale and special edition Ram and GM models, as well. 
Pricing won't be announced until closer to the date that the truck goes on sale during the fourth quarter of 2012, it is expected that the Platinum edition's bling will make it a pricey player. The F-150 Platinum versions start at $44,325.
The new Super Duty Platinum will be available with two fuel-efficient engine offerings: a 6.2-liter gasoline V8; and the Ford-designed and Ford-built 6.7-liter Power Stroke diesel powerplant, which Ford says gets best-in-class horsepower, torque and tow rating, when pulling with a conventional hitch.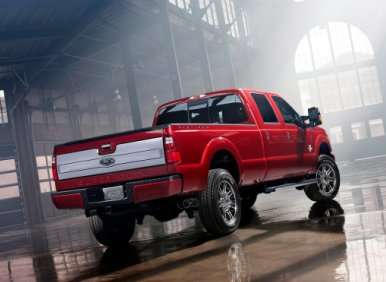 Shiny on the Outside
Designers adorned the outside of the 2013 Ford Super Duty Platinum with a distinguishing over-sized grille with a satin chrome surround that is punctuated by perforated mesh inside. The grille is set off by a monochromatic bumper and chrome tow hooks. Satin sparkles on the truck's door handles, mirror caps, running boards and exhaust tip. At the back end, the boxsides wear "Platinum" badging in chrome letters and the tailgate is –trimmed- with a satin chrome appliqué, resembling the rear trim of the F-150 Platinum. The pickups ride on 20-in. polished-aluminum wheels, with painted black inserts.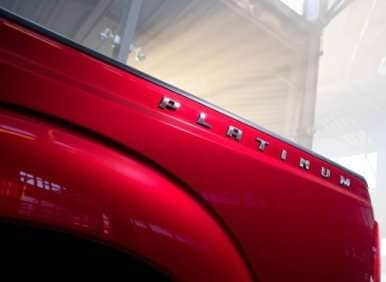 Luxury-laden Inner Recesses
The cabin of the 2013 Ford Super Duty Platinum has a collection of distinguishing, upscale trim touches and luxury features such as wood grain appliqués; a heated and leather-wrapped steering wheel, with genuine wood accents; attractive wood grain surrounds on the instrument panel, center stack and door trims; as well as a new central storage area and bin on the dash that sports two USB ports, audio-video connections, SD card slot and a 12-volt charging port for cell phones and other digital devices.  Drivers are treated to a 10-way power-adjustable captain's chair, while both front seat riders get soft, premium leather seats. The same material is used on the armrests and console. Seats and floor mats feature an embroidered "Platinum" logo.
Super Duty Platinum comes in Ruby Red, Kodiak Brown, Tuxedo Black, Ingot Silver and White Platinum exterior paints. Interior colors choices are Pecan and Midnight Black.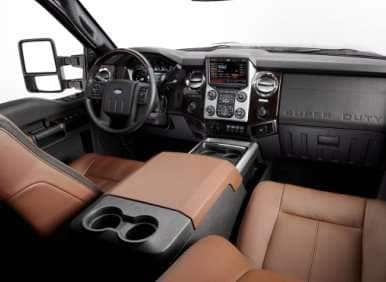 Sync Me
Standard on the 2013 Ford Super Duty Platinum is Ford's award-winning, voice-controlled connectivity SYNC system that lets drivers and passengers connect compatible mobile phones and media players via Bluetooth or USB, for phone calls and to play music. SYNC Services also brings traffic alerts, business search and other useful information with voice command. A new 8-inch, high-resolution touch screen display makes it easy to access phone, climate control, entertainment and navigation features, using a dramatically expanded, voice-control vocabulary; the touchscreen will recognize inputs from a gloved hand and the display provides a large, clear view behind to help drivers maneuver in tight spaces or line up conventional trailers with the truck's hitch, when the truck is in reverse. In addition, the newest heavy duty truck provides access to Vehicle Health Report and 911 Assist; both are no-charge lifetime features.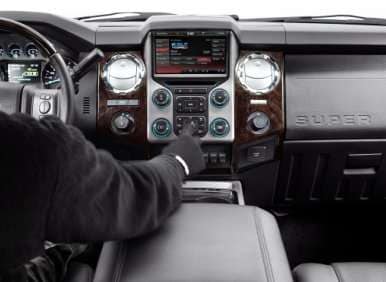 Super-Size Me
The 2013 Ford F-Series Super Duty Platinum comes to the highly-competitive pickup segment with bragging rights in a number of areas that truck buyers consider when making a purchase. Ford says its top-selling truck is best-in-class tow-rated at 17,500 pounds, with a conventional bumper hitch, and 24,500 pounds, with fifth-wheel hitch. Super Duty's beefed-up frame and hitch help enable this prowess for both the Ford F-350 and F-450, when set up with dual rear wheels and equipped with the optional 6.7-liter Power Stroke V8 turbocharged diesel powerplant; these upgrades also boosted the F-350 dually (DRW) 4x2 pickup to a maximum payload of 7,110 pounds and maximum fifth-wheel towing to 22,700 pounds, each best-in-class ratings. The heavy-duty diesel produces best-in-class 400 horsepower and 800 lb.-ft. of torque and also gets best-in-class fuel economy.
By comparison, Ford says it tow rating is 1,000 pounds more than the Chevrolet Silverado and GMC Sierra 4x2, and 500 pounds more than the Silverado and Sierra 4x4. The F-450 with 24,500 pounds maximum fifth-wheel tow rating also exceeds the 22,700 pounds of Silverado's fifth-wheel rating.
 "These are the attributes that matter most to heavy-duty pickup truck customers: towing capability, power and fuel economy," said Brian Rathsburg, Super Duty marketing manager. "Super Duty customers rely on their trucks as the tool to help them do more, do it faster and do it as cost-effectively as possible for their bottom lines."
The Ford-designed and Ford-built 6.7-liter Power Stroke diesel engine delivers as much as 20 percent better fuel economy than the 6.4-liter it replaced and can also run on up to B20 biodiesel fuel. The standard 6.2-liter V8 gas engine achieves 15 percent better fuel economy compared with the previous engine and produces a best-in-class 405 lb.-ft. of torque and 385 horsepower. It can operate on E85 ethanol. New for 2012 is a compressed natural gas/propane prep engine option. Both the diesel and gasoline-powered trucks are mated to a heavy-duty TorqShift six-speed SelectShift automatic transmission.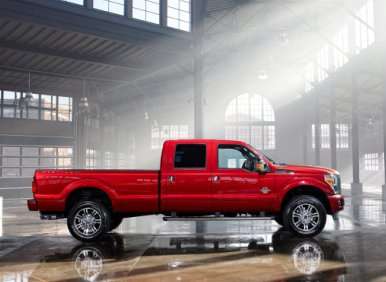 We Own Work
Ford says its F-Series Super Duty is "trusted by tradesmen to get the job done in the field more than any other heavy-duty pickup in the market", and has now developed a new "We Own Work" campaign. The basis of the campaign is to boast that Ford's Super Duty pickups dominate 21 severe-use vocations.   Examples that Ford gives are Super Duty's 74-percent share of the metal mining segment; 75-percent share of road maintenance work; and 60 percent of the utility vocation. The truck maker says its models meet the widest array of heavy-duty work challenges and have industry leadership in customer's alternative fuel requirements, with engines capable of running on E 85 Flex Fuel, B20 Biodiesel or CNG/LPG.   Ford's F-Series has been the best-selling truck for the past 35 years and best-selling vehicle for 30 years. In February of 2012, Ford's truck sales were up 26 percent over last year at the same time.