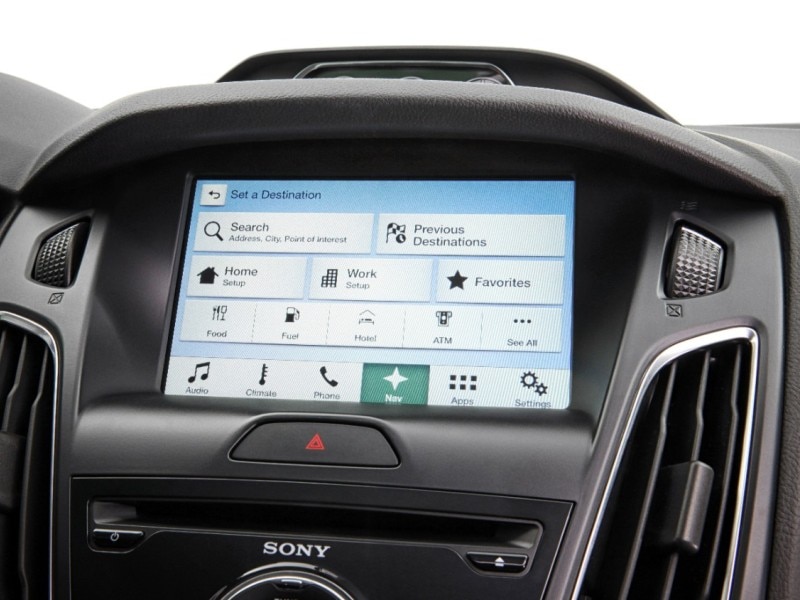 Ford SYNC 3 ・ Photo by Ford
If using the latest-generation SYNC 3 infotainment system reminds you of using your favorite digital device, well, there's a reason for that:
"We considered all the modern smartphones and mobile operating systems and created something familiar but unique," said Parrish Hanna, Ford global director of Human Machine Interface.
As a result, the new SYNC system, set to launch on Ford vehicles next year, will offer both tablet- and phone-style gestural commands, such as swiping and "pinching," as well as a much cleaner and more intuitive design that still offers industry-leading voice-recognition technology. In fact, the talk tech will be even more user-friendly, with the ability to recognize popular POI names instead of their official nomenclature; per Ford's example, folks will be able to successfully search for "Detroit airport" even though the full name of the Motor City's top aviation hub is the "Detroit Metropolitan Airport." Similarly, street-address searches will no longer require each digit to be listed individually; e.g., users can look up "Eleven Twenty-Five Main Street" instead of "One One Two Five."
Other highlights of the new SYNC 3 system:
A dual-appearance touchscreen interface with a bright daytime background and large fonts for improved visibility even in direct sunlight, complemented by a darker look for the evening, to reduce reflections and eye strain
Enhanced"911 Assist" functionality for if the vehicle is in a crash, providing more information to first responders and continuing to offer automatic crash notificationwith a subscription service
Wi-fi updating,which will be able to automatically update SYNC 3 software by leveraging an owner's home wireless connection
Standard access to Siri Eyes Free for owners with compatible iPhones
Additionally, the Blue Oval has developed a more seamless and powerful integration for its AppLink feature, making it easier for drivers to leverage their previously downloaded digital apps while in a Ford vehicle.
"Overall, AppLink is faster, more responsive and [makes it] easier to find your apps," according to Julius Marchwicki, Ford global manager for AppLink. He also noted that: "The overall design of SYNC 3 allows for better integration with smartphones—resulting in a more user-friendly experience."