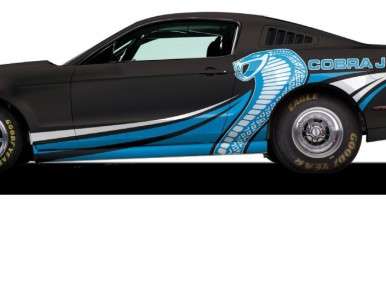 The Ford Mustang Cobra Jet turnkey drag car has a long list of accomplishments that includes holding more records for Stock and Super Stock classes in 2012 than any other model, being a four-time winner in the NHRA national event, having its own race series, and its own drag racing school. Ford Racing hopes to continue that trend with the introduction of the 2014 Mustang Cobra Jet.
For the 2014 model, Ford Racing installed a new three-speed transmission with an SFI-approved housing, parachute mounts for those who are planning to go over 150 MPH, and new colors choices; Gotta Have-it Green, and an exclusive Cobra Jet-exclusive flat black. Other than those changes, the 2014 Mustang Cobra Jet sticks with the formula that has worked for previous models. Under the hood is a 5.0L TiVCT V8 engine with a 2.9L Ford Racing/Whipple supercharger. The lightweight body structure provides optimum weight distribution, while a rollcage provides rigidity and safety in the case of a crash.
If you're interested in a 2014 Mustang Cobra Jet, you should get to your Ford dealer as soon as possible. Ford says there will only be fifty Cobra Jets built for this year and each one will cost $97,990, plus optional paint and graphics. But for that price, you get a turnkey drag car that is eligible for NHRA Stock or Super Stock classes. Production of the 2014 Mustang Cobra Jet starts in July.