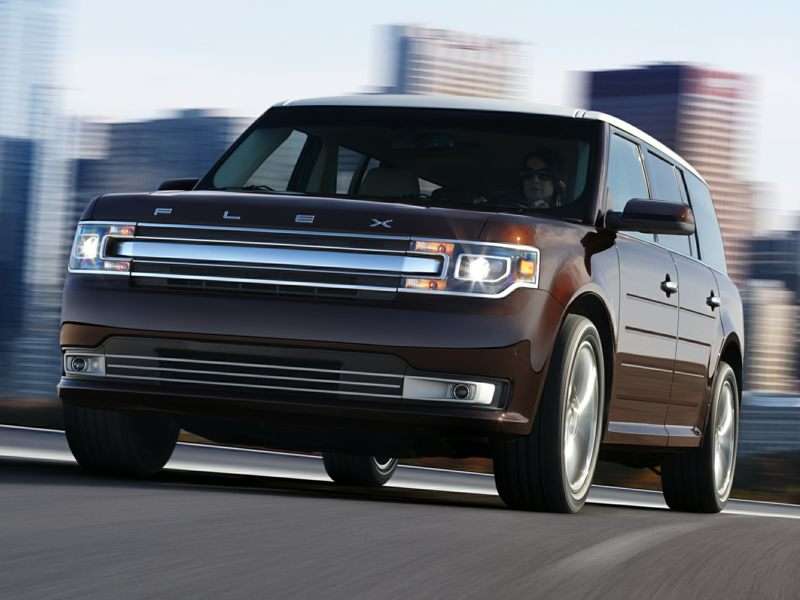 2016 Ford Flex exterior front angle ・ Photo by Ford
Introduced at the 2007 New York International Auto Show, the Ford Flex caused quite a stir among automotive pundits when it was unveiled. While the virtues of the aptly named Flex were readily appreciated, categorizing the Ford is kind of tough, and has been a point of contention throughout its lifespan. Why? Well, just take a look at it. While shaped like a station wagon, the Flex offers the high seating position of a crossover sport utility vehicle, contains the features of a minivan, and drives like a luxury car. It's positively difficult to imagine how any model could be more unclassifiable than the schizophrenic Ford. After all, there are convincing arguments for each type of vehicle.
SUV – High Seating Position
Surprisingly, even though the Ford Flex sits at the ride height of a standard automobile, once you're seated inside, you'll be astonished to realize you're sitting higher than you do in a typical car. This is because the seats are actually elevated inside the vehicle, offering the driver and the passengers better outward visibility. This, in turn, leads to an enhanced feeling of safety and security. After all, as a driver, when you can see better, you feel more confident in your ability to avoid untoward situations. For passengers, the high seating position and superior outward visibility contribute to a more pleasant journey. After all, they can see more than they would in a standard automobile. What's even more remarkable is the Ford Flex delivers these attributes without forcing you to climb up into the vehicle—making ingress and egress less difficult. It's the best of both worlds, really; you get the security of a crossover sport utility, without suffering the inconvenience of its size.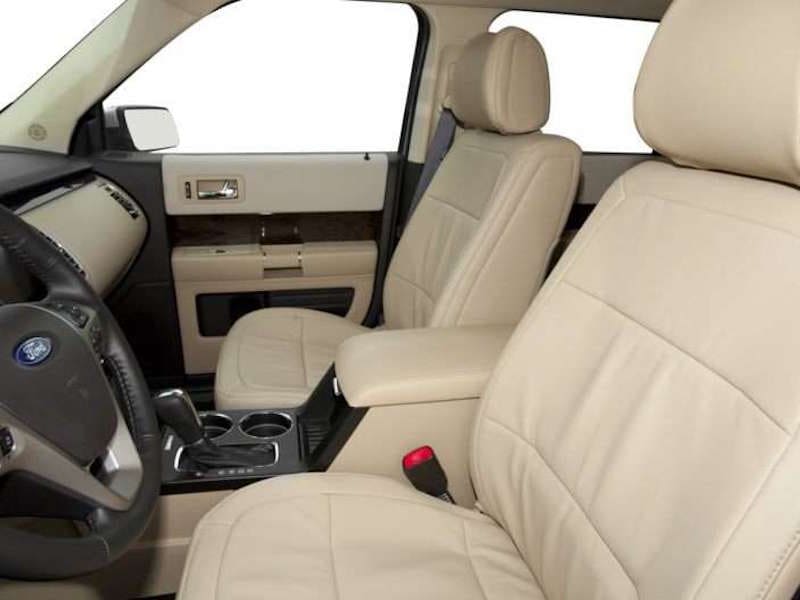 SUV – All-Wheel Drive Powertrains
Like pretty much every crossover suv out there, the Ford Flex is offered with an all-wheel drive powertrain. This is true regardless of your engine selection. With Flex, you get a choice between two 3.5-liter V6 engines. The standard powerplant produces 297 horsepower and 254 ft-lbs of torque with normal aspiration. This engine is mated to a six-speed automatic transmission and front-wheel drive. All-wheel drive is available as an option when fitted to the Flex's upper trim levels. Fuel economy is rated at 18 mpg city, 25 highway, and 20 combined with front-drive. Going with all-wheel drive returns 16 city, 22 highway, and 18 combined. The Flex's optional engine employs turbocharging to generate 365 horsepower and 350 ft-lbs of torque form the 3.5-liter V6. All-wheel drive and a six-speed automatic transmission are standard. Fuel economy with this setup is also rated at 16 city, 22 highway, and 18 combined.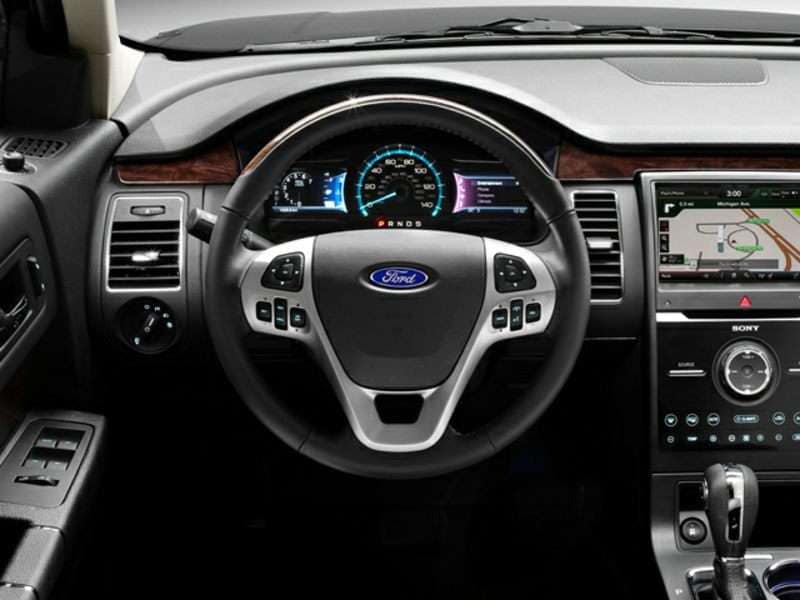 SUV – Significant Towing and Hauling Capacity
The Ford Flex, like its SUV relatives, uses fold-flat seats to increase cargo capacity. With all three rows deployed, the 2016 Ford Flex will readily consume 20 cubic feet of kit, while simultaneously seating seven people. If you need to carry more cargo, you can fold the third row and pick up an additional 23.2 cubic feet. When hauling cargo is an absolute priority, if you forego passengers altogether and fold both the second and third rows, you'll be looking at Flex Caverns. Some 83.2 cubic feet of cargo capacity opens up for your exploration. The fold-flat nature of the seats also gives you a level surface with which to work, making loading and unloading easier. The level floor also maximizes available space. Additionally, the Ford has cargo hooks for securing smaller items. By the way, Flex can also tow up to 4,500 pounds.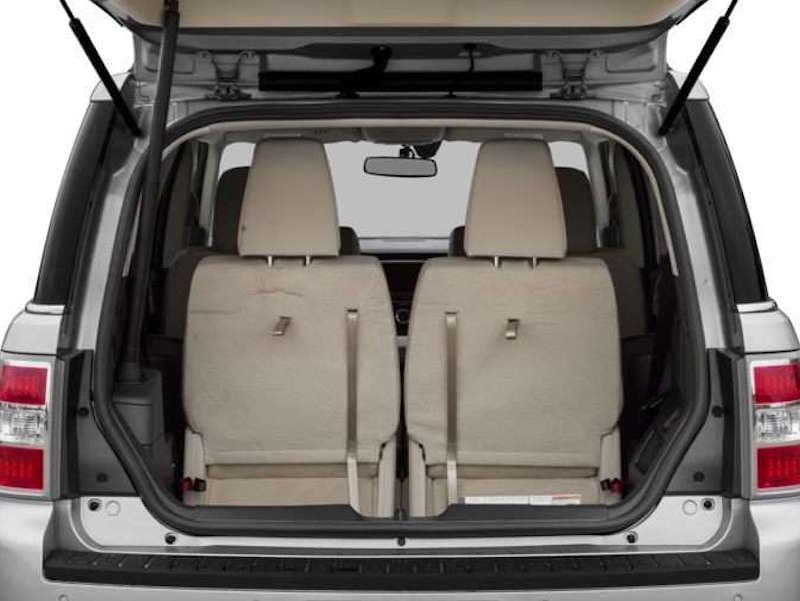 Photo by Ford
Station Wagon – Normal Ride Height
Yes, the SUV is a wondrous beast; however, if you've ever watched smaller children trying to get into one, you'll really appreciate the fact the Ford Flex is positioned low to the ground like a car. Its doors also open nice and wide, making it easier to get in and out. Further, if you look closely at the exterior of the Flex, you'll note the bottom of the doors overlap the body. Because of this, lower parts of the Flex around the doorframes stay clean when the Ford is driven in inclement conditions. This prevents soiling your trousers or your dress as you get in and out.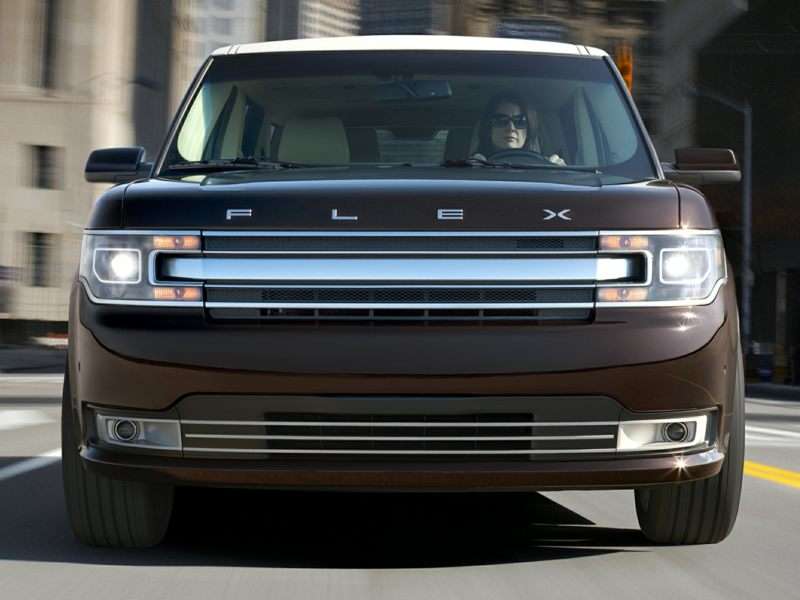 Photo by Ford
Station Wagon – Pleasant Road Manners
On long road trips with the family, you want the vehicle to be as undemanding as possible. With kids, tons of luggage, an itinerary to manage, and hopefully, some fun in there for yourself, as well, you want the car to take care of itself as much as possible. You want it to start every time, handle easily on the road, deliver good power when called upon to do so, track nicely around curves, be easy to park in unfamiliar places, and just generally be as easy as possible to live with. This perfectly describes the Flex. The Ford rides like a luxury car, wind noise is minimal, untoward sounds from the engine compartment are non-existent, and the build quality renders the cabin free of squeaks and rattles. Further, all seven seating positions provide good support and comfort. These attributes are an absolute godsend on family road trips. Less noise means lower fatigue, which means less likelihood of crankiness. Meanwhile, comfortable seats keep complaints to a minimum.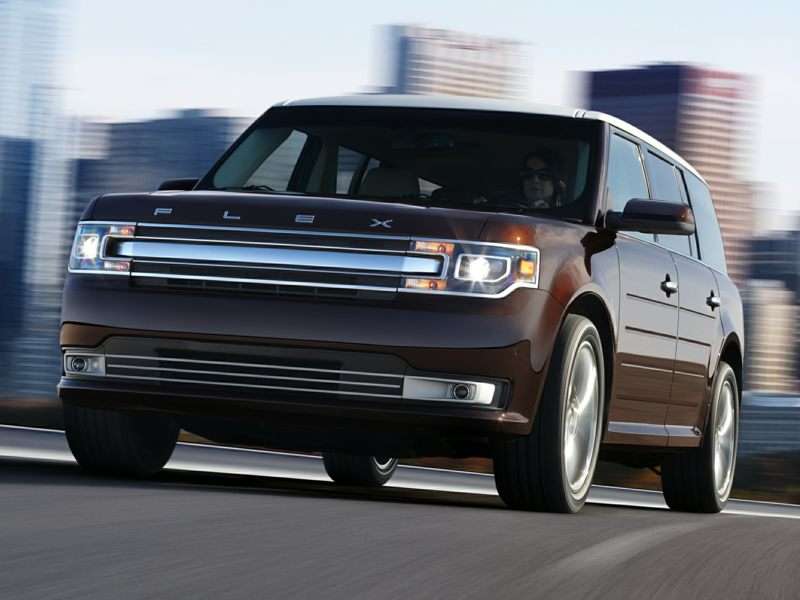 Photo by Ford
Station Wagon – Impressive Safety Features and Crash Test Results
station wagons have long been considered quintessential family transportation, and safety is of paramount concern to any family car. In the case of the 2016 Ford Flex, standard safety components include ABS, stability control, traction control, front airbags, front side airbags, a pair of full-length side curtain airbags, blind spot mirrors, and a rear proximity sensor array. Electronic driver's aids include adaptive cruise control and a collision warning system with braking support. Inflatable seatbelts are also offered as an option for the occupants of the second row seats. The IIHS says Flex rates its top ranking ("Good") in moderate-overlap, frontal-offset, side-impact, and roof-strength tests.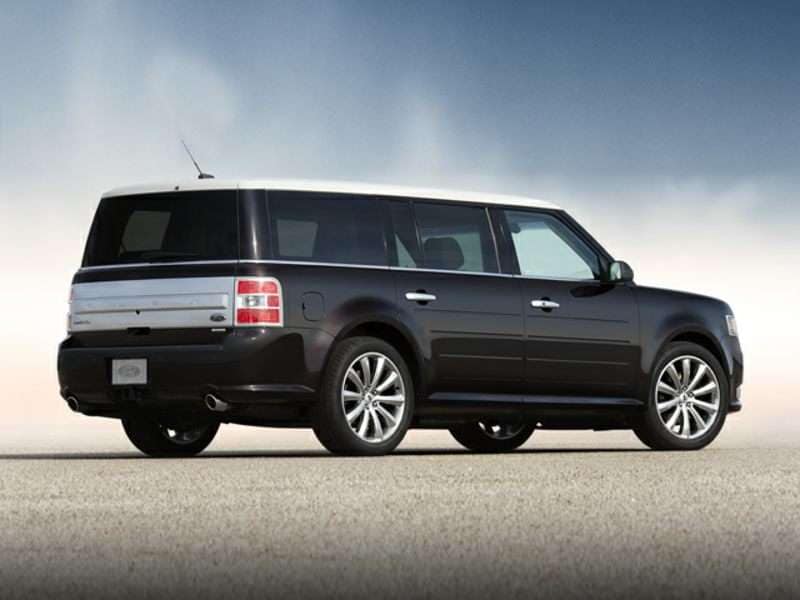 Minivan – Reconfigurable Interior
Harboring many of the features of a minivan while driving like a luxury car, the Ford Flex is easily one of the most flexible models on the road. With an available refrigerator, third row seating capable of comfortably accommodating adults, and the option of captain's chairs for the second row, the multi-faceted Ford Flex is a highly flexible automobile. Further, the Ford's auto-folding second-row passenger seat makes accessing the third row a snap—even for taller adults. Going with the optional captain's chairs makes getting into the third row even easier, as they simply slide out of the way. What's more, the boxy minivan-like shape of the Flex comes in handy when it's time to cart around cargo. Because the Flex is basically a box on wheels, you can fold away the seats and take advantage of pretty much every cubic foot of cargo capacity—just as you can in a minivan.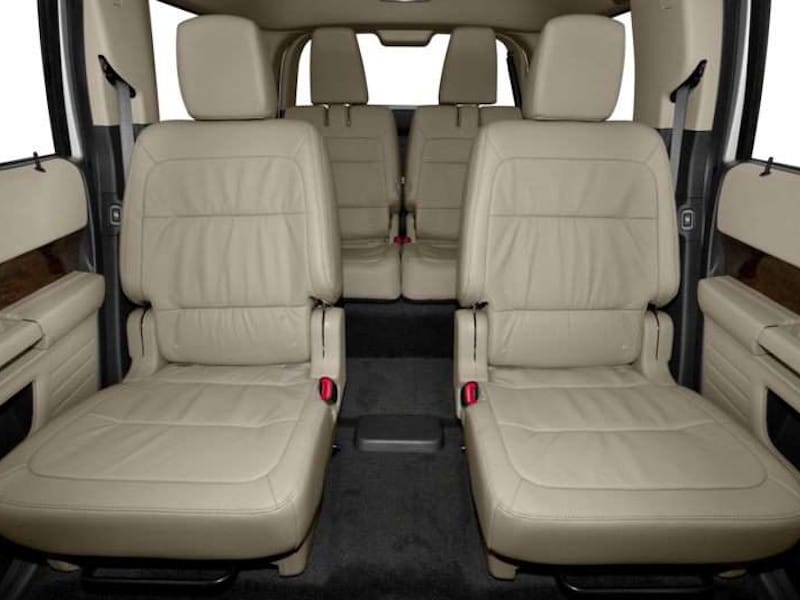 Photo by Ford
Minivan – Family-Oriented Tech Solutions
There comes a time in every parent's life when the kids get old enough to drive. This is where Ford's MyKey telematics system offers considerable peace of mind. With MyKey, you can set pre-determined boundaries, and the car will rat the little suckers out if they exceed them. MyKey monitors their speed and their destinations, and can even keep them from turning the radio up too loud. Ford has also fitted its new SYNC 3 infotainment system to the Flex. Virtual "buttons" for the primary functions are arrayed in a row along the bottom of the touchscreen, making them readily accessible regardless of the mode the system is in. SYNC 3 also supports voice activation and a host of smartphone apps, which opens up a broad variety of entertainment streaming options. SYNC 3 features a simple layout, pinch and swipe inputs, and crisp graphics.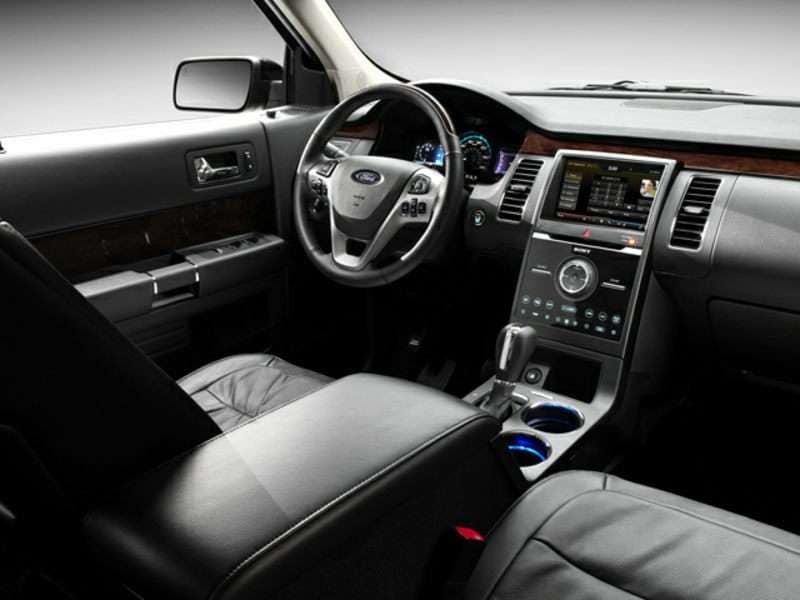 Minivan – Rear Seat Climate Controls
"It's too hot! It's too cold! The fan is on too high!" These are complaints you'll happily leave behind with Ford Flex. The rear seat occupants get their own climate system, complete with separate controls. They can set temperature and fan speed, direct the flow of air from the HVAC vents, and even activate their own seat heaters (when so equipped). The console also includes a 120V AC power outlet, as well a 12V DC power port, which frees you from hearing, "Dad, would you charge my phone, please?" They have plenty of power ports back there to do it themselves.
Flex Is Both All Of The Above and None Of The Above
So, is the Ford Flex SUV, wagon, or minivan? Good question. Whatever it is, nothing else really comes close to delivering its unique blend of attributes for the price. For the 2016 model year, Ford is offering Flex in three trim levels—SE, SEL, and Limited. Standard features on the $29,600 Ford Flex SE include heated mirrors, automatic headlights, rear privacy glass, integrated blind spot mirrors, rear proximity sensors, and cruise control. There is also air conditioning, a leather-wrapped tilt-and-telescoping steering wheel, and Ford's SYNC 3 interface for phone, audio, and emergency assistance systems. Bluetooth phone connectivity and audio streaming are included, as well. The mid-range Flex SEL starts at $32,300, while the ultra-luxe 2016 Flex Limited starts at $37,800.