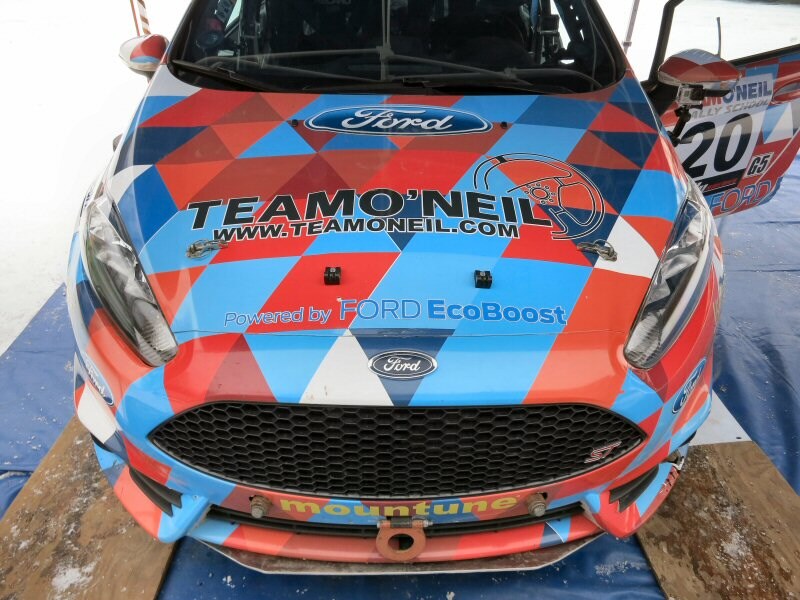 Ford Fiesta ST Rally America ・ Photo by Benjamin Hunting
Picture a facility, nestled in the woods of the Northeast, where a highly skilled tactical driving squad teaches professionals and amateurs alike how to negotiate the perilous stages of the world's most treacherous and demanding motorsport: rally. Now imagine that this rally command center is partnered with Ford and makes use of that brand's Ford Fiesta and Fiesta ST hatchbacks as important tools for demonstrating the techniques required to slide across tarmac and snow with the grace of a scalded gazelle, and you've got a pretty good idea of what it's like at Team O'Neil Rally School in Dalton, New Hampshire, which I had the good fortune of attending earlier this month.
2. Classroom Time Is Key
When you first arrive at Team O'Neil, you're not going to be let loose in a Ford Fiesta until you've at least absorbed the basics of momentum and cornering theory in the classroom. Instructors patiently explain apexes (both early and late), braking, and the concept of left-foot braking while making use of real-world examples of car control on the street and the track and how they differ in a rally environment. What I learned on the whiteboard proved to be key to understanding how to get my body to fight off years of rear-wheel drive instincts while trying to hustle the front-wheel drive Fiesta through the snow.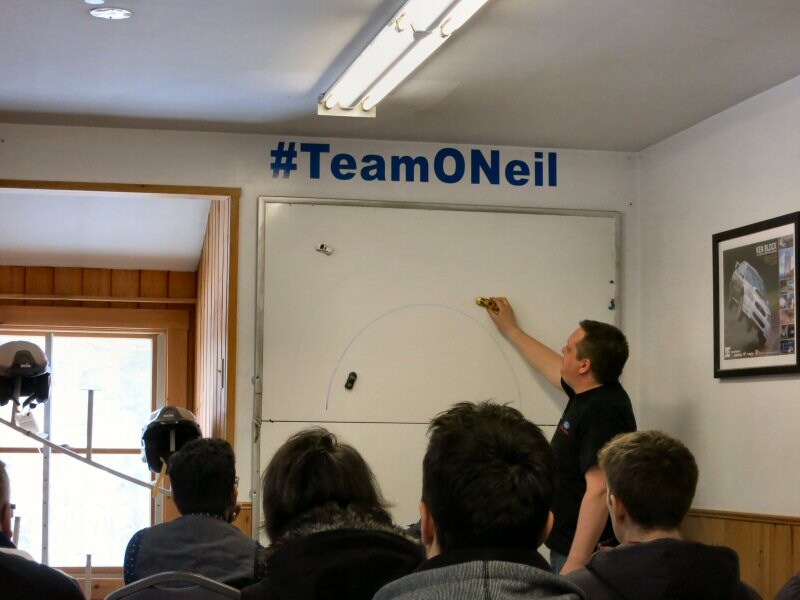 Photo by Benjamin Hunting
3. Ford Fiestas For Everyone
It might sound unusual to make use of a seemingly ordinary car like the Ford Fiesta to teach high performance driving techniques at a rally school, but that's selling this subcompact hatchback a little too short. The 1.6-liter, four-cylinder engine offered by the base Fiesta only puts out 120 horses, yet on a low-traction surface an abundance of power is a liability - what you really want is a lithe and lightweight chassis like the one provided by this particular Ford. All of the cars I drove at Team O'Neil Rally School featured five-speed manual transmissions and had their electronic stability control, traction control, and anti-lock braking systems deactivated.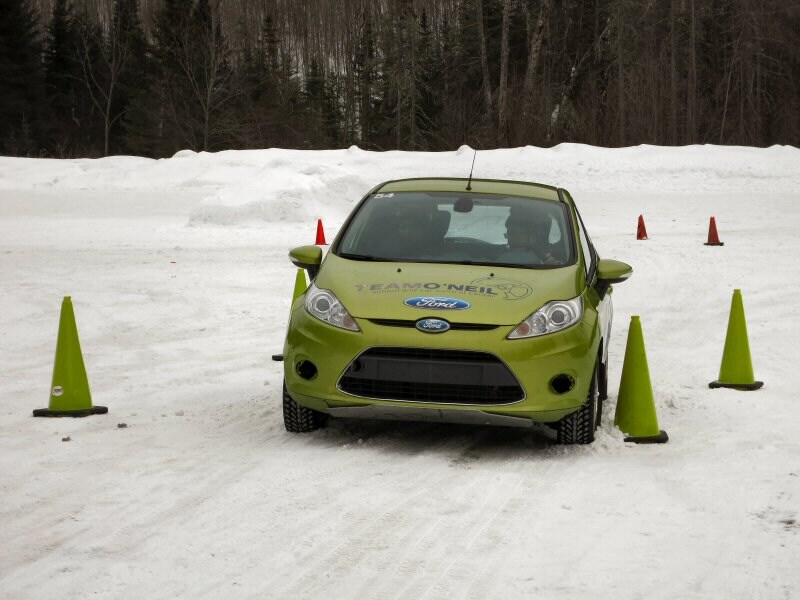 Photo by Benjamin Hunting
4. No Electronic Driver's Aides, Please
Even the turbocharged Ford Fiesta ST hatchbacks that we also had access to at Team O'Neil featured all of their electronic nannies permanently switched off. Why would one want to disable safety features in the snow? In order to take full advantage of left-foot braking, a technique where the left foot is constantly applying brake pressure even while accelerating, ABS has to be out of the picture. You also don't want stability or traction control killing the throttle while sliding through a corner, as maintaining momentum is key to getting anywhere quickly when driving over ice.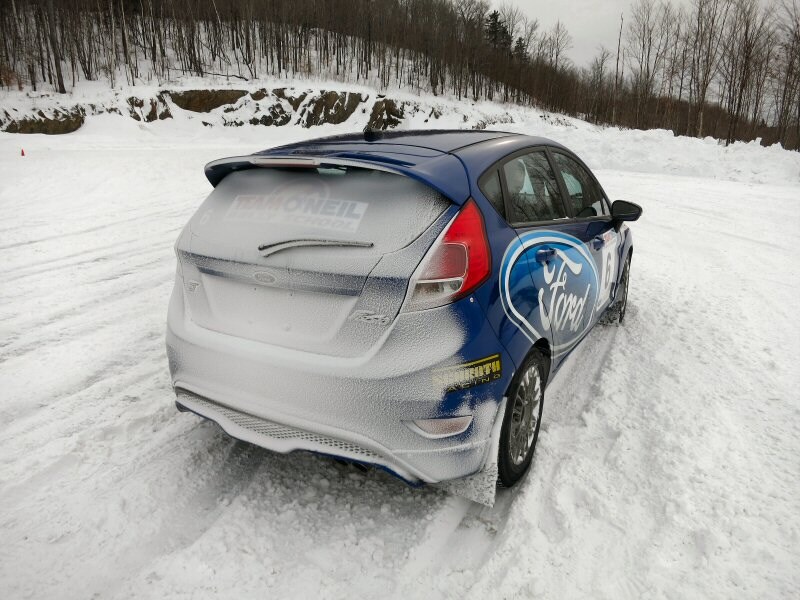 Photo by Benjamin Hunting
5. Too Much Turbo
Why constant left-foot braking in a front-wheel drive rally car? The answer is deceptively simple in theory, and devilishly difficult to master in practice; braking shifts the car's weight over the front axles, which makes it easier to turn on a slippery surface where large steering wheel inputs have no real effect. I found it very difficult to get used to modulating the brake and the throttle at the same time, and to remember not to accelerate until after a turn had been executed (rather than trying to kick the car through the corner with the accelerator as with a rear-wheel or all-wheel drive car). This was an even more difficult task in the Ford Fiesta ST, as its constant brake vacuum, responsive 197 horsepower turbocharged 2.0-liter four-cylinder engine, and twitchy suspension made it a handful at the limit.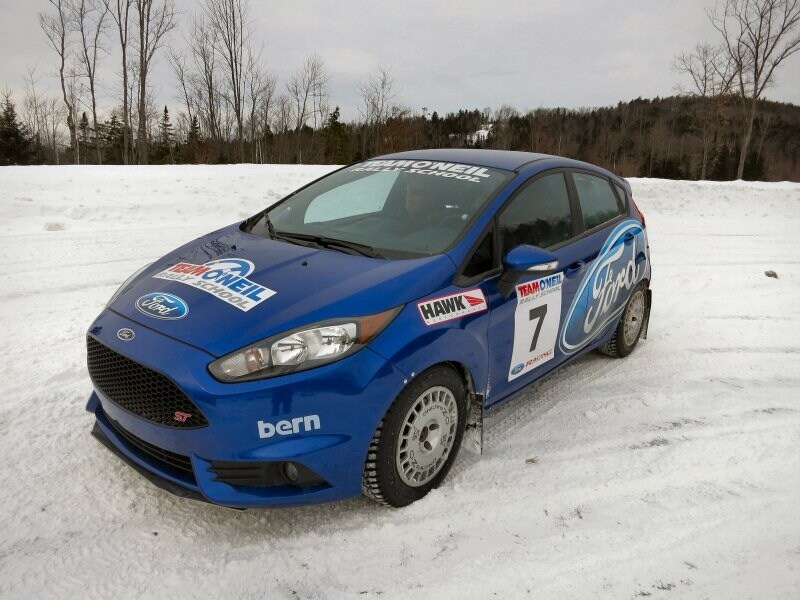 Photo by Benjamin Hunting
6. Factory Beast
I was given the opportunity at Team O'Neil to ride along with Andrew Comrie-Picard, the current Rally America 2WD champion. The Ford Fiesta ST rally car on the left might look quick different from the showroom Fiesta ST on the right, but these vehicles have a lot more in common than you might think. In fact, other than a roll cage, a beefier suspension, and a sequential shifting dogbox, the rally and street models are almost identical. The Fiesta ST rally car even maintains the stock Ford drivetrain, with only a Cobb reflash to give it extra power over the factory rating.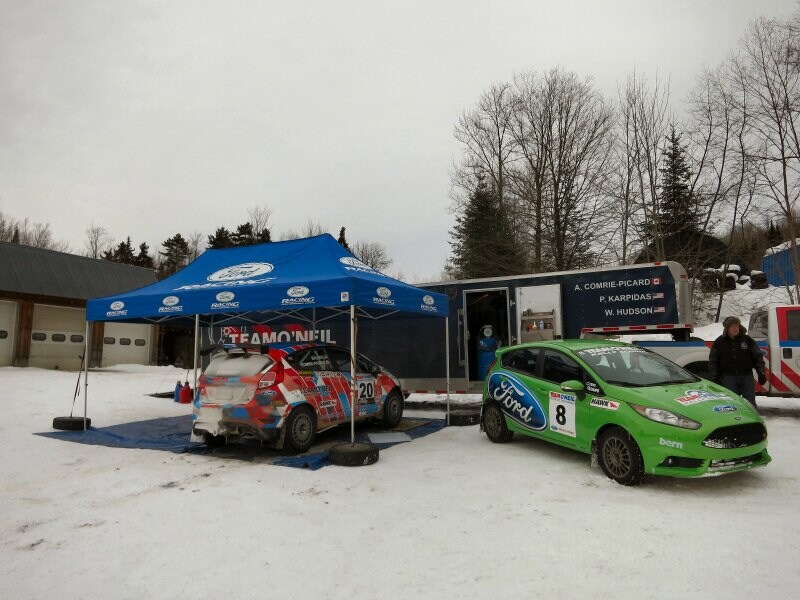 Photo by Benjamin Hunting
7. We Are Airborne
Suffice it to say, riding along with a rally champion like Andrew Comrie-Picard in a turbocharged Ford Fiesta ST competition car on studded winter tires is the kind of experience I will never forget. We wove a path through tight, heavily-wooded trails that wouldn't have looked out of place on a WRC stage, and the car was completely airborne not once, but twice during my brief time as a passenger. The sound of the Fiesta ST's mechanical innards was a symphony of turbo whine, crunching gears from the clutchless dogbox, and protesting suspension components expertly conducted by Comrie-Picard by way of the gas, brake, shifter, and emergency brake.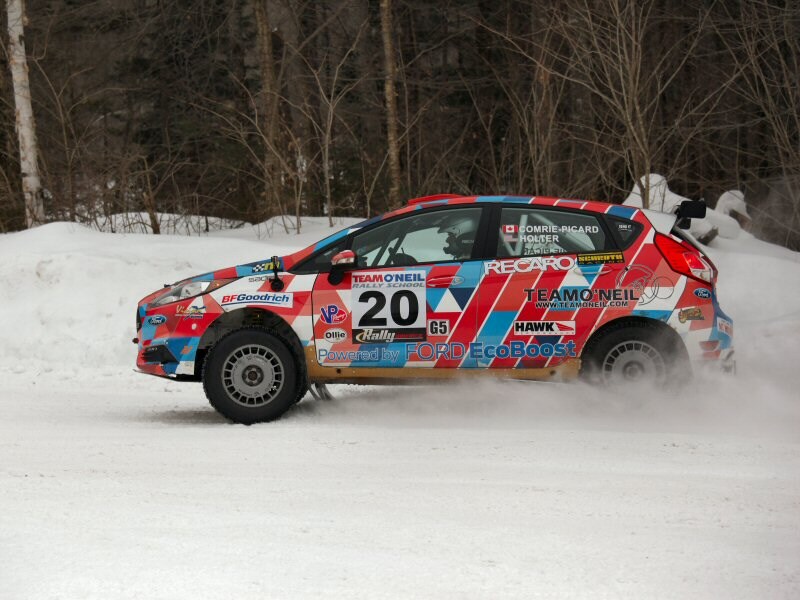 Photo by Ford Media
8. Flicks And Slaloms
We participated in numerous exercises throughout the day at Team O'Neil, including a challenging slalom course that involved both uphill and downhill sections. Designed to teach us the fundamentals of left-foot braking, the slalom gave me the chance to inexpertly rotate the car on its front axis from one pylon to the next in a bid to get a rhythm going that would preserve as much momentum as possible. Next up was a Scandinavian flick exercise, where we used left-foot braking to feint to the outside of a corner before sliding the Fiesta all the way through. It's a technique that's exceptionally useful on a narrow road, and one that takes hours of practice to get down.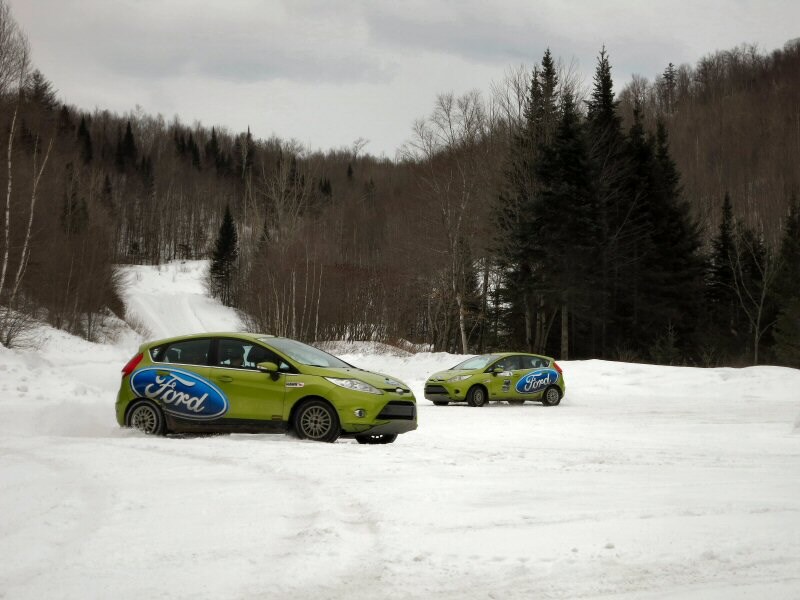 Photo by Ford Media
9. Timed And Tested
At the end of the day it was time to put together everything I had learned on a test course that had been setup to incorporate flicks, slaloms, and car control all in a timed lap. We had two chances to make it through the test circuit without tagging any pylons, with the caveat that the stopwatch wouldn't click off until we had come to a complete stop in the snowbox at the very end. With the help of the handbrake - and the judicious selection of a standard Ford Fiesta rather than a Fiesta ST as my ride - I was able to post a mid-pack time and be happy with it.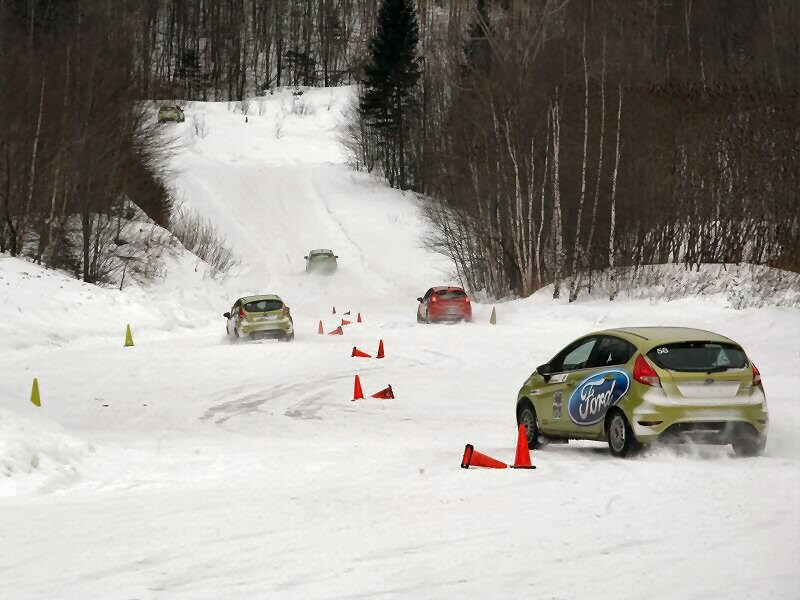 Photo by Ford Media
10. Leaving Team O'Neil A Better, Safer Driver
Even if you never intend to try your hand at a rally stage, a driving school like Team O'Neil can go a long way towards keeping you safe out on the road. Gaining a full understanding of how physics, weather conditions, and road surfaces can impact the daily drive can significantly improve your car control capabilities. The first-person experience of feeling a car slide past the edge of the envelope in a dedicated environment with an instructor by your side will help you develop confidence behind the wheel and teach you where the limits of safety are on the street. The techniques that I learned while driving Ford Fiestas at Team O'Neil have already proven useful in helping me negotiate winter's snow-and-ice-covered roads, regardless of what I am driving.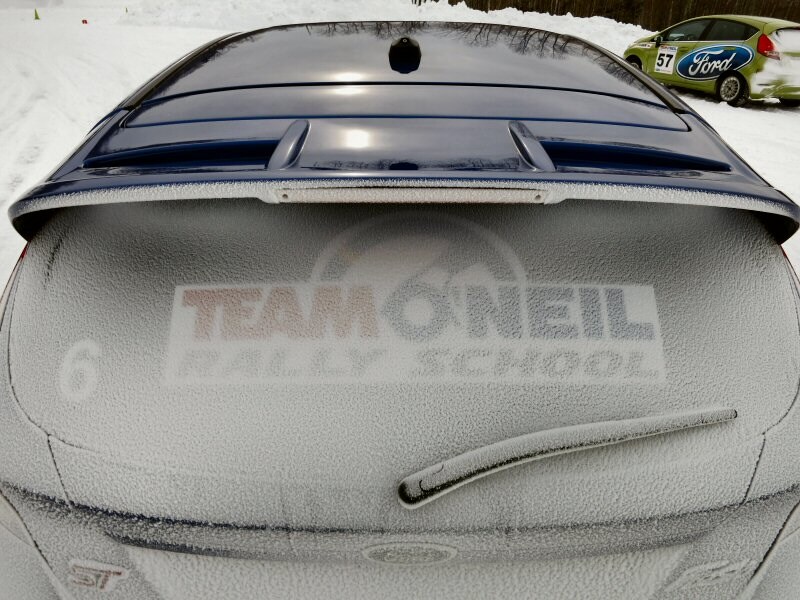 Photo by Benjamin Hunting