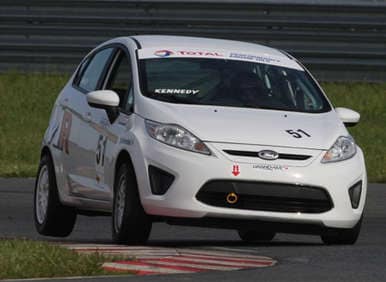 In auto racing, it is said that the most important lap to lead is the final one, and Bobby Kennedy proved just that on Sunday earning his first win in the Grand-Am Total Performance Showcase and putting the Ford Fiesta in victory lane for the first time as well. In its inaugural season, the Grand-Am Total Performance Showcase consists of production-ready B-spec (subcompact) cars, and 18-year-old Kennedy took his No. 51 Ford Fiesta to the top spot at Watkins Glen International in a last-lap pass over teammate and coach, Todd Buras. The entire 45-minute, 16-lap race at the 3.4-mile track was dominated by Ford Fiestas from the green flag to the checkered flag.
The Ford Fiesta started on the pole thanks to David Rosenblum's No. 18 car, but he never led a lap. By turn 1, Buras had a 1.8-second lead over the pack, and he was seemingly on cruise control from there leading every subsequent race to the start/finish line... except for the last one of course. At the white flag, Buras led Kennedy by .358 seconds, but Kennedy overtook his teammate halfway through the lap in the Inner Loop chicane. At the finish line, Kennedy edged Buras by a narrow .070 seconds with Robbie Davis and his No. 37 MINI Cooper coming in third.
"I was drafting Todd all the way and finally got him on the last lap going into the Inner Loop," Kennedy said. "We were door-to-door from there the rest of the way, and he was right inside my door at the checkered flag."
Proving how competitive this new class of Grand-Am racing is, Kennedy is the fourth different winner in as many races with his Ford Fiesta going up against other subcompact hatchbacks like the MINI Cooper, Kia Rio and Mazda MAZDA2. The Mazda won the first race at Homestead-Miami Speedway, while MINI teams drove off with wins at New Jersey Motorsports Park and Mid-Ohio Sports Car Course. Remaining Grand-Am Total Performance Showcase include Mazda Raceway Laguna Seca on Sept. 9 and Lime Rock Park on Sept. 29.
Photo courtesy of Grand-Am Road Racing