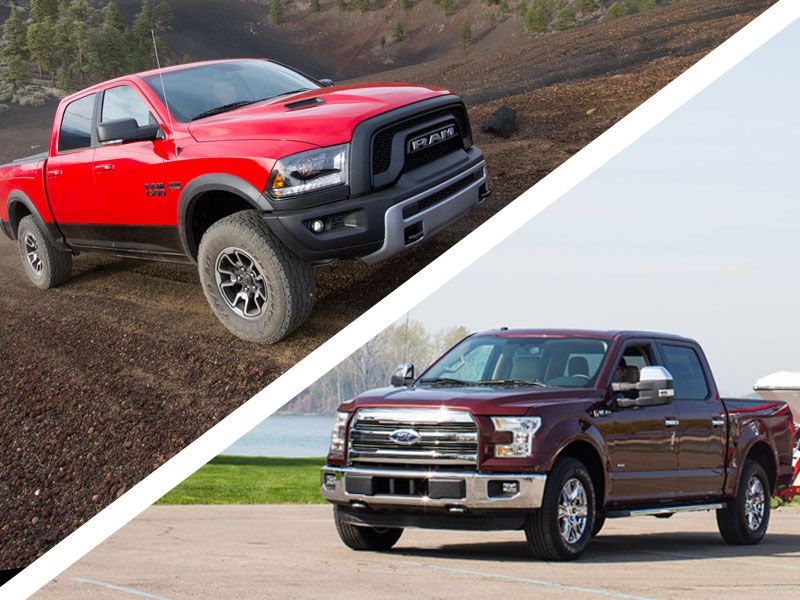 Ford F 150 vs Ram 1500 comparison
These two full-size pickups aren't just two of the best-selling trucks in the country, they're two of the best-selling vehicles in the country. The 2016 Ford F-150 is part of the F-Series pickup family that's been the No. 1 vehicle nameplate in the country for 34 straight years. As for the Ram, it's now locked in as the third-best seller in the United States. (Chevy's full-size pickup, the Silverado, is sandwiched between them.)
As the entry points to their brands' lineups, the specific F-150 and Ram 1500 models set the pace in both cases. Both are true full-size trucks, with more than five tons of towing power. But the F-Series also includes the even more robust F-250 and F-350, and Ram has counterparts called the 2500 and 3500.
The Ram 1500 and F-150 share a number of attributes to earn their sales success, too, although there are some important differences. Many are based on the fact that the Ford was introduced as a brand-new, next-gen truck in the 2015 model year, while the Ram rides on an older platform—yet still maintains unique benefits of its own.
Pricing and Trim Levels
The 2016 Ford F-150 XL and 2016 RAM 1500 Tradesman are the entry trims for the trucks, and that "Tradesman" designation gives a clue as to what you get: These are fairly basic work trucks, in two-door, regular cab configurations, with air conditioning but without power locks or windows. The Blue Oval's choice can be bought for an MSRP of $26,430; just above that of the Ram, at $26,145.
Naturally, the two automakers also compete in the premium pickup segment, but there, the F-150 Limited checks in at $58,770, and the Ram 1500 Laramie Limited at $52,320, to create a much wider $6,450 pricing advantage for the Ram. That said, the Ford pickup provides some upscale technologies that are lacking in its otherwise well-equipped competitor.
Ram then follows the same pattern as other Fiat-Chrysler brands like Dodge and Jeep in offering an especially wide range of models in between those extremes, furnishing seven more trim choices to the four more found at Ford. Particularly notable for Ram is the presence of the Rebel off-road truck, priced at $43,270. Ford's version, the Raptor, is on its way but won't go on sale until the 2017 model year.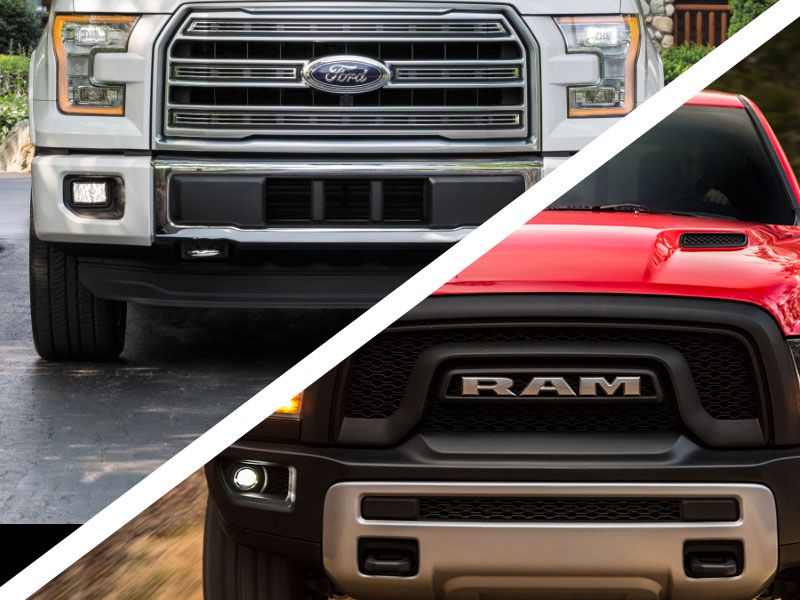 Powertrains, Performance and Efficiency
The 2016 Ram 1500 and 2016 Ford F-150 both feature tons of tow power—literally—but here's some advice from the Autobytel experts: Keep your own needs in mind before basing your purchase solely on which truck offers the absolute highest mark. After all, personal watercraft, snowmobiles and even small boats—plus trailers—are well within reach of both pickups.
On the other hand, if peak pulling power is your preference, the F-150 can handle up to 12,200 lbs. in its most capable configuration, with the Ram 1500 touting a maximum trailer rating of 10,640 lbs.
Next, let's turn to where these trucks get their towing power. The F-150 and the Ram 1500 each offer traditional, gas-powered V6 and V8 engines, with the Ram's choices serving up more power and the Ford's engines being slightly more fuel efficient. The pickups also are distinguished by their premium power units, which take two different approaches to motivation.
Ford delivers its signature EcoBoost technology—combining direct injection and turbocharging—in two V6 engines: a 2.7-liter unit that provides 325 horsepower yet leads the F-150 roster with a 26-mpg EPA ratings. For the Ford's best towing, Blue Oval has the popular 3.5-liter EcoBoost engine with 365 horsepower and 420 lb.-ft. of torque.
Meanwhile, Ram targets green drivers with its 3.0-liter EcoDiesel engine and eight-speed automatic transmission, furnishing the full-size segment's top fuel-economy of 29 mpg highway, and enough force to tow 7,940 lbs.; standard statistics for the EcoDiesel include marks of 28 mpg and 9,200 lbs.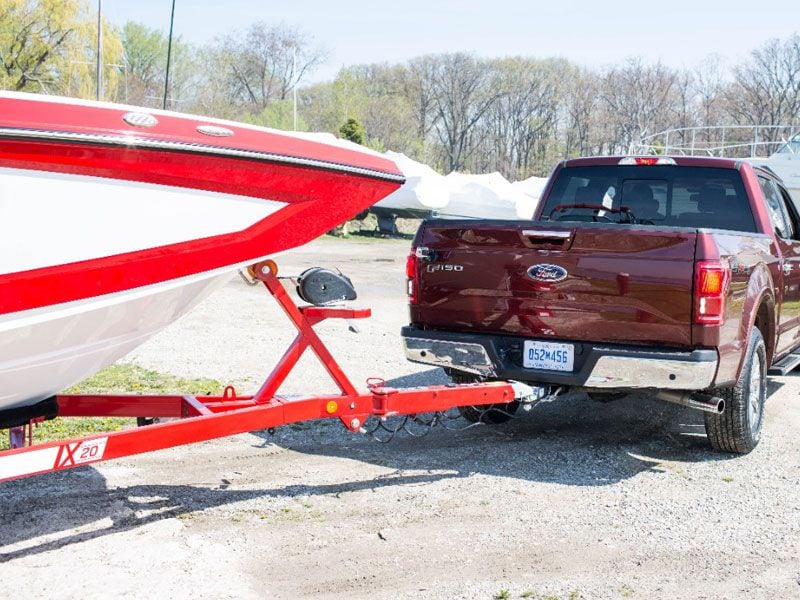 Photo by Ford
2016 Ford F-150 vs. 2016 Ram 1500: Infotainment, Audio and Other Features
In terms of infotainment, both trucks benefit from their brands' best efforts. The 2016 Ram 1500 can be supplied with a Uconnect 8.4AN setup that bundles an 8.4-inch touchscreen, navigation, mobile-app access and fresh-for-2016 tech updates. The 2016 Ford F-150 can be ordered with the new-generation SYNC 3 system, which also was significantly updated for the current selling season; it matches the Uconnect unit for functionalities as well. The two trucks further those screens with reconfigurable instrument-cluster displays, too, the F-150's 8-inch LCD display being an inch larger than the Ram 1500's 7-inch thin-film transistor (TFT) setup.
Ford bolsters its entertainment options with a 10-speaker Sony sound system. Ram relies on a home-grown 10-speaker system for audiophiles.
Of course, each pickup builds on its infotainment tech with some nifty resources to appeal directly to truck enthusiasts. Among them from Ram: the RamBox, a large, lockable and drainable storage area that's built into the bed walls of the Ram 1500, and a class-exclusive air suspension for automatic load leveling. The F-150 responds by showcasing integrated loading ramps, a remote tailgate release, and deployable steps for improved bed access both at the tailgate and at the box side.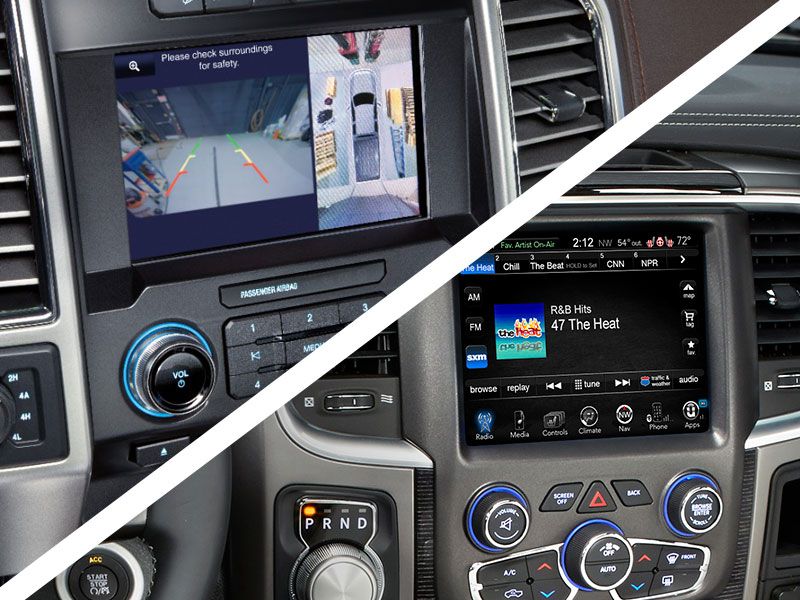 Exterior Design and Lighting
Truck customers love the new levels of performance and technology found in today's pickups, but they still prefer a relatively traditional approach to styling. That's what they get from the 2016 Ford F-150 and the 2016 Ram, though it's easy to tell the two apart. The Ford has a chiseled, more upright presence, highlighted by its slab-like grille. Customers can look for a more streamlined shape from the Ram—which boasts best-in-class aerodynamics and an available camo-design package from Mossy Oak. Up front, the Ram 1500 supplies two distinct grille styles: the latest version of the brand's classic "cross-hair" design, and a new "billet port" grille that shows off the Ram name.
Ford outshines its competition with available LED headlamps that aren't available on the Ram but, for the F-150, are complemented by LED mirror-mounted spotlights and cargo-box lights, along with LED taillamps. The Ram does offer its own array of LEDs available, including for tail lamps, turn signals, fog lamps and daytime running lamps.
Then there's the most obvious exterior feature of the trucks, their cargo beds. Depending on cab size, owners can pick from three lengths, with the Blue Oval beating the Ram in volume by a few cubic feet in each size. For instance, the F-150's 8-foot bed is rated at 77.4 cubic feet of volume and the Ram's 8-footer listed at 74.7 cubic feet.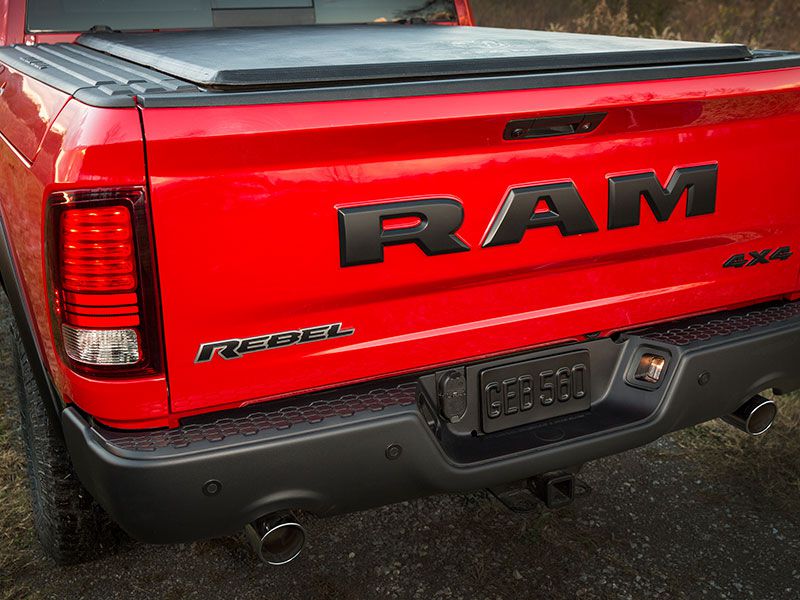 Interior Design and Capacities
Sophisticated, comfortable cabins are the norm for both the 2016 Ram 1500 and the 2016 Ford F-150, complete with luxury cues like leather seating, a heated and cooled front row, a heated rear row in the largest cab sizes, and a heated, leather-wrapped steering wheel. Those seats also deliver unique design details for the two brands. The Ram Rebel is a case in point, with a seat design inspired by the tread-pattern of its trail-friendly tires, and the F-150 debuting multicontour front seats for enhanced comfort.
On the topic of comfort, the Ford has almost an inch more headroom for the front row in the regular cab, along with noticeable advantages in front-row legroom in all body styles, in second-row legroom in the crew cab—which has four full-size doors—and in second-row headroom for the two-door and Supercab (with two full-size door and two smaller side doors). The Ram, for its part, has 1.2 more inches of rear-seat legroom for crew-cab passengers.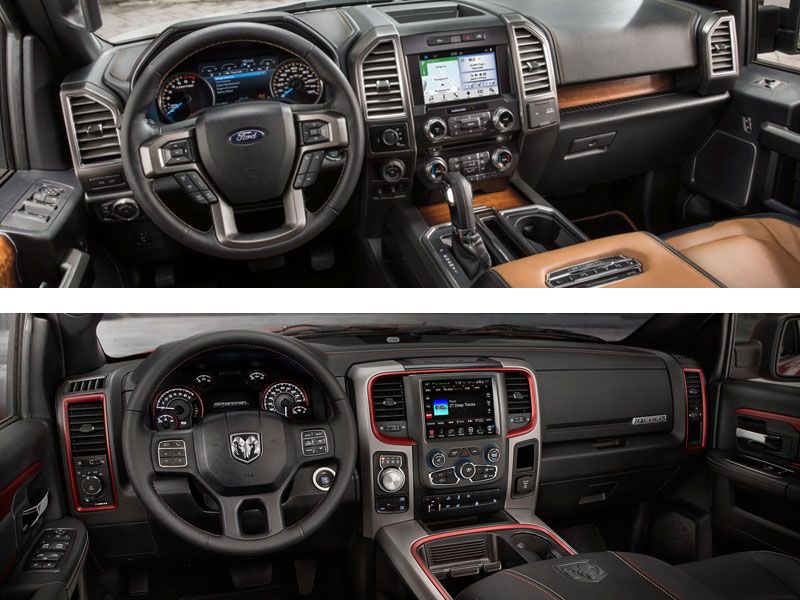 Safety Ratings and Technology
The next-gen roots of the 2016 Ford F-150 are perhaps most obvious when its comes to safety ratings and driver-assistance measures. The 2016 Ram 1500 does have a rearview camera setup with dynamic guidelines, as well as ParkSense front and rear parking sensors, but the F-150 can be kitted out with:
- A 360-degree camera system with split-screen display capability
- Lane-departure alert and lane-keeping technology
- Ford's Blind Spot Information System with rear-cross traffic alert
- Adaptive cruise control with forward collision warning and brake support
- Curve control, to slow the truck if it's entering a curve too quickly
- Active parking assistance that automatically steers you into a parallel-parking space
- Pro Trailer Backup Assist, an exclusive steering-guide feature that greatly simplifies the backing-up process to hitch a trailer
Moreover, the Blue Oval's focus on safety extends to inflatable rear seat belts in crew-cab models and strong safety ratings across the board. All F-150 cab styles have earned 5-Star Overall Safety Scores from NHTSA, while the crew cab and SuperCab styles are the only full-size pickups to be recognized with Top Safety Pick honors from the IIHS.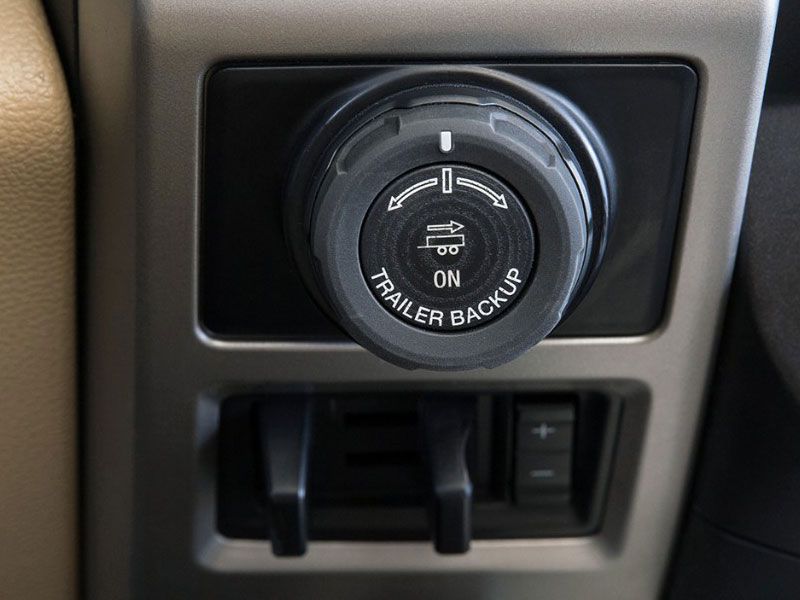 Photo by Ford
Final Thoughts
The competition among the domestic full-size pickups has never been tougher, and as Autobytel experts discovered with the 2016 Ford F-150 and 2016 Ram 1500, the trucks have never been better. But even as Ram has been able to re-engineer and upgrade its entry over the years, the fact that the F-150 was essentially all-new for 2015 means that Ford was able to leverage innovations that its rival can't. For the most part, that only ends up affecting customers at the edges of the performance envelope, where the F-150 owns unmistakable leads in gas-engine fuel economy and overall maximum towing capacity. And remember, Ram's 29-mpg diesel is plenty economical on its own.
But nor should you forget the Ford's clear-cut safety advantage.