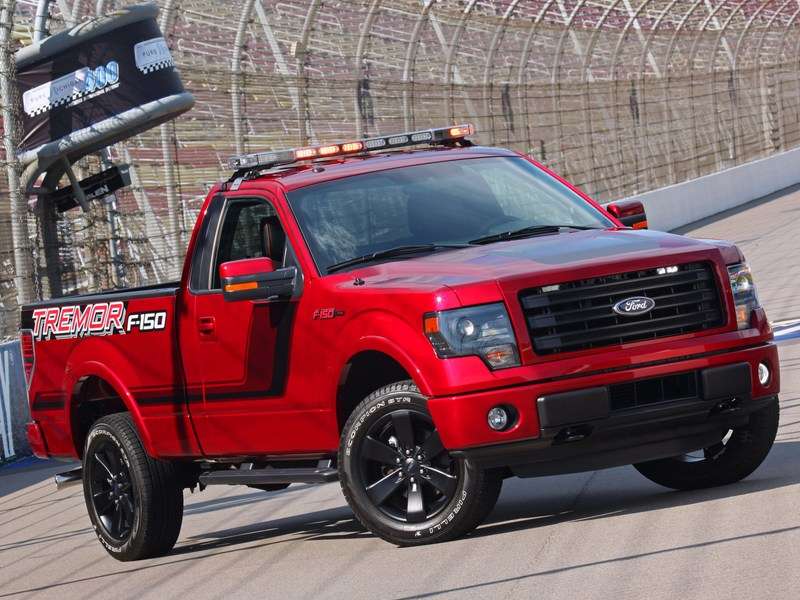 If you happen to be at this weekend's NASCAR Camping World Truck Series Michigan National Guard 200, take note of a very interesting pace car. The upcoming 2014 Ford F-150 Tremor Sports Truck has been chosen to be the pace vehicle during this week's truck race at Michigan International Speedway. With 365 horsepower and 420 pound-feet of torque, the Tremor should have no problems with keeping the pace.
"Michigan International Speedway is one of the fastest tracks on the NASCAR circuit, so the vehicle pacing the field also needs to be fast. The 2014 Ford F-150 Tremor, with its light-weight configuration, EcoBoost engine and launch-optimized performance, is well-suited for this job," said Jamie Allison, director of Ford Racing.
Before the Termor assumes duty as a pace truck, reigning NASCAR Sprint Cup champion Brad Keselowski will be doing some hot laps in it on Wednesday, August 14. On Thursday, August 15, Ford will be holding a live Tremor Talk web chat featuring Brian Bell, F-150 marketing manager and the man behind the Tremor idea.