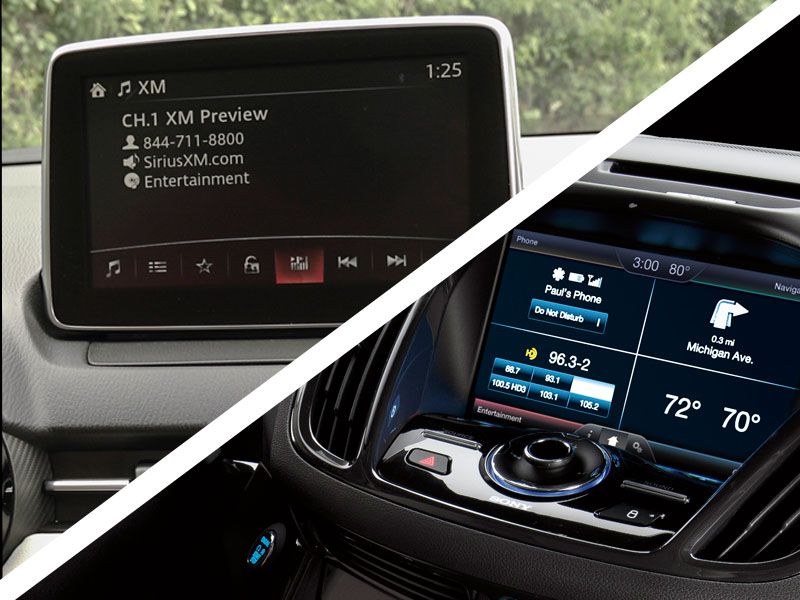 Mazda CX3 vs. Ford Escape infotainment
The 2016 Ford Escape and 2016 Mazda CX-5 are well matched at first glance. Both compact crossovers have plenty of interior versatility, with the ability to handle cargo and people with equal aplomb, and they can turn in fairly good fuel economy ratings, too. Also, because of both vehicles' upright, SUV-like designs, there is even better headroom than the Ford and Mazda's midsize sedans.  Both also provide top safety and infotainment technologies. It's this combination of characteristics that also makes its impact felt on the sales charts: both are among the brands' best sellers, the Escape running third with Ford and the CX-5 leading the way for the Mazda brand.
That said, the overall sales positions of these two vehicles are probably about what you think, based on the size of the automakers involved, and the more mainstream Ford has been outselling the CX-5 by about 3 to 1 to kick off the new calendar year.
The two rivals also stand at slightly different points in their life cycles. The (formerly) Zoom-Zoom brand just refreshed the CX-5 for 2016, while the Escape, though it was upgraded for this model year, is saving its more significant changes for the 2017 editions. So which is best?
Escape vs. CX-5: Pricing and Trim Levels
With an MSRP of $21,795, the 2016 Mazda CX-5 Sport opens with what seems to be a serious pricing advantage of $1,305 over the 2016 Ford Escape S, which stickers at $23,100. But that difference is due solely to differing levels of standard equipment. The entry Escape already comes with a six-speed automatic transmission, a touchscreen-based, six-speaker infotainment system, and a rearview camera—all missing from the manually transmissioned CX-5 Sport. Add those features to the Mazda, and its MSRP rises to $23,595.
The mid-range CX-5 Touring then has a price of admission of $25,215 that compares to the Escape SE at $25,300, and that's while only the Mazda provides benefits like standard navigation, multi-stage heated seats and a leather-wrapped steering wheel and gear-shift lever.
At the top of the range, the Escape Titanium starts at $29,505 and the CX-5 Grand Touring at $28,570. Here both brands supply lux cabins and lots of premium technologies, but only the Ford furnishes a hands-free rear liftgate.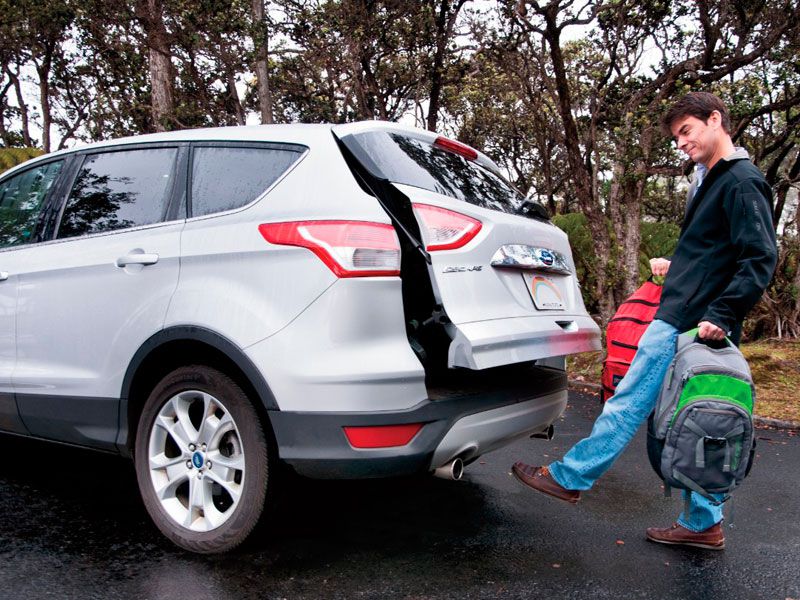 Escape vs. CX-5: Powertrains, Performance and Efficiency
The 2016 Ford Escape and 2016 Mazda CX-5 each showcase sophisticated powertrain technologies, although Mazda supplies its SKYACTIV engines at all trim levels, and Ford reserves its EcoBoost powerplants for premium models.
For the CX-5, the entry engine is a 2.0-liter unit that delivers 155 horsepower, 150 lb.-ft. of torque and, fitted with its six-speed manual transmission, EPA grades of 26 mpg city/35 mpg highway/29 mpg combined. Those marks slip slightly, to 26/33/29, with the automatic. The standard engine for the Escape has higher outputs of 168 horsepower and 170 lb.-ft. of torque, along with EPA ratings of 22/31/25. The entry-level CX-5 also out-tows the similarly positioned Escape, with the Mazda able to pull 2,000 lbs. (in all trims) and the Ford rated at 1,500 lbs.
The Blue Oval also bests the Escape with two four-cylinder EcoBoost engines: a 1.6-liter version that's standard on the SE and Titanium, and an available 2.3-liter powerplant. The former forces out 178 horsepower and 184 lb.-ft. of torque, yet raises EPA ratings up to 23/32/26, and the latter can lay out 240 horsepower and 270 lb.-ft. of torque. The high-powered EcoBoost engine also hits 30 mpg on the highway and can be matched with a max trailering package to pull up to 3,500 lbs.
Mazda's 2.5-liter SKYACTIV engine motivates the CX-5 in Touring and Grand Touring grades with 184 horsepower, 185 lb.-ft. of torque, and EPA grades of up to 26/33/29.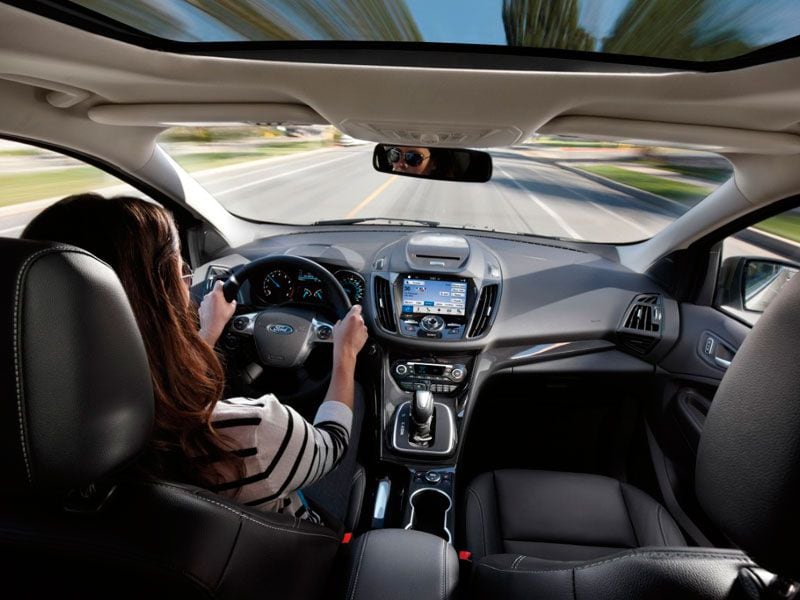 Escape vs. CX-5: Stand-out Features
Infotainment is increasingly important for all auto customers, so both Ford and Mazda answer the call with comprehensive setups in the CX-5 and Escape. For Mazda, that means a new-for-2016 Mazda Connect system with a 7-inch color touchscreen and the company's "commander" control knob for added ease of operation. The Blue Oval breaks out its latest Sync 3 technology for the Escape, complete with improved voice recognition and a touchscreen with dedicated day and night visibility configurations. The 2016 Mazda CX-5 and 2016 Ford Escape also boast their own name-brand premium audio systems: a nine-speaker Bose setup for the CX-5 and Sony's 10-speaker system for the Escape.
Ford further has the lead in terms of seat adjustability, thanks to its available 10-way power-adjustable driver's seat that offers two more dimensions of comfort control than in the Mazda. As previously mentioned, the Escape additionally leverages a notable Ford-first in the vehicle's available hands-free rear liftgate, which opens with a slight kicking motion aimed under the rear bumper.
Finally, both compact crossovers offers all-wheel-drive systems, but Ford has an exclusive advantage with torque vectoring control, for enhanced cornering capabilities.
Escape vs. CX-5: Exterior Design and Lighting
From a style standpoint, the 2016 Mazda CX-5 wears a contemporary "Kodo-Soul of Motion" design, so it's curvier than the 2016 Ford Escape; at the same time, the Mazda also manages to have a more traditionally aggressive, SUV-style presence, in large part because of its big, bold front grille.
The 2016 Ford Escape has a somewhat futuristic and modernized shape, though, surprisingly, it doesn't supply LED exterior lighting. Mazda goes all in with available LED headlamps, fog lights, rear combination lights and daytime running lights. Moreover, despite being very close in exterior dimensions (with the exact same width), the Mazda is about half an inch shorter in height and longer in length, for more of a low-slung and athletic stance. 
Another design similarity has to do with the vehicles' details, since both deliver upsized wheels with fancy patterns and finishes, and both offer premium exterior colors. In fact, Ford and Mazda each premiered new shades for the new selling season. The Escape's are Shadow Black and Electric Spice, and the CX-5 welcomes Sonic Silver Metallic and Titanium Flash Mica.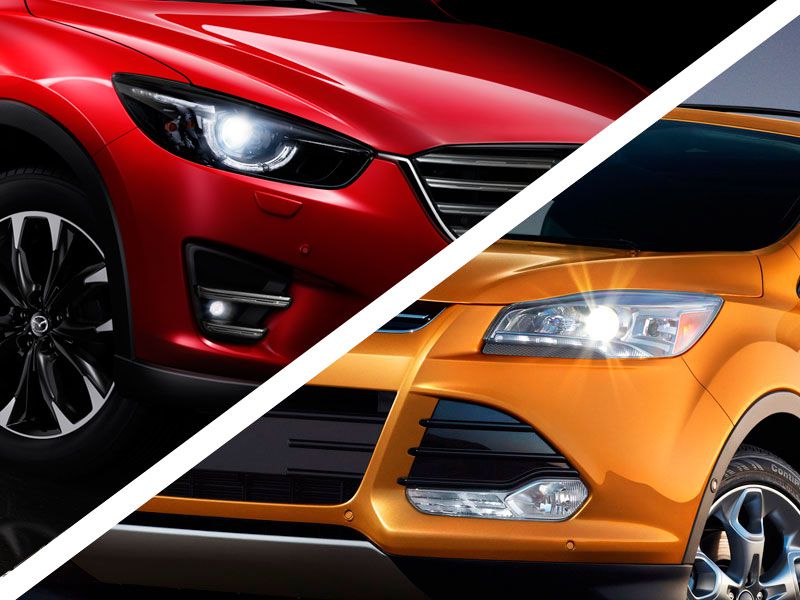 Escape vs. CX-5: Interior Design and Cargo Capacity
When considering cabin configurations, Ford and Mazda designers put their priorities in different places. Thus, the 2016 Mazda CX-5 has 103.8 cubic feet of passenger room—5.7 more than the 2016 Ford Escape—yet the Blue Oval product delivers an extra 2.4 cubic feet of total cargo space, and 67.8 in total; Ford also serves up a few more inches of space behind the second-row seats, with 34.3 cubic feet.
Looking at the crossovers' other comfort metrics, both show a similar split in thinking: the Escape has 2 more inches of front legroom and the CX-5 has a same-sized advantage in the rear. Headroom is essentially the same for both, but Mazda has an additional 2.7/3.1 inches of front and rear hip room that's worth noting.
Much as with the exterior appearances of both vehicles, the designers of the CX-5 took a relatively traditional approach in the cabin, without the freestanding touchscreen that's so distinctive in the newer, bigger Mazda CX-9, but with an electronic parking brake that eliminates the typically intrusive lever still found in the Ford. As for the Escape, stylists relied on an asymmetrical design that's highlighted in front of the driver by deeply hooded gauges and in front of the front-seat passenger by an angular, multilevel series of shelf-like shapes.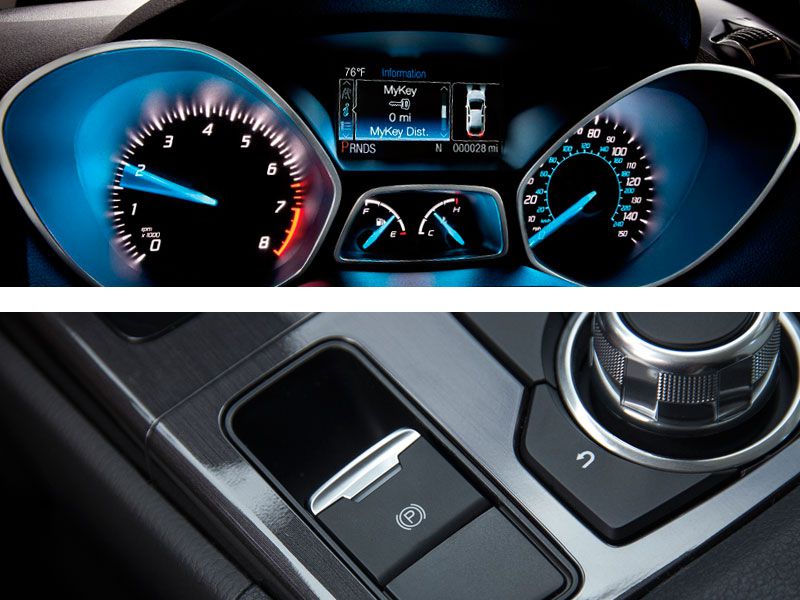 Escape vs. CX-5: Safety Ratings and Technology
Now we come to perhaps the prime differentiator for this crossover duo: the 2016 Mazda CX-5 has received a Top Safety Pick+ rating from the IIHS, supported by the highest possible grades for both the crashworthiness tests and the evaluation for front crash-prevention technology. The IIHS also rated the CX-5 as "acceptable" for how easy it was to use the vehicle's rear-row child seat anchors. The 2016 Ford Escape had a "poor" rating in the IIHS' front small-overlap crash test, was unrated for front crash-prevention technology and garnered a "marginal" grade for child-seat functionality. Both received Overall Safety Scores of 4 stars (out of 5) in the NHTSA crash-test regimen.
Needless to say, the CX-5 also gets the nod for driver-assistance measures, including adaptive cruise control, forward collision warning, automatic emergency braking, lane-departure warning, high-beam control, a blind-spot monitor, rear cross-traffic alert and rearview camera; the Escape has that final trio, along with a few things missing from the Mazda, like active parking assistance, curve control and the MyKey teen-driver tracking and alert system.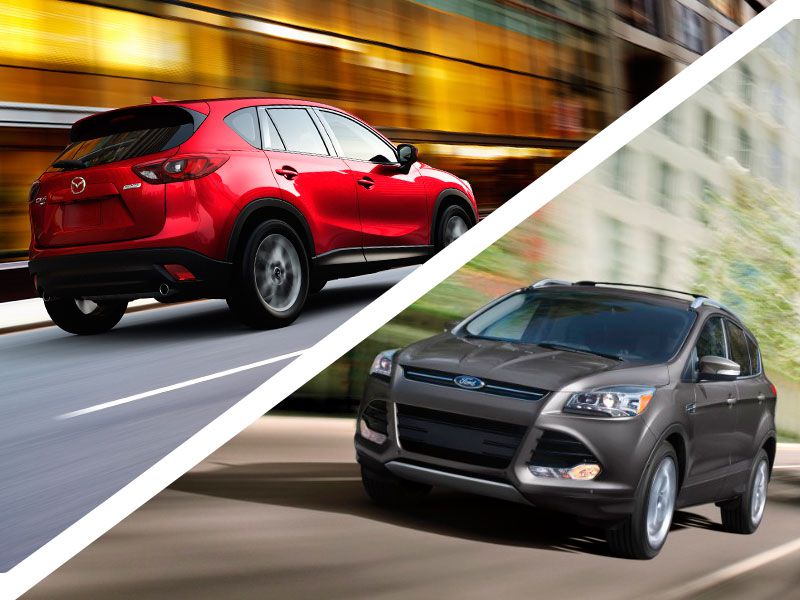 Escape vs. CX-5: Which is Best?
For Autobytel experts, the comparison between these two compact crossovers is unavoidably complicated by the Escape's weak results in the IIHS Top Safety Pick testing. That's the kind of thing that can be hard to overlook when you're shopping for a new vehicle today. Those who can, however, will find a high-performance powertrain in the 2016 Ford Escape that can't be matched by the 2016 Mazda CX-5, despite the latter's otherwise zoomy driving experience. Which, you may remember, includes a Mazda-exclusive manual transmission that is certainly a selling point for some customers.
Further, because of that manual model, the CX-5 is bolstered by bargain-style pricing that can be quite attractive to customers on a budget. With that in mind—and a refreshed 2017 Escape on the horizon—we're definitely sweeter on the CX-5 for 2016.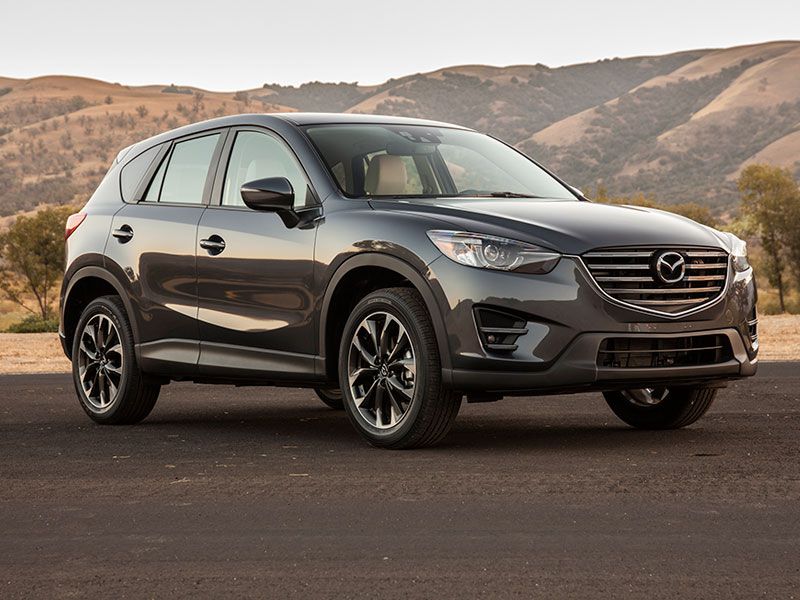 Photo by Mazda USA