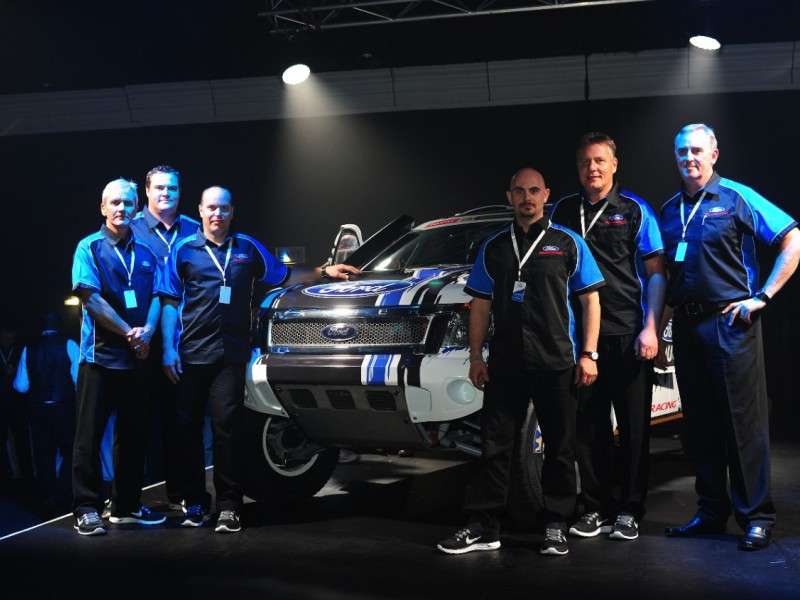 If you're one of those people who still has sour grapes over Ford not bringing over the global Ranger, you should click away from this story.
Team Ford Racing announced this week that they will be entering two prepared Ford Ranger 4x4 Double Cab models to compete in the 2014 Dakar Rally in January. The Dakar Rally takes place in South America where a variety of motorcycles, ATVs, trucks, SUVs, and semi-trucks race across the desert in grueling conditions. The course takes competitors from from Argentina to Chile, covering more than 5,000 miles.
Built by Neil Woolridge Motorsport, based in Pietermaritzburg, South Africa, the Ford Ranger 4x4 Double Cab packs 5.0L V8 from the Mustang that produces around 348 horsepower (260 kW) and 413 pound-feet of torque (560 nm). That power is fed through a Sadev six-speed sequential gearbox down to all four wheels. Other equipment includes a front and rear independent suspension and water-cooled rear brakes.
"We are extremely proud to be sending these South African-built Rangers to the 2014 Dakar. Dakar is the ultimate test of man and machine and we are thrilled to have the opportunity to participate with a phenomenal team comprised of local and global expertise," said Jeff Nemeth President and CEO of Ford Motor Company of Southern Africa.