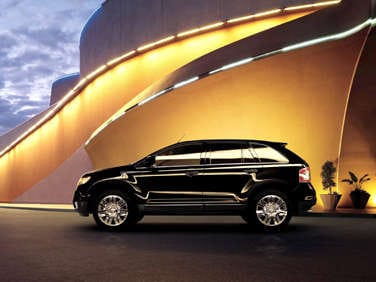 As a result, many of the "pure" SUVs rode roughly, handled poorly, were overweight, returned poor fuel economy, and were just generally unpleasant to drive. To keep the party moving, (and the dollars flowing) automakers got smart; they produced cars that looked like SUVs. In the case of Ford, the company took the platform underpinning its mid-size Fusion/Milan/MKZ sedans, designed a body shell with a profile reminiscent of an SUV, and packed the interior with as many high tech telematics solutions as it would hold.
And buyers loved it — female buyers in particular.
By one estimate, some fifty percent of all Ford Edge models ever sold are registered to women. When surveyed, the vast majority of Ford Edge customers cited styling as their number one reason for choosing the vehicle. And frankly, as this genre of vehicles goes, Edge is easily one of the more handsome examples.
Ford introduced the Edge in 2006, as a 2007 model. To date, there have been no significant enough changes to the product to consider designating an all-new generation of the Edge. Still, Ford has steadily improved the vehicle since its introduction.
Used Ford Edge: 2007
At launch, only one engine was available to power the Edge — a 265-horsepower V6 displacing 3.5-liters. A six-speed automatic transmission resided between the engine and the drive wheels. The 2007 Edge was offered in both front- and all-wheel drive configurations. Designed strictly for the street, intentional off road excursions were to be avoided. However, the all-wheel drive system did provide the Edge with a sureness of foot, making it a readily trusted vehicle for families who lived in areas with highly inclement winter weather.
Three trim levels were offered for 2007; SE, SEL and SEL Plus. Even the base SE model provided a considerably attractive slate of kit. Full power accessories, 17-inch alloy wheels, air-conditioning, automatic headlights, and a four-speaker CD-based audio system with an MP3 player input port were among the highlights. Edge SEL added foglights; a leather-wrapped steering wheel; a power driver seat; an in-dash CD changer, and a trip computer. Checking the order form's SEL Plus box bought leather upholstery for the seats, seat heaters (up front), a power actuated folding passenger seat, and a filtered, dual-zone automatic climate control system.
The SE was pretty much a what-you-bought-is-what-you-got proposition (other than the optional satellite radio). However, there was a healthy menu of optional items offered for the SE and SEL models. For openers, the entire roof of the Edge could be ordered in glass. Called the Vista Roof, it consisted of a power front sunroof and fixed rear skylight. A DVD-based navigation system was offered, along with a rear-seat entertainment system. It should be noted ordering the Vista Roof created a problem for the factory rear-seat entertainment system. There was no place to install its roof-mounted video screen. To alleviate this, Ford offered — as a dealer-installed option — headrest-mounted dual video monitors.
Used Ford Edge: 2008
Ford's Sync telematics system made its Edge debut in 2008. Additionally, the SEL Plus designation was shelved in favor of Ford's customary "Limited" designation for its top trim levels. The Sync system was developed in conjunction with Microsoft and essentially offered voice activation for all of the major aspects of the infotainment system. Cell phones, PDAs, MP3 players and USB storage devices could all be commanded to do what they did via voice with Sync. As an option, the rear liftgate could be ordered with power operation and the Navigation system got a voice-activated interface as well. Bluetooth was offered for the first time as an option on all trim levels save Limited, where it was included as standard equipment.
Used Ford Edge: 2009 - 2010
Edge got a Sport trim level added to its lineup for 2009. Blind spot mirrors were installed to help shorter drivers avoid lane-change accidents and Ford added its Post-Crash Alert System just in case the mirrors didn't work. (OK, we're kidding there.) The Post-Crash Alert System automatically activated the emergency flashers and the horn if an impact triggered the airbags. (OK, so we weren't kidding completely…) The Sport trim level offered Alcantara upholstery for the seats, a unique 20-inch road wheel, sporty styling cues, in addition to most of the comfort and convenience bits of kit offered with the Limited trim level (previously known as SEL Plus). If you really wanted your 2009 Ford Edge Sport to stand out, you also had the option of specifying 22-inch tires and wheels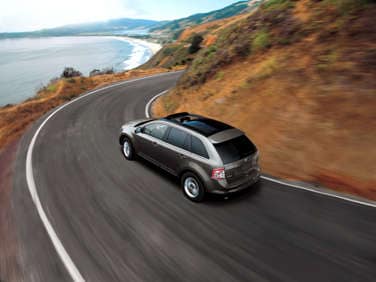 Used Ford Edge: Current Model (2011)
Appreciably revised for the 2011 Model year, the Edge got some much-needed attention. Stuff that was leading uh, "edge" back in 2006 was pretty commonplace by 2011, so Ford had to step it up to maintain its mid-size crossover's relevance.
Reclaiming the uh, "edge" it had in the telematics field at launch, Ford endowed the Edge with its MyFord Touch system for 2011, pretty much banishing dials and buttons from the center console of its mid-size crossover utility vehicle. With MyFord Touch, a touch sensitive panel is the interface for actuating all of the functions that can't be accessed via voice command (and some that can).
In the styling department, while the overall shape of the Edge remains the same, a new front fascia, wheels, and a revised bumper have freshened the exterior considerably. Similarly, the revamped interior's upgraded materials have reinvigorated the passenger compartment for a more up to date appearance.
In the engine room, the 3.5-liter V6 has been reworked and now produces 285 horsepower and 253 ft-lbs of torque. The Edge Sport, in an attempt to more fully live up to its name, is now endowed with a 305-horsepower 3.7-liter V6 generating 280 ft-lbs. Six-speed automatic transmissions still conduct power to the drive wheels of all models.
Used Ford Edge: Summary
In many ways, the Edge did for Ford what its other entries in the segment (Freestyle, Flex and Taurus X) could not. In fact, many are perplexed that the Flex, which features more interior volume and content does not outsell the Edge. Without question, it can all be traced back to one word — style. Where those other vehicles look utilitarian, and by extension, dowdy in comparison, the Edge is slick, sleek, contemporary, and has panache.
Still, as good as it is, the Edge has been called back home for some post-delivery adjustments. To find out which recalls affect the particular model you're interested in, run an Internet search for "Ford Edge recall" citing the model year of your interest. Similarly, as with any pre-owned vehicle, you should absolutely make it a point to schedule some quality time for the one you're serious about buying with a trusted professional mechanic, one proficient in the ways of the vehicle line of your choice.