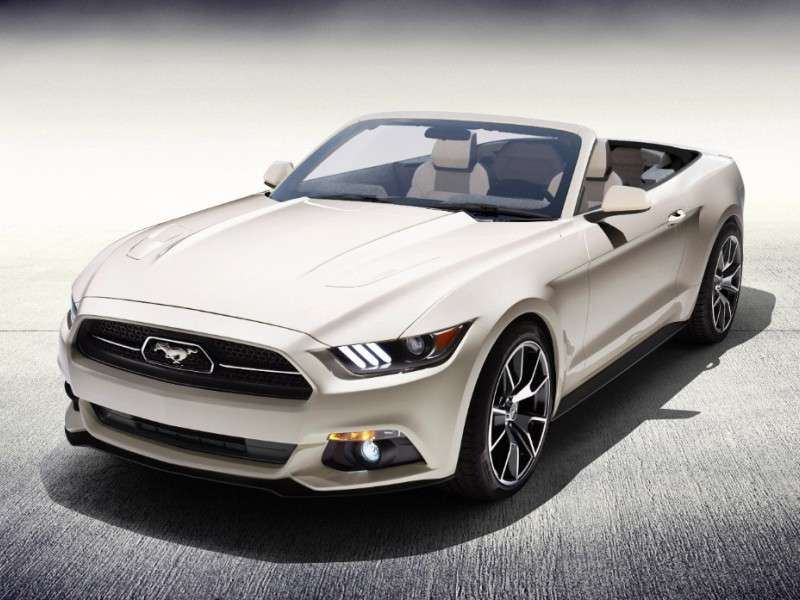 Although Ford has announced that the upcoming 50th Anniversary Mustang will only be available as a coupe, the company has decided to build a one-off convertible version to benefit charity.
The 50th Anniversary Mustang Convertible follows the same recipe as the coupe with Wimbledon White paint on the body, special chrome accents and badges, nineteen-inch wheels, a two-tone interior treatment, a badge confirming its 0001 of 0001 status (replete with Bill Ford's signature), and the 5.0 V8 engine paired with a six-speed manual transmission. The convertible is also fitted with summer tires, Brembo brake calipers, and limited-slip differential; items you can't get on any other Mustang convertible.
The 50th Anniversary Mustang will be raffled off on August 16, 2014 at the Woodward Dream Cruise. If you want a chance to win, you can order raffle tickets for $20 by calling (800) 243-5767 or visiting this website. The proceeds will go towards the National Multiple Sclerosis Society.
"We're thrilled to be able to work with and help The National MS Society again," said Raj Nair, Ford group vice president of global product development. "As pleased as we are to be able to help financially with the Society's No Opportunity Wasted research project, we also feel it's important to help raise greater awareness of this terrific program. That we're creating one – and only one – Mustang GT 50 Years convertible for the Society shows how much we respect and support their efforts."