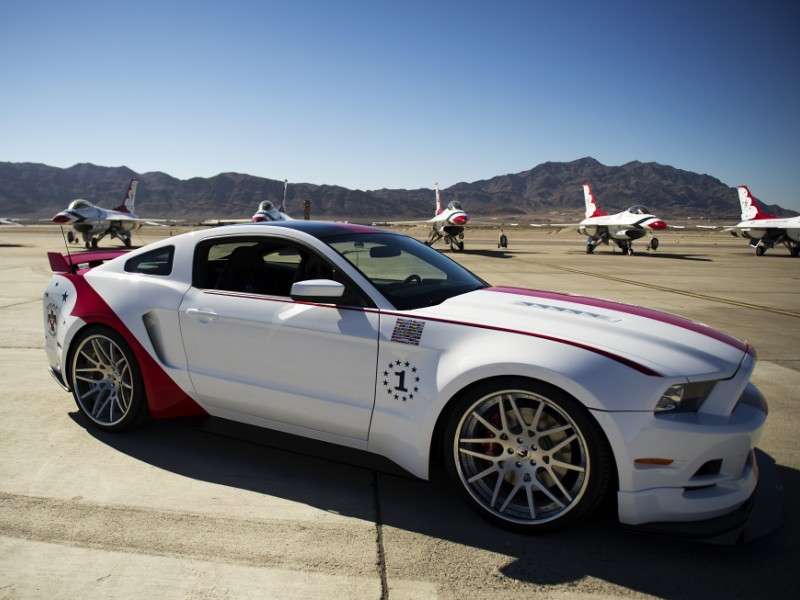 Ford has built a unique and one of a kind 2014 Mustang that commemorates the 60th anniversary of the U.S. Air Force Thunderbirds. The Thunderbirds are known as the fastest, multi-jet flight demonstration team in the world and use the F-16 Falcon fighter jet with a red, white and blue paint scheme.
The U.S. Air Force Thunderbirds Edition Ford Mustang starts with a Mustang GT as a base and adds such goodies as a supercharger, handling package, and a set of Brembo brakes. Outside there is a wide body conversion, handcrafted and painted "belly pan" that emulates the F-16, custom 22-inch Forgiato wheels, and a red, white, and blue paint scheme. Heading inside, there are Recaro seats embroidered with Thunderbirds elements, modified navigation system, rear seat delete, and unique sill plates.
"The dedication and excellence displayed by the United States Air Force Thunderbirds are qualities we also celebrate at Ford. With this year's beautiful U.S. Air Force Thunderbirds Edition Mustang, we've captured the recognizable symbols of their stature and paired it with the innovation our Ford design and engineering teams build into all of our products," said Edsel B. Ford II, a member of the Ford board of directors.
The U.S. Air Force Thunderbirds Edition Ford Mustang will be auctioned off on August 1, 2013 at the Gathering of Eagles charity event in Oshkosh, Wisconsin. The proceeds of this auction will go towards the EAA Young Eagles program.
"Ford is a longtime, committed sponsor of EAA and AirVenture, bringing value to those who make Oshkosh the pinnacle of their aviation year. These specialty vehicles reflect the depth of Ford's commitment and allow EAA to provide support to its valuable programs and dedicated members in helping us grow the next generation of aviators," said Jack Pelton, EAA Chairman.