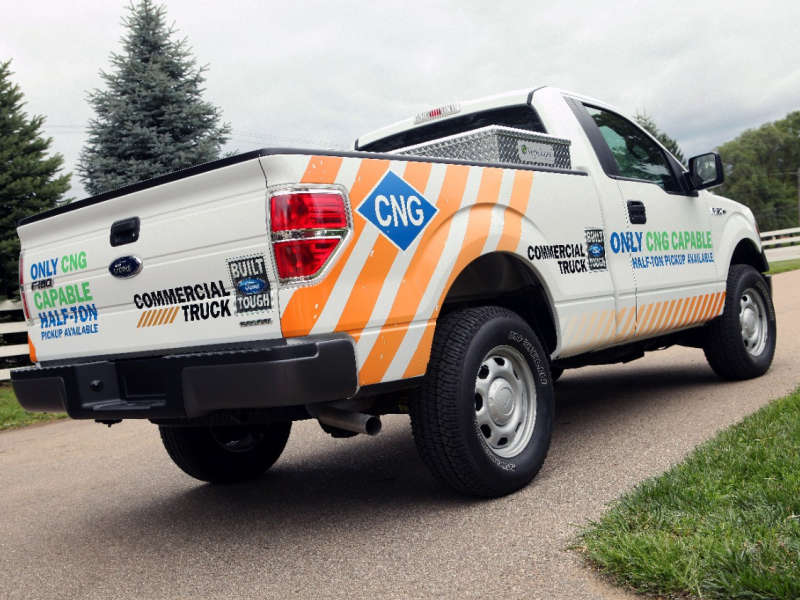 Ford announced a first in the half-ton pickup market today: the 2014 F-150 equipped with the 3.7L V6 has the option to run on Compress Natural Gas or Liquefied Petroleum Gas. Ford says the F-150 CNG/LPG will be mostly bought by fleets, though some consumers will order one as well.
To get an F-150 that runs on CNG, be prepared to spend some money. First, Ford will charge $315 for a CNG/LPG engine prep package that includes hardened valves, valve seats, pistons and rings. From there, you need to find a Ford Qualified Vehicle Modifier that will install CNG/LPG-specific fuel tanks, fuel lines and fuel injectors. That will set you back $7,500 to $9,500, depending on the size of the tank.
Ford says an F-150 running on CNG/LPG gets 23 MPG on the highway and has a range of more than 750 Miles.
"Businesses and fleet customers have been asking Ford to make F-150 available with CNG capability to take advantage of the fuel's low price and clean emissions. With the money saved using CNG, customers could start to see payback on their investment in as little as 24 to 36 months," said Jon Coleman, Ford fleet sustainability and technology manager.