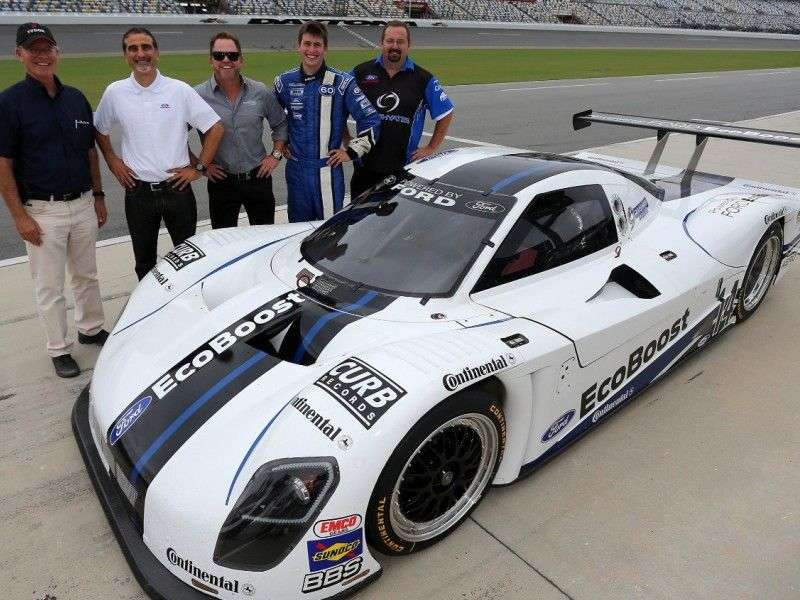 Just a couple of days ago we introduced you to Ford's new 3.5L EcoBoost V6 racing engine that will take part in next year's TUDOR United SportsCar Championship. To mark the introduction, Ford announced that it would try to break the long-standing speed record at Daytona Speedway with the help of Michael Shank Racing.
Yesterday, the two groups went to work on trying to eclipse the record during a private test event at Daytona. Colin Braun was the lucky person piloting the Daytona Prototype with the new 3.5L EcoBoost.
So, was Ford able to beat the record? Yes, by a wide margin. Braun was able set a lap speed of 222.971 mph, beating Bill Elliot's 210.364 mph record set back in 1987. Braun also set new world speed records with an average speed of 210.018 mph for 10 miles, and 202.438 mph for 10 kilometers.
"It was a challenging day. There was a lot of work put in by a lot of people to accomplish these records. The power in the new EcoBoost engine was incredible, and it was amazing how fast it came up to speed on the runs," said Braun. He continued, "Our first run this morning was 209 mph, and it was an edgy drive at that speed. I can only imagine how edgy it was for Bill Elliott doing those speeds in his Thunderbird stock car. But our crew kept working and adjusting on it, and it was a great feeling coming down pit road after the record runs and seeing how happy everyone was."
Enjoy the video!