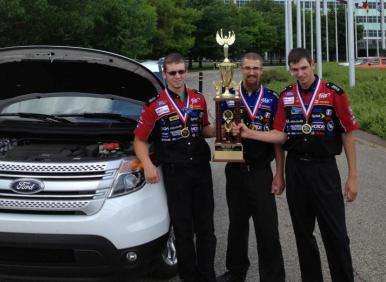 This week, Ford and AAA held the 64th annual Student Auto Skills National Finals in Dearborn, MI. The Student Auto Skills National Finals brings the top young automotive minds in the U.S. together and pits them in a timed race to solve "real world" automotive challenges – both digital and mechanical.
"From connected cars to alternative fuels, automotive technology is advancing at a faster pace than we have ever seen and tomorrow's technicians need to be savvy, innovative and eager. The Ford/AAA Auto Skills competition develops future technicians who will ensure motorists will receive access to quality repair," said Marshall L. Doney, AAA Senior Executive Vice President and Chief Operating Officer.
Winners from across all fifty states gathered in Dearborn and were given a vehicle that had a number of problems, ranging from digital to mechanical and electrical. Once all the repairs were completed, teams shut the hood, started the vehicle, and drove to the finish line where a judging panel was waiting to see if all the repairs were done correctly.
The winners of the 64th competition were Logan Boyle and Cody Collins from Vale High School in Vale, Oregon. With their instructor Drew Barnes providing guidance, the duo was able to attain a "perfect car" score by repairing all the "bugs" without any demerits.
"It's a challenging, ever-evolving industry out there and Ford is committed to providing the best, most comprehensive training possible and part of that is providing unique opportunities like our partnership with AAA on this exciting annual competition. We share our congratulations with today's winners and all the attendees – they worked hard to get here," said Steve DeAngelis, Ford's Global Manager of Technical Support Operations.