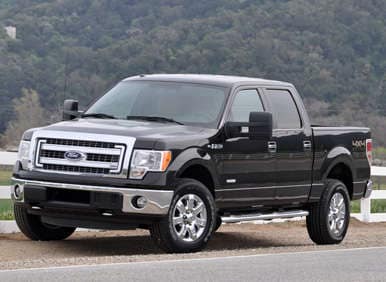 The Ford Motor Company has announced that it will add more than 2,000 new jobs at its Kansas City Assembly Plant, and that more than 1,000 of those positions will be filled by new hires rather than returning workers. The automaker said that demand for the F-150 pickup truck is "surging," requiring 900 additional workers and a third shift starting in the third quarter of 2013. The company also plans to hire 1,100 employees in the fourth quarter to support the production and launch of the new 2014 Transit commercial van.
According to Ford, F-150 sales are up 19% this year compared to last year, and 24% in April compared to the same month in 2013. The increase in F-150 sales, and gains made within the full-size truck segment in general, reflects improvements in the economy. "Customer demand for today's F-150 is strong and continues growing, the truck segment is growing three times faster than the overall industry, the housing market is strengthening, and we are seeing growth in the U.S. economy," said Joe Hinrichs, Ford president of The Americas.
To expand its Kansas City Assembly Plant, Ford has invested $1.1 billion to prepare the manufacturing facility to produce both the new Transit and the F-150 in each of its three cab styles. The expansion, combined with the increase in F-150 production, positively impacts local businesses and suppliers, as well as national suppliers to the vehicles. Using a "job multiplier effect" of nine new jobs for every one created in Kansas City, Ford estimates that its plant expansion action will ultimately generate 18,000 new American jobs.
Ford also reports that the planned jobs in Kansas City will bring the automaker to 75% of its goal to create 12,000 hourly positions within the United States by 2015. Additionally, the automaker is investing $16 billion in U.S. product development and manufacturing activities.