How to avoid buying a wrecked-and-rebuilt or flood-damaged car even when the title is clean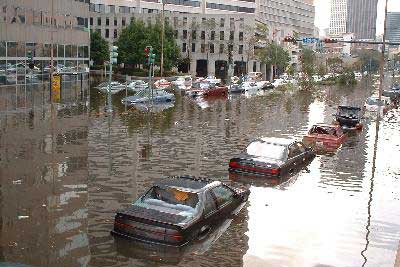 Few of us think about floods, but when they occur, they are among the most destructive natural forces on Earth. Water, chemicals, mud, and sewage seep everywhere and into everything. Afterward, clean-up takes months, if not years, and costs an arm and a leg. Mold flowers and coats your home and belongings, and the stench of decay may never disappear. A flood ruins lives, memories, homes, and cars. Thanks to hurricanes Katrina and Rita, insurance companies will be declaring hundreds of thousands of cars, trucks, and SUVs as flood-damaged vehicles. Half of these vehicles will be sold at insurance auctions as scrap vehicles, some will go straight to the junkyard for crushing, and others will be repaired and placed back in service. To bring top dollar, those that make it back onto the road will likely have their titles "washed," so that official evidence of the flood damage is erased. If you're in the market for a nice used car, and you're looking for a great deal, you're also the target of the people who buy flood-damaged vehicles, rebuild them, "wash" the titles, and sell them in another state without telling the new owner about the vehicle's history. You can avoid getting taken by these scam artists by spending a little money to perform due diligence on your prospective purchase. On the following pages, we'll tell you what title washing is, how it works, and what you can do to avoid getting scammed as thousands of formerly waterlogged vehicles make their way north, east, and west from the Gulf Coast disaster zone.
How Title Washing Works
How Title Washing Works Sometimes damaged vehicles are re-registered in a state that doesn't recognize salvage or flood-loss title declarations from the originating state, thus "washing" the title and clearing the damage from the paperwork. When vehicles are crashed, stolen and stripped, or flooded beyond reasonable repair, an insurance company pays the owner a fair market value for the vehicle, takes possession of the vehicle, and issues a branded title for the vehicle that indicates the type of damage that the vehicle suffered. The new title will typically indicate one of the following types of damage: salvage, rebuilt wreck, or flood-damaged. Once the new title is issued, the vehicle is hauled to an insurance auction. Most of the buyers at an insurance auction represent legitimate businesses such as body shops, car dealers, and salvage yards, but there are also opportunistic vehicle re-builders looking to make a quick buck. These vultures are vying to buy as many (formerly) premium vehicles as they are able, with the prospect of re-building them as cheaply as possible and selling them back into the auction circuit at a premium. Car dealers and consumers are their prey. And whenever there is a major natural disaster that produces a lot of damaged vehicles, these weasels multiply. To maximize resale value and profit, these unscrupulous businesspeople will sometimes re-register a vehicle that has been declared salvage or flood-damaged in a state that doesn't recognize such title declarations from the originating state, thus "washing" the title and clearing the damage from the paperwork. The smarter of the breed make sure their tracks are covered by performing this act in several states, and then ship the vehicle to a distant region for resale. Sometimes, usually when the car is stolen, they even go to the extent of assigning a new VIN (Vehicle Identification Number) to the vehicle. Once the vehicle is re-registered and the damage is washed clean from the title, it is fed back into the auction circuit or sold directly to a consumer at a premium. At auctions, these scumbags will sometimes bring along co-bidders to drive up the price of a vehicle for maximum profit. The wrecked or flooded vehicle is sold and winds up at a local car lot, with an equal chance of landing at either a Mom-and-Pop shop or the used car row of a new car dealership. Whether purchased by some unsuspecting dealer or consumer, the formerly damaged vehicles ultimately land in the hands of a person looking for a great deal on a nice used car. In most cases, neither the dealer nor the customer knows that they are dealing with a salvaged, wrecked, or flood-damaged vehicle because:
They did not run a title history report on the vehicle prior to purchase.
They did not have a mechanic inspect the vehicle for hidden damage repair.
The car's Vehicle Identification Number (VIN) had been illegally changed.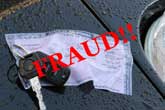 How to Protect Yourself
How to Protect Yourself When a vehicle suffers flood damage, water lines or silt are usually evident in the engine compartment, trunk, doorjambs, ventilation system, and fuse box. Modern vehicles are loaded with electronics, and electrical systems are highly susceptible to flood damage. It is important that you protect yourself from buying a flood-damaged vehicle because faulty electronics could affect the operation of safety equipment like airbags and stability control systems. Believe it or not, it's relatively easy to protect yourself against title washing if you're willing to spend a little time and money investigating the vehicle's title history and having a thorough inspection performed – things that we recommend to any used car buyer. Here's what you can do to protect yourself from buying a flood-damaged, rebuilt wreck, rebuilt stolen, or a salvage vehicle. Get a Carfax Report To guard against hidden problems in a vehicle's past, a Virginia-based company called Carfax provides a unique service. Carfax compiles VIN data from insurance companies, Departments of Motor Vehicles, state and provincial agencies, and vehicle auctions in both the U.S. and Canada. Every time a vehicle's VIN is keypunched into a computer, an electronic transaction is created that can be traced. Carfax compiles these VINs, tracks them, and puts them into a title history report that allows consumers to research the vehicle's recorded past. For example, say that a vehicle shows up in the Carfax record as "sold" at an insurance auction in New Orleans, with a flood-damaged title. A couple of months later the same vehicle shows up as registered in New York with a clean title and lower mileage. Congratulations! You, with Carfax's help, have just identified vehicle fraud. With the record numbers of flood-damaged vehicles coming to market from the Gulf Coast, Carfax, as the primary source of vehicle title reports, has teamed up with FEMA and GE Fleet Services to better track cars and trucks wrecked by Katrina and Rita. Even Carfax can't track all vehicles, however. It is important to remember that a vehicle title will only reflect damage if an insurance company settles a claim on the car. If a car was not insured or the damage was not reported, it will have a clean title after the collision or flood damage is repaired. That's why it's important to have a used vehicle inspected before purchase. Conduct a pre-purchase inspection A trained eye can pick out such things as paint overspray, frame damage, water damage, and major repairs, and the few dollars it costs for the inspection could save you a ton of money down the road. When a vehicle suffers flood damage, water lines or silt are usually evident in the engine compartment, trunk, doorjambs, ventilation system, and fuse box. Electrical connections might exhibit excessive corrosion, which usually takes the form of a green, crusty substance in the electrical plugs and junction blocks. If the bolts that mount the seat to the floorboards are rusty, or if rust is forming under the carpet inside the cabin or the trunk, it could be that the vehicle was underwater at one time. Check the carpet for proper fit – if it's loose or wrinkled, it's possible that the carpet was removed to repair water damage and then re-installed. A good tech will also reach up under the dash and the seats to check for mud, dirt, and silt. The only way filth of this nature can get into these areas is if the vehicle was submerged in dirty floodwater. Finally, cars that have been submerged often have a damp, musty odor inside or in the trunk. A doctor can determine the state of our health by analyzing our body fluids. Likewise, a good technician can determine the health of a car's systems by analyzing the fluids. Emulsified (milky in color) oil, power steering fluid, transmission fluid, and differential fluid is a sure sign of flood damage, because these conditions can be caused by water mixing with the fluids.
Engine oil dipsticks are checked for heavy varnish or black deposits. The presence of these may indicate the engine has been habitually run low on oil and/or the oil has not been changed. In addition, emulsified (or milky) oil could be an indication that the vehicle was under water.
Power steering fluid is checked for color and the presence of metal flakes. Blackened fluid impregnated with metal flakes is an indication of wear in the system. A milky pink color indicates water is/was mixed with the fluid and the vehicle was possibly submerged.
Automatic transmission fluid should be red and clean. A brown color with a burned smell can be an indication of a worn transmission. A milky color indicates water is/was mixed with the fluid and that the transmission was possibly submerged.
Engine coolant should be "Clean-'n-Green" (or orange in some cases). The presence of dirt may mean anything from neglect to serious engine damage.
The brake fluid reservoir should be clean and full. If there's any indication of rust or sediment, that could mean excessive moisture from water damage. Low brake fluid can be an indication of worn brakes or a leak in the system.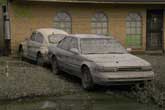 Other Warning Signs
Other Warning Signs When buying a used car – any used car – always conduct a pre-purchase inspection and title search. A thorough inspection by a qualified expert is critical when buying any used car. In addition to identifying flood damage, an experienced technician can find evidence of other problems, too. Evidence of collision repair: Paint overspray and mismatched exterior colors are telltale signs that a car has been in an accident, but a careful inspection can also turn up amateurish body welds, poor panel fits, a bent frame, and other signs that a car has been wrecked and repaired. Odometer tampering: A knowledgeable tech will look at the odometer closely for smudging or misalignment. These conditions could be an indication of odometer tampering or rollback. Unfortunately, this practice is still in wide use across the country, though newer cars equipped with digital odometers are harder to roll back. VIN reconciliation: If the vehicle is a luxury model that is supposed to have a specific type of engine or equipment and it does not, the tech can tell because the VIN codes the original specification from the factory. Disparity between the VIN and the actual vehicle are indications that the vehicle has either been rebuilt or has been stolen and assigned a new VIN. Any discrepancies between the VIN listed on the title, on the ID tag at the base of the windshield, and on the tag on the driver's doorframe are another indication that the vehicle was stolen and given a new VIN. This problem also crops up when an unscrupulous re-builder 'parts' a car together out of the undamaged sections of several different vehicles. This means that the car is assembled in the same way that Dr. Frankenstein put his monstrosity together ... one used body part at a time. General Inspection: Finally, a good tech will check belts, hoses, and pulleys for proper operation and condition. We also recommend that an engine and electrical analysis be performed to see if there are any codes in the computer or problems with the electrical system. The tech will check for rusted brake and fuel lines, the condition of a manual transmission and differential levels, and for rust in the exhaust system. If rust is coming from the inside out, that's an indication that the vehicle was under water. The inspector should also look closely at the frame for rust damage. The moral of this story is clear. When buying a used car – any used car – always conduct a pre-purchase inspection and title search. The time and money are well spent and could save you plenty of heart and headache in the future. 'Til next time…keep rollin'.
Photos courtesy of FEMA and Ron Perry