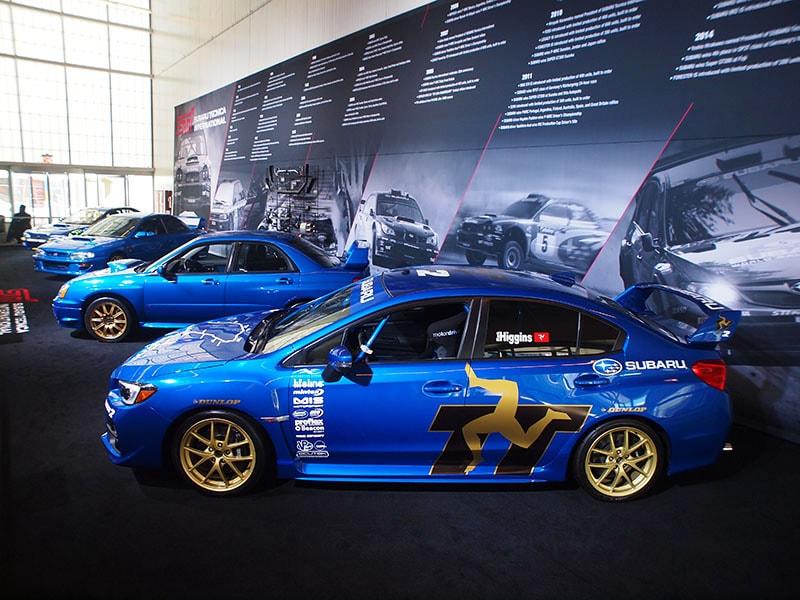 Subaru STI Display at New York Auto Show 2015 ・ Photo by Megan Green
Subaru is celebrating their success in the high-performance off-road arena with a special exhibit at the 2015 New York Auto Show. The display includes four milestone vehicles that have contributed to the reputation of Subaru Technical International over the years, including a rare STI that stopped Autobytel video editor TJ Keon in his tracks.
Take a look at the four highly desirable STI vehicles that have led up to the Subaru BRZ STI Performance Concept, which was unveiled at the show.
1996 Subaru Impreza 555 Rally Car
Subaru has been competing in the World Rally Championship since the 1980s with cars like the Leone and Legacy as Group A racecars; however with the introduction of the Impreza in 1992, the Japanese automaker was able to refocus their efforts. With the new Impreza, Subaru would usher in a new era of WRC success starting in 1994, and create legends out of men like Colin McRae, Carlos Sainz, Richard Burns, and more recently, Petter Solberg.
The 1996 Impreza 555 is a WRX STI Type RA (Rally Applicant) powered by a 270 hp 2.0-litre turbocharged boxer four-cylinder engine. Privateers and non-factory teams frequently used it as a base car for competing in WRC Group N competition.
Done up in World Rally Blue and traditional rally livery, this vehicle exemplifies the winning car McRae piloted in the 1995 season when he took home not only the driver's championship, but the first of three consecutive World Rally Championships for Subaru. McRae's big wins with the Impreza 555 helped spawn the new-generation 2015 WRX STI.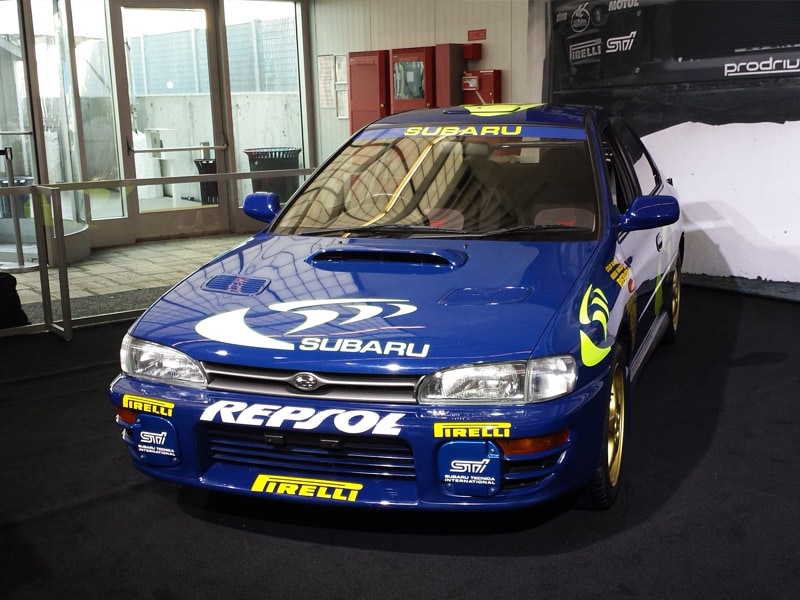 1999 Subaru Impreza 22B STI Rally Car
From March to August 1998, Subaru produced a 1999 wide-body coupe WRX STI labeled the 22B STI to celebrate Subaru's 40th Anniversary, as well as their third consecutive manufacturer's title in the FIA World Rally Championship.
All 400 Japanese units sold within one hour. Only 24 additional units were produced for export markets: 16 for the UK, 5 for Australia, and 3 prototypes. Which is why editor Keon said, "I've never seen this car in person before, which is why I'm freaking out at how cool it is." 
The vehicle features a 22B 280 hp 2212cc 4-cylinder boxer engine and widened body from the Peter Stevens-designed WRC car. A WRX Type R chassis was taken off the assembly line for upgrading and modifications that include a unique hood, adjustable rear wing, front and rear fenders, Bilstein suspension, red-painted Brembo brakes, special tires and rim, and a ceramic disc clutch.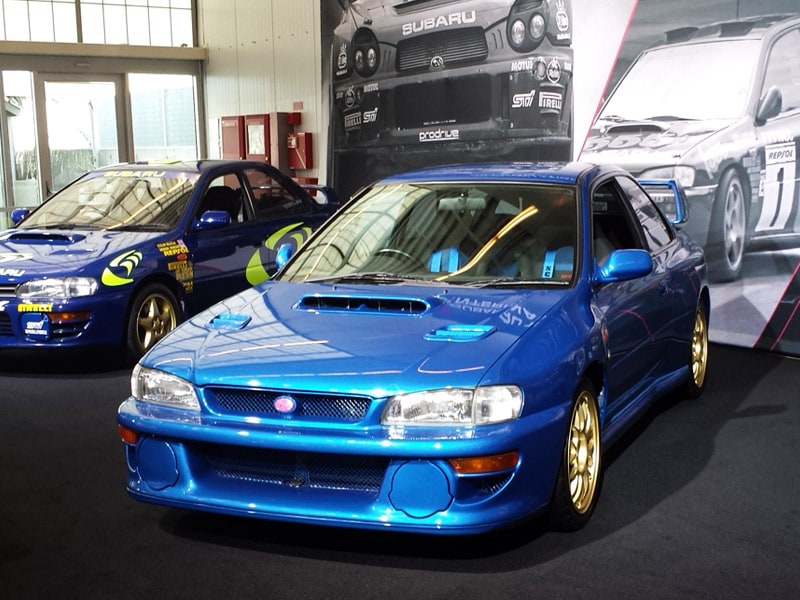 2004 Subaru WRX STI
While videogames like Gran Turismo and magazines like Motor Trend teased us with the possibility of all-wheel drive turbocharged performance on a budget, it wasn't until 2004 when Subaru decided to bring the WRX STI stateside. Based on the popular Impreza WRX, the WRX STI is equipped with a 2.5-liter turbocharged boxer engine that produces 300 hp and 300 lb-ft of torque.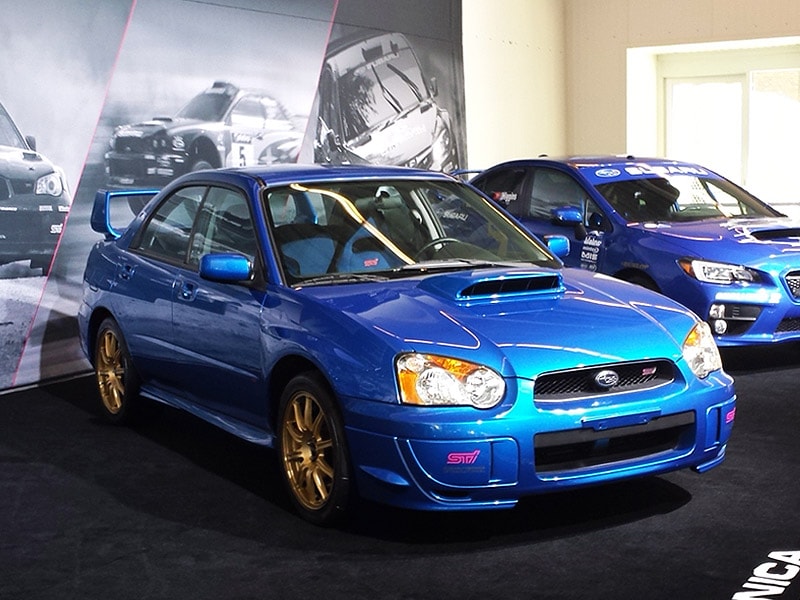 2015 Subaru WRX STI Isle of Man
This 2015 Subaru WRX STI driven by Mark Higgins set a new lap record at the famed Isle of Man TT Road Course. Higgins completed the 37-mile course with an average lap speed of 116.47 and a time of 19.26, breaking his previous record of 115.36 that was set three years in a 2010 Subaru WRX STI.
The record setting car is a stock 2015 WRX STI, besides modifications of a roll-cage, racing seat and harness, fire suppression system, modified springs and dampers, and Dunlop Direzza tires. The speed limiter was removed from the car, and a high decibel straight exhaust was added for crowd safety.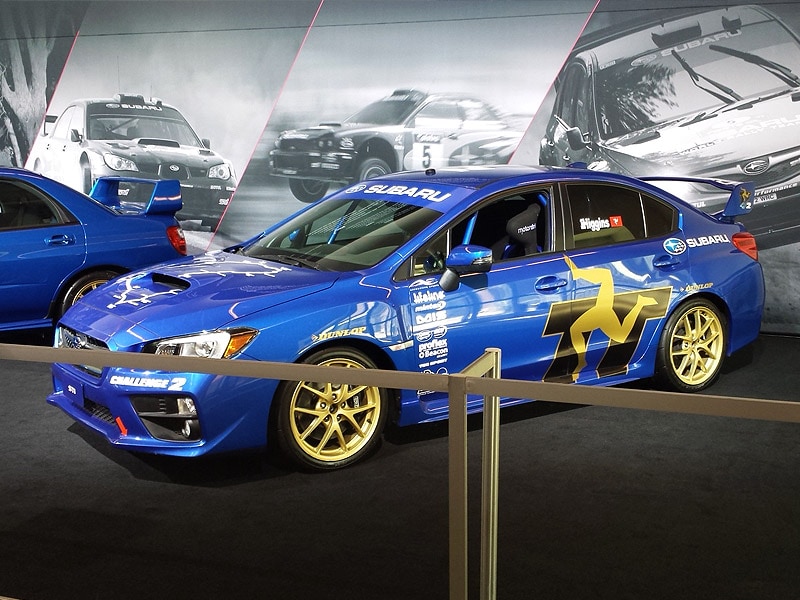 Subaru STI Performance Concept
Subaru first showed off the BRZ in the form of an STI Concept at the 2011 LA Auto Show. While the public awaited a road-going, affordable rear-wheel drive Subaru BRZ, enthusiasts hoped for a high performance version.   Based on Subaru's own Super GT (NASCAR of Japan) entrant, the BRZ STI Performance Concept unveiled at the 2015 New York Auto Show promises turbocharged power along with blistered fenders and a more aggressive front end. There's still no sign as to whether this is the high performance version of the BRZ that enthusiasts have been waiting for, or if this will remain a concept.