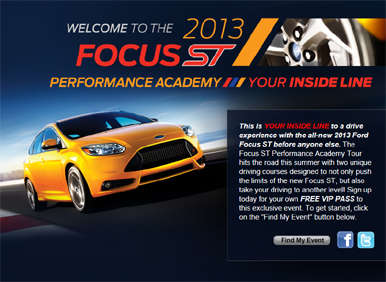 Closed courses, professional driving instructors and the all-new 2013 Ford Focus ST will be bringing a whole new level of excitement to the hot hatch segment this summer when Ford kicks off its five-city Focus ST Performance Academy. As the excitement continues to build for the launch of the sport-tuned Ford Focus ST in the United States, Ford will be hosting consumer driving events for people to learn more about the car than they ever could at a dealership. In the eternal words of most infomercial pitchmen, "but wait, there's more!" The icing atop this Tangerine Scream-colored cake is the fact that the Focus ST Performance Academy is absolutely free!
The daylong events feature performance training and a timed autocross course held in the parking lots of professional sport venues including FedEx Field in Washington, D.C. and Candlestick Park in San Francisco, Calif. Drivers will be given instruction and then let loose in what should be an exciting parking lot of cones. Participants will be among the first consumers to drive the performance-oriented Focus ST even though it doesn't go on sale until later in the year.
"Our fans have expressed extremely high interest in this car, but we know the proof is in the pudding. We want ST fans, as well as drivers of competitive vehicles, to be able to taste this car firsthand," said Lisa Schoder, Ford Focus ST Marketing manager. "What better way to do it than to bring the car to the people with the help of professional driver instruction on closed courses."
To register for the event, just sign up at www.drivefocusst.com, and while Ford doesn't mention the availability of openings for each city, we'd recommend signing up sooner rather than later. The Focus ST Performance Academy runs from 9 a.m. through 6 p.m. on the following locations and dates:
June 30, 2012 - IZOD Center, New York
July 14, 2012 - FedEx Field, Washington, D.C.
July 21, 2012 - Gillette Stadium, Boston
August 4, 2012 - Candlestick Park, San Francisco
August 11, 2012 - Dodgers Stadium, Los Angeles
When it goes on sale, the 2013 Ford Focus ST will have a starting MSRP of $23,700, but we expect early buyers to pay a hefty markup at dealerships as this hot hatch should be a hot seller.
The unique styling elements and available Recaro bucket sport seats are only outdone by the ST's performance figures, which, while not official yet, are expected to be in the neighborhood of 247 horsepower and 250 lb-ft of torque from the turbocharged 2.0-liter EcoBoost inline-four. For those interested in buying a Focus ST after driving it, Ford is still sweetening the deal by throwing in a free GoPro HD Hero2 Motorsports Edition camera.