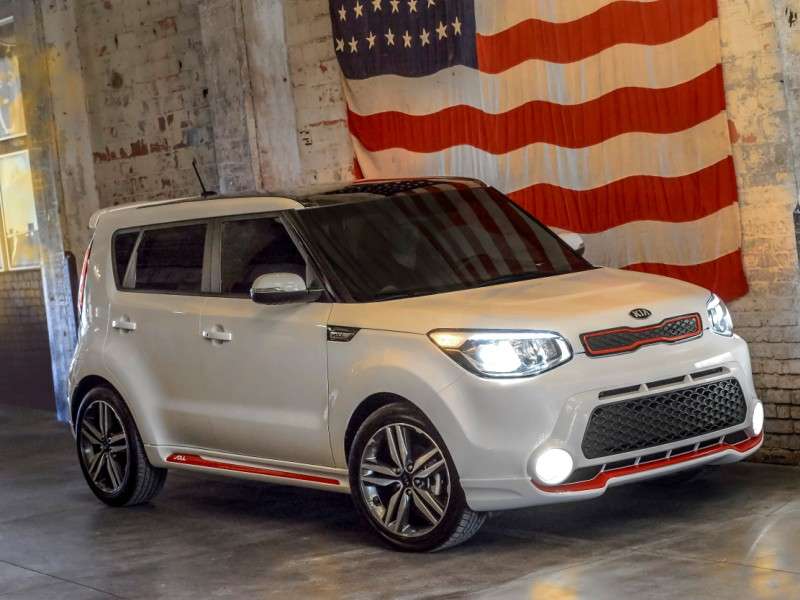 With the redesigned 2014 Kia Soul now at dealerships—where it helped Soul sales spike by more than 77 percent in November—the time has come for the first special-edition model of the second-gen urban-activity vehicle: The 2014 Kia Soul Red Zone, which will be limited to a mere 2,000 units after it goes on sale early next year.
The latest in a long and successful line of Soul special editions, the Red Zone will be based on the mid-level Soul Plus but then gets a sporty makeover inspired by the Kia Track'ster Concept. Highlights include a cool White exterior finish that's enhanced by a full body kit, with the car's new side skirts, as well as its custom-look fascias and front grille accented to match the Red Zone moniker. Further enhancing the Red Zone's street presence are exclusive 18-inch alloy wheels, while its cabin boasts black cloth seats, a black-leather dash hood and black-carpeted floor mats, all with red accents. The same red is further used to trim the car's shift knob, air vents, dash speakers and console tray.
2014 Kia Soul Red Zone: Performance and Efficiency
And while the 2014 Kia Soul Red Zone doesn't benefit from any exclusive power tweaks, it is worth remembering that all 2014 Souls with the available 2.0-liter engine—standard in the Red Zone—gain some noticeable enhancements over their 2013 counterparts. That's because Kia has added direct injection to the four-cylinder powerplant, delivering a boost in both torque and fuel efficiency. As regards the former, the 164-hp engine gains 3 lb.-ft. of twist, for a total of 151 lb.-ft. with more of it be available early in the power band.
In terms of EPA marks, the 2.0-liter engine, mated to a six-speed automatic transmission, is up to 23 mpg city/31 mpg highway/26 mpg combined, marking increases of 3 mpg highway and 1 mpg combined over the same powertrain in 2013. The standard engine in the 2014 Kia Soul remains a 1.6-liter four-cylinder engine, also with direct injection, that serves up 130 hp, 118 lb.-ft. of torque and a top EPA line of 24/30/26.
"The Soul has always appealed to those who choose to express their individuality through their vehicle, and special editions have been a part of the lineup since the first-generation Soul went on sale in 2009," said Michael Sprague, executive vice president, Marketing & Communications, Kia Motors America. "The Red Zone Soul underscores that independent spirit and brings to life many styling features from our wild Track'ster concept."