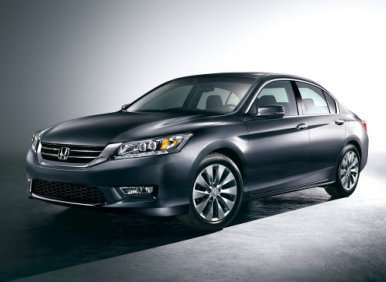 The 2013 Honda Accord is fully redesigned, and Honda has finally released photos of the new model. The vehicle doesn't stray too far from the Accord heritage. However, a bolder exterior and more refined interior help distinguish the 2013 Accord from its predecessors. Keep reading to take an early look at the 2013 Honda Accord and review specs, features and pricing.
Styling: 2013 Honda Accord
Honda describes the new Accord as having a "sophisticated exterior" and "more spacious and luxurious passenger cabin." On the outside, the biggest changes are a larger, more prominent grille and a shorter length. The overall goal of these changes is to make the Accord easier to park in city environments, as well as sportier in appearance.
Despite the shortened frame, Honda promises that the interior seating dimensions have not shrunk along with it. The Japanese automaker also ensures that the vehicle has been designed to maximize road visibility for both front and rear seat passengers. Finally, Honda suggests that "an overall aerodynamic shape combined with low-drag exterior surfaces" will result in a boost in fuel efficiency.
View more 2013 Honda Accord photos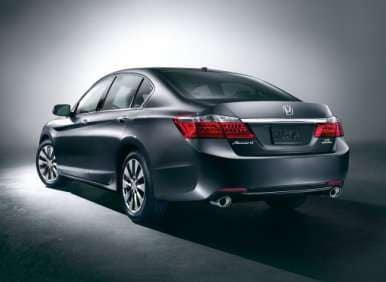 Performance: 2013 Honda Accord
While Honda has yet to confirm, the 2013 Accord will likely retain its current 2.4-liter four-cylinder engine. A new continuously variable transmission is also likely, which should serve to improve gas mileage. Upper-trim models will also be available with a V6 option that is now paired to a six-speed automatic.
More interestingly, is the addition of a Honda plug-in hybrid. This model will have the capability of traveling on a short range on full electric power (around 15 miles), and will kick over to a 2.0-liter four-cylinder engine when necessary.
Review 2013 Honda Accord specifications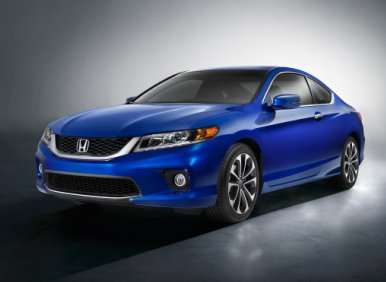 Pricing and Features: 2013 Honda Accord
Pricing for the 2013 Accord has yet to be announced. However, initial asking price shouldn't stray too far from the current $21,480 price tag. The vehicle's standard features list will remain fairly robust, and likely include full power accessories, air conditioning, cruise control, height-adjustable driver's seat and a six-speaker stereo.
New available features for the 2013 model include LED daytime running lights and the new HondaLink infotainment system. HondaLink is similar to the FordSync system, and provides voice-command technology, access to Internet audio streaming, social media integration and usage of smart phone applications.
Find a 2013 Honda Accord dealer near you