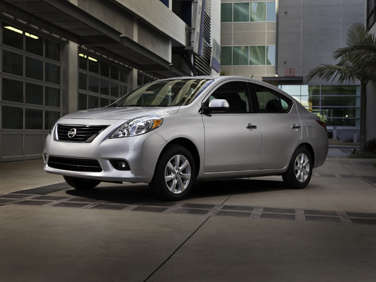 For the 2012 model year, Nissan has completely redesigned the Versa to deliver new styling and improved gas mileage. With these new additions, Nissan hopes to steal some market share from top-selling budget compacts like the Hyundai Accent and Honda Fit. Keep reading to find out what's new on the 2012 Nissan Versa.
Styling: 2012 Nissan Versa
When the 2012 Versa debuts this summer, it will only be available with a sedan body style (the hatchback will hit dealerships later). In terms of exterior styling, the most dramatic change is the long, gradual slope of the roofline. This gives the vehicle a more rounded and modern look when compared to its predecessor. However, going as far as calling this bargain vehicle a head-turner is certainly something of a stretch.
Inside, the vehicle's conservative design cues continue. While luxury amenities are sparse on base models, early reports suggest the 2012 Versa is comfortable enough. Reviewers also seem pleased with the amount of passenger room available, which is always a concern in the compact vehicle class.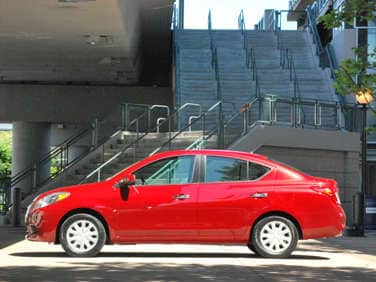 Performance: 2012 Nissan Versa
The Nissan Versa is no longer available with an upgrade 1.8-liter engine. That leaves a retooled 1.6-liter engine that delivers similar power when compared to last year's model (109 horsepower and 107 lb-ft. of torque). However, measures have been taken to improve fuel efficiency. Nissan promises figures to the tune of 30 mpg in the city and 37 mpg on the highway. In comparison, the 2011 model was rated at 28 mpg in the city and 34 mpg on the highway.
If you're wondering how the 2012 Versa drives, the word you might want to keep in mind is, "adequate." While not exactly peppy, the Versa will likely accommodate the day-to-day needs of most drivers.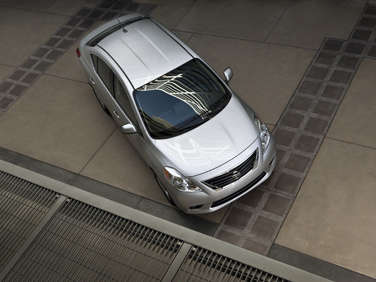 Safety: 2012 Nissan Versa
Despite the low price, Nissan offers a decent list of standard safety features for the 2012 Nissan Versa. Base models receive front- and side-impact airbags, side-curtain airbags, traction control and vehicle dynamic control. The model has yet to be tested by the Insurance Institute for Highway Safety or National Highway Traffic Safety Association.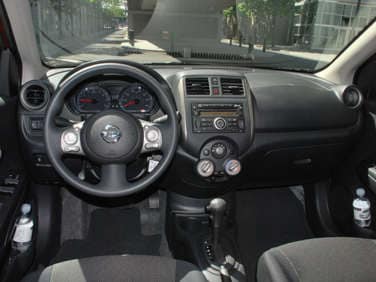 Pricing and Features: 2012 Nissan Versa
Nissan reports a base price of $10,990 for the 2012 Nissan Versa. Astute shoppers will note this figure is $1,000 higher than last year's beginning MSRP. Regardless, if you can make do with a limited number comfort and convenience features, then the Versa remains one of the most affordable vehicle options on dealership lots. However, if you want features like power windows and cruise control, then the base price rises to match the cost of competing models. Notable optional equipment for the 2012 Versa includes Bluetooth, steering-wheel mounted controls, MP3 control system, fog lights, 60/40 split rear seat and an upgraded stereo system.