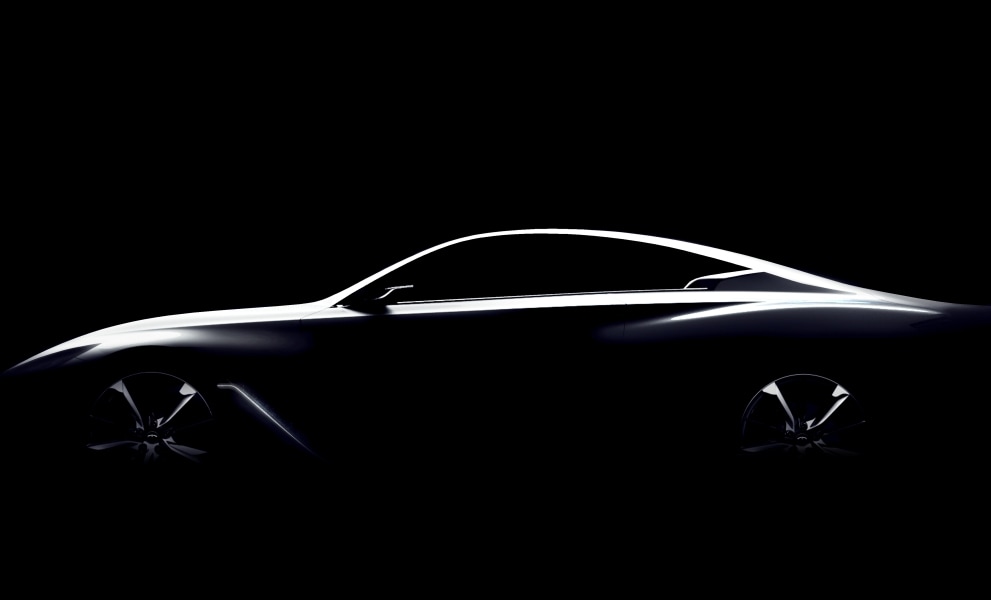 Nissan's luxury brand will bring a particularly important new vehicle to the upcoming North American International Auto Show in Detroit, where it plans to introduce the successor to the 2015 Infiniti Q60 coupe. Which may not seem like that big of a deal until you realize that, for all of its focus on performance, Infiniti doesn't currently offer a hi-po halo coupe—a "must have" for any brand that wants to be taken seriously by enthusiasts. 
True, the new Q60 may not be all that, but it will be the first all-new coupe from Infiniti since the brand reinvented itself a few years back, and it likely received at least some attention from Sebastian Vettel, the former Infiniti performance director and multi-time Formula 1 driving champion. That kind of F1 focus—and a Detroit debut—certainly worked out well for the Infiniti Q50 "Eau Rouge," as readers may recall.
As for the new Q60 concept, Infiniti points out its "pure, well-defined contours," while reporting that the vehicle also "builds upon the design language seen on recent Infiniti concept cars, foreshadowing the strong visual consistency that will be a key ingredient of products in the future Infiniti lineup."
More details will surely follow, but until then, the 2015 Infiniti Q60 does continue to offer some strong benefits of its own, including a distinctive special edition that is the highlight of the new model year. The 2015 Infiniti Q60S Coupe Limited adds unique appearance and performance cues to the mix, building on its 330-hp V6 with:
A model-specific, performance-enhanced suspension that's complemented by a sport-tuned exhaust system
Summer performance tires wrapped around 19-inch, seven-spoke aluminum-alloy wheels
Blackout-style exterior accents, including a Midnight Black grille, black mirror covers and a black, trunk-mounted rear spoiler
Matching cabin upgrades, such as red stitching for both its leather-trimmed front sport seats and leather-wrapped steering wheel, along with aluminum pedal inserts/footrest
Two convertible models are in the mix, too. The standard 2015 Infiniti Q60 convertible opens up the coupe's package of features with a retractable hard top, while the 2015 Infiniti Q60 IPL convertible adds in upgrades from the Infiniti Performance Line.
At dealerships now, the 2015 Infiniti Q60 is priced from $40,950.