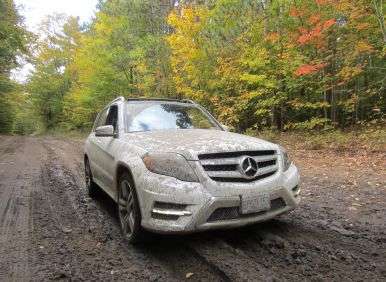 "Fun" and "nimble" are not often words that are used to describe crossover vehicles - especially those targeted at the luxury segment, where performance is often compromised by comfort.  The recent refresh of the 2013 Mercedes-Benz GLK-Class, however, proves that it is possible to build a premium 'ute that manages to handle more like a tall wagon than a truck without jarring passengers via a stiff, unyielding suspension system. 
The new GLK-Class has been heavily revised for the current model year, and we were given the chance to spend some time behind the wheel of the V-6 edition of the crossover this past month.  Read on to find out what impression the compact SUV made on us as we flogged it over both hill and dale.
A Baby G-Class
There is more than a bit of G-Class styling DNA surging through the strong character lines and upright angles of the 2013 Mercedes-Benz GLK-Class.  Rather than giving the crossover a dated feel - after all, the G-Class is very much a product of its time - the GLK-Class instead benefits from looks that stand apart from the more anonymous, aero-driven designs of its BMW and Audi competitors.  The GLK-Class is uniquely Mercedes-Benz inside and out, and this individuality counts for a lot amongst premium shoppers.
Some of the specific changes that have been made to the new Mercedes-Benz GLK-Class include LED running lights, taillights, and license plate lights, and tweaked front fascia.  The GLK-Class rides on 19-inch rims, but can be upgraded to 20-inch wheels as either a standalone option or as part of the available AMG Styling Package, which adds even more visual heft to the crossover.
Interior room for the Mercedes-Benz compact SUV is very wagon-like, which means a good amount of space for four passengers, and the ability to haul five in a pinch.  Leather upholstery and accents maintain the GLK-Class' upscale feel without de-emphasizing that this is a family vehicle intended to carry both people and cargo, as needed.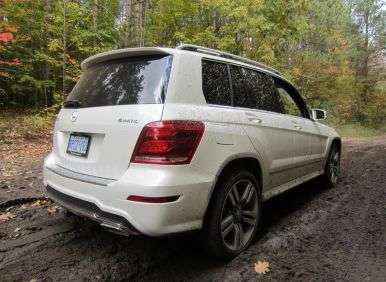 All Smiles Behind The Wheel
Although a turbodiesel edition of the 2013 Mercedes-Benz GLK-Class will eventually be available for American buyers, we were content to pilot the 3.5-liter V-6 version during our afternoon with the crossover.  The updated mill provides 302 horsepower and 273 lb-ft of torque, sent to all four-wheels thanks to 4MATIC all-wheel drive and a seven-speed automatic transmission.
We immediately noticed the considerable amount of pep the six-cylinder GLK-Class had to offer.  Each stab of the loud pedal resulted in appreciable acceleration, with no hesitation even from a stop.  Better still was just how controlled the crossover's suspension felt on a wide variety of surfaces.  Twisty asphalt was easily devoured by the GLK-Class, and gravel roads presented none of the floatiness that one might ascribe to such loose terrain.  When we took the Mercedes-Benz off-roading through a few shallow mud pits and across bumpy, uneven moguls, the GLK-Class continued to impress by absorbing a significant amount of abuse without ever feeling like it was going to fly apart at the seams.  Practically no GLK-Class buyer will ever subject the crossover to the kind of shellacking it received at our hands on the trail, but it's comforting to know that the capability is there, should it ever be needed.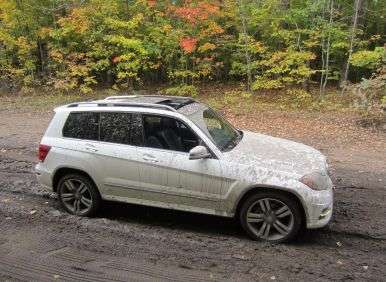 A True Wagon Replacement
The 2013 Mercedes-Benz GLK-Class is a crossover that evokes the best qualities of both SUVs and wagons.  Families will love its comfortable confines and its usable cargo space, and it's hard to imagine anyone who wouldn't be besotted by its understated, classic good looks.  The GLK-Class also features a ride that is surprisingly engaging for a compact people mover - think C-Class wagon - and one that will certainly endear itself even further to drivers once the snow starts to fly.  The 2013 Mercedes-Benz GLK-Class has been reinvigorated just enough to step in as a top choice for crossover buyers who want exactly the right measure of luxury and performance in a single, affordable package.