What if an SUV married the high seating position and usability of a traditional SUV with the driving characteristics of a small sport sedan? This is what I asked myself as I blasted around a twisty corner just south of San Francisco in a new 2011 Kia Sportage. Living up to its name, and punctuating the "sport" in SUV, the Sportage is a vehicle that surely challenges the norm. Outside, the Sportage exemplifies Kia's new design direction. Finally, a design that's all its own that helps Kia define itself as much more than a budget alternative. The new Sportage is longer, wider, and lower than its predecessor, and with exaggerated wheel arches, high belt-line and short greenhouse, it's a compact crossover like you've never seen before. It's aggressive, youthful, and the new face of Kia.
Interior
Inside, the Sportage continues to impress. Fit and finish is top-notch, and materials appear to be of high quality. Everything that you don't normally touch is hard plastic including the dashboard, door panels, and center console, but padded arm rests, center console cover and rich leather-wrapped steering wheel provide a comfortable environment in an overall package that at least appears to be a grade above the rest. Interior space is ample, and I found the perfect seating position very quickly. Plenty of head and legroom, even with the panoramic sunroof and my 6'4" frame, I was comfortable. Rear seat space is adequate, as I found enough space to sit comfortably behind the driver's seat, even when it was adjusted to my liking. Taking yourself and 3 friends for a weekend adventure or a night on the town would be a cinch.
Furthering the ambiance inside, the Sportage packs features that rival a luxury vehicle. Including leather seating surfaces, heated and cooled front driver's seat, massive panoramic sunroof, navigation system with Bluetooth connectivity, USB and iPod connectivity, back-up camera, push button start, the Sportage option sheet is longer than most in its segment. I found the audio system controls to be very intuitive, and I was able to pair my phone over Bluetooth and stream audio and make phone calls within minutes. Streaming Pandora over the optional sound system proved incredible sound, and if you're into hip-hop or bass-heavy music, the optional speaker system with subwoofer is a must-have.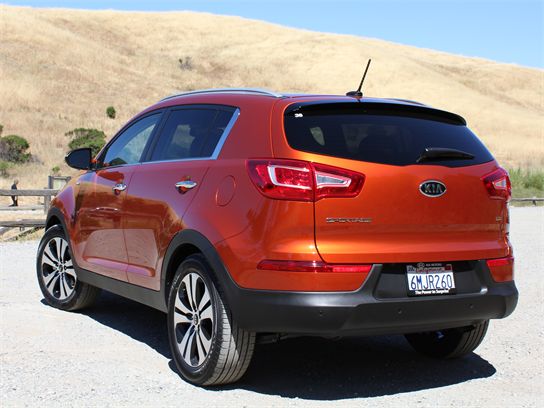 Engine and Transmission
Gripping the small-diameter, chunky steering wheel, it's immediately obvious that the Sportage is a little something different. Tap the ignition button with the keyless entry fob in your pocket, and the 176-horsepower 4-cylinder ignites without any buzzing or roaring adjectives; which says a lot considering that Kia vehicles of yore were a tad on the chintzy, buzzy side. Dropping the gear selector in "D" provides adequate off-the-line acceleration.
Merging on the highway, it's clear the Sportage won't win any drag races, but it's no slouch either. The 4-cylinder provides enough grunt to get the Sportage out of its own way, though since power is a commodity that you can never have enough of, I look forward to the turbocharged 2.0-liter 4-cylinder that comes to market later this year. The six-speed transmission does an excellent job of getting the power to the wheels how it needs to be, offering comfortable cruising combined with peppy acceleration from a stop or when passing. Underpinning the 2011 Sportage is an all-new platform. Featuring full-time front-wheel drive with optional all-wheel drive, fully independent sport-oriented suspension, and increased attention to noise, vibration, and harshness (NVH) isolation, Kia's new small SUV offers unrivaled quiet refinement.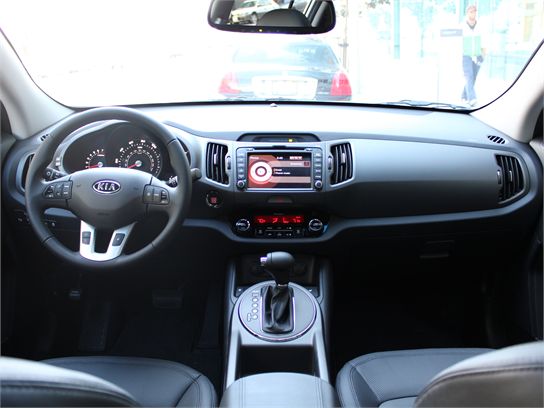 Ride and Conclusion
Around town, the sport-tuned suspension can be a little rough. Offering a somewhat jarring ride over bumps and variations in the pavement, it's a bit uncharacteristic of a compact SUV. The ride isn't so stiff as to be uncomfortable, you just need to reprogram your brain to accept being in a sport-oriented compact SUV. Highway drives are perfectly smooth, but when on a twisting two-lane back road, it becomes obvious what the suspension is designed to do. As far as compact SUVs go, it's doubtful that you could find one that handles any better than the Sportage. Body roll is present, but surprisingly minimal for a car as tall as the Sportage. I would appreciate more steering feel, though it's adequately weighted and very precise. The Sportage is an SUV that dances, offering ample grip and a downright tossable handling persona. Power delivery is smooth and enthusiastic, as stomping on the go-pedal mid-corner delivers apex-blasting corner exits. Pushing toward the limit, the Sportage understeers a tad, but it's at a point far beyond where the competition rolls over and gives up. If you're looking for a sport sedan with the practicality of a compact SUV, your vehicle has arrived.
Credit is due, in part, to the all-new class-exclusive Dynamax all-wheel-drive system. Co-developed by Kia and Magna International, the system continuously monitors the driving environment and can proactively engage all-wheel drive when necessary. What's unique about this is that other all-wheel-drive systems only to driving conditions, and engage detecting slipping or unsafe vehicle behavior. I found all-wheel-drive engagement to be seamless in the Sportage, helping provide the much-desired neutrality during cornering. In adverse weather conditions, I imagine the all-wheel-drive system would be a very valuable asset. Starting at a base price of $18,295, the new Sportage starts with a price premium over the outgoing model, though that premium nets you twice the vehicle. With every single option box checked, the Sportage still comes in under $30,000, and considering the included features, it's a relative bargain. No other small SUV offers this sort of style, refinement, performance, and features, ensuring that the new Sportage is instrumental in building Kia's reputation as a major automotive manufacturer.