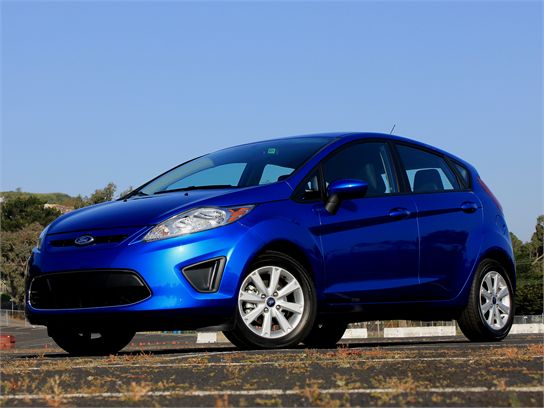 Why is it that after you've taken off in an airplane, the captain wishes you to "enjoy the flight"? I mean, what's there to enjoy? Not being financially obese, I'm usually relegated to corral-level coach, my knees slammed into the seat in front of me and a little snot-nosed Nintendo-head kicking my seat back yelling at his inattentive mother to entertain him. Nothing to enjoy there. This thought occurred to me on my way to San Francisco to drive the new 2011 Ford Fiesta, and I realized that for the most part, sub-compact cars are about as "enjoyable" as flying coach. Europeans have had great small cars for years, and they should when gas costs over $7 per gallon. But over here, in the land of milk, honey, and $2.70/gallon gas, large SUV's, trucks and land yachts rule. A few years ago, we had a scare in gas prices that shocked the government and the auto industry into forcing small cars onto us, but the "build it and they will buy" mentality doesn't fit small cars here. Small cars need to have European levels of refinement and American levels of comfort (large) to be worth the plastic they're formed out of.
Ford identified this need and developed a version of its best selling car in Europe (actually, the best selling car in Europe, period) for the states. At first glance, the Fiesta is an intriguing little car. In 5-door hatchback form, it emits a youthful exuberance rarely found on cars today. The long up-sweeping character line extends from the front wheel opening to the taillights, and short overhangs with standard 16" alloy wheels bode well to its sporting pretenses. In only-for-U.S. 4-door sedan form, the front end changes slightly and the bulbous rear end almost looks like a toddler carrying a load in his diaper. It's fine if you prefer a trunk over a hatch, but I'd take the sleek and borderline sexy hatchback any day.
Interior
The interior is very similar in the two cars, and it's really where you start to realize that the Fiesta is truly something different. The design is sporty with quality materials, however, aside from the dash, hard plastic is used abound. That's ok, because compared to the competition, the Fiesta is still far ahead. No matter where or how hard I tapped, I could not coerce a single squeak or rattle. Very impressive for a car that starts a bit above 13k. Try my patented "tap test" in a Fit or a Yaris, and you're bound to find at least a few panels that creak an objection. The optional leather seats are very impressive for a car in the Fiesta's price range, offering high quality leather and just the right amount of bolstering to keep you firm in the seat while not being obtrusive. The standard cloth seats are still really good, and in some cases on twisty roads, I preferred the grippier cloth to the slick leather. The meaty steering wheel is incredibly satisfying, making any grip an absolute pleasure. In the back, you'll find a 60/40 split folding rear seat that should help accommodate most IKEA or Costco runs, however the seats don't fold into a flat load floor, which could hinder larger boxes and objects. You'd still have no issue throwing a bicycle in the back, and space is ample for such a small car. With the rear seats up, I found reasonable headroom for my 6'4" frame, however leg room is predictably limited. Still, I could see toting yourself and 3 friends with ease (a 4th only in a pinch).
While inside, you have to note the technology. Ford's Sync system is optional on lower-trim Fiestas and standard on the rest, and it's really a game-changing way to communicate with your car. As I've mentioned in past reviews, features such as turn-by-turn navigation, vehicle health report, and Bluetooth connectivity get my heart a flutter. Most recently, Ford introduced Sync AppLink, which lets your Android or Blackberry phone (sorry, not 'till next year, iPhone users) with AppLink ready apps communicate seamlessly with your car. Listing to Pandora Internet Radio, you can skip songs, thumb-up or thumb-down a song, or change channels, all with your voice, dashboard, or steering wheel controls. No more picking up your phone to listen to music. Aside from Pandora, Stitcher "smart radio", and OpenBeak Twitter client apps will be available at launch, with more apps on the way as developers create them. It's a pretty trick set-up that launches on the Fiesta and it being rolled out to future Sync equipped Fords after the Fiesta hits the streets.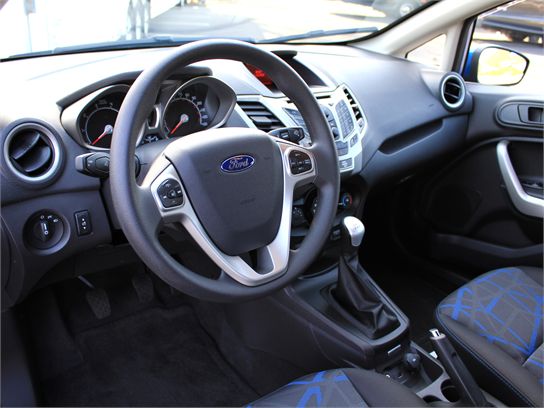 Transmission
When it's time to get a move on, the optional push-button keyless start is a unique approach in the segment. I can't quite understand how pushing a button is easier than twisting a key, but I can say that it's nice to leave the key fob in your pocket though the entire unlock/entry/ignition-on process. Tap that ignition button and all 1.6-liters of 120 horsepower fury buzz to life. Equipped with either a 5-speed manual or all-new 6-speed "PowerShift" automatic, the Fiesta offers plenty of cogs to maximize what frugal horsepower it packs. Sampling first the 6-speed automatic, it's clear that the Ford engineers did their homework. It's easy to assume that this is just another ordinary automatic transmission, but you'd be wrong. This is a dual-clutch automatic transmission, which is essentially a manual transmission that shifts itself. Giving you the efficiency of a manual, with the ease of an automatic, Ford projects the PowerShift auto will achieve 40mpg on the highway and 30mpg in the city. Impressive considering these numbers are usually tied to hybrids, diesels, or manual-transmission equipped vehicles. In practice, the automatic transmission is excellent. Shifts are very smooth and, honestly if I didn't know any better, I'd still think it was a conventional automatic. The six gears are set up to run the full gamut of performance. A relatively short first gear allows for surprisingly peppy stoplight to stoplight acceleration, while 5th and 6th gears are overdrive gears to maximize cruising and fuel economy. The only thing that I missed was the ability to shift gears myself. The Honda Fit features paddle shifters on the steering wheel, and while it's not a sports car by any means, it at least gives you the opportunity to control when you want to shift if you're climbing a hill or passing. The Fiesta misses this, leaving you with either a button on the gear shift lever for more aggressive gear holding, or an L setting for maximum gear holding.
Thing is, if it's sportiness you crave, you'll want the 5-speed manual anyway. This is the exact same manual transmission equipped in Europe, and with most Europeans opting for the third pedal, they know a thing or two about putting together a good manual transmission. The clutch is light, with very progressive uptake making driving in city environments an absolute joy. Shifts are effortless as the shifter is slick and precise without being notchy, resulting in a silky-smooth shift action that only a German car could muster. Much like the automatic, 1st and 2nd gears are relatively short, allowing for peppy acceleration, however with only one overdrive gear (5th) cruising RPM's are a little high, hence the 2mpg loss on the highway compared to the automatic.
Drive/Conclusion
The 120 horsepower, 112 ft.-lb of torque 1.6-liter 4 cylinder is an adequate motivator, but it certainly won't win any drag races. Gearing helps with off-the-line acceleration, but if passing on a two-lane road, or merging on the highway, it would really benefit from a bit more juice. I found passing to be a somewhat iffy venture. Flooring the throttle, three downshifts later, and the Prius I'm trying to pass in front of me just doesn't get any closer...all the while, I'm staring at the bulldog on a Mack truck coming straight for me. In the end, you're probably better off just keeping in your lane. It's ok though, because the Fiesta is designed for the urban environment anyway. Squirting in and out of holes in traffic is simple when the top speed is 40 mph. This would make an excellent commuter car. When cruising, the Fiesta is impressively quiet. Wind noise is kept to a minimum, leaving the only discernable road noise to a dull roar from the tires. At 70 mph, conversations were effortless with no need to raise our voices. The engine note sounded a little asthmatic when accelerating or passing, but when at constant speed, was almost silent. Overall, it's hard to recall any car of this size that is so quiet on the road. As the road gets twisty, the 2,628 lbs (curb weight for 4-door automatic as tested) Fiesta lives up to its name. The suspension is tuned to party at any moment, providing a somewhat firm ride that results in impressively flat cornering with ample grip. Despite the firm ride, the Fiesta never feels harsh, absorbing bumps and potholes with solidity that belies its price tag. The steering column doesn't shimmy; there are no rattles from the dash or other interior bits, just solid and athletic. The new electric steering is a bit on the numb side, but still very precise and enjoyable. The font disk, rear drum brakes provide ample stopping power, with a firm brake pedal feel. ABS is standard, as is
"AdvanceTrac" Electronic Stability Control to make sure you stay out of trouble when you get in over your head. It does a great job at this, as it only intervenes when you reach the limits of adhesion. Even then, the Fiesta goes into a gentle understeer that can easily be adjusted by lifting off the throttle. The 2011 Ford Fiesta is not quite like riding in coach. While the rest of the segment has at least decided to continue offering peanuts, and the flight attended actually stops the Nintendo-head behind you from kicking your seat, the Fiesta is like stepping up to flying on Virgin America. Fun, hip, trendy, and much more comfortable than the rest of the segment, the Fiesta illustrates how a compact car should be built. Not quite "game changing" but the leader in the segment for sure.