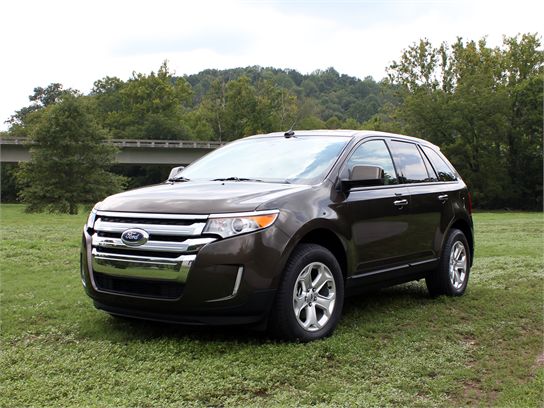 When the Ford Edge first went on sale in 2006, it was accompanied by a TV advertising campaign that showed the vehicle defying the laws of physics by driving on the edge of walls and buildings. Interestingly, the overly-attractive twenty-something driver and passenger weren't at all alarmed by this, and were having fun while the song "Miles and Miles" by DEE quipped "I like to live on the Edge!". I never understood this commercial, and much like the commercial, the first generation Edge felt like a vehicle that probably made sense in concept, but in practice was just missing a few key details. It wasn't a bad vehicle, which is evidenced by the 400,000 sold mark being broken just a few weeks ago, but it could have been improved in many ways.
For 2011, Ford heard the call loud and clear, and has completely redesigned the Edge inside and out. The result is a vehicle that stands out in its class for style, refinement, technology and practicality. When I got the keys, I tried to drive it on the edge of a building, but Ford engineers stopped me before I hit the wall. That's probably for the better because you wouldn't want to dent or scratch the large three-bar chrome grille (painted black on the sport). It, along with large wheels, low ride height, and LED side markers make for a masculine vehicle that looks like nothing else in its segment. The 2011 Edge looks large and in-charge without actually being so, which is a feat that most designers lust after, but so rarely achieve.
Interior
On the inside, the Edge coddles you in a swath of technological high-quality goodness. Most intriguing is the dashboard with only one physical gauge, the speedometer, and  two 4.2-inch color LCD screens flanking either side (more on that later). Elsewhere, everything you can rest your paws on is soft-touch and high quality. A far cry from the hard plastic and low-grade materials in the prior Edge. The front seating position is high, which is something you could expect from a midsize crossover, however I found the seat to sit a little too high for my 6'4" frame.
While I had headroom, I felt as though the seat should be able to adjust down a bit more. Climbing in the back seat, I found enough legroom and headroom to stretch out and relax...even behind the driver's seat with it adjusted to my liking. There is truly enough room for three adults in the back, without bad personal space violations. The space behind the rear seats is nothing short of cavernous, and if you want even more, the back seats fold flat with optional power switches. The front passenger seat can even fold flat to accommodate items up to 8-feet in length. There are also countless nets, cubbys, pockets, holes, and bins to fit any knick-knack, trinket or widget that you or your family may need to stow.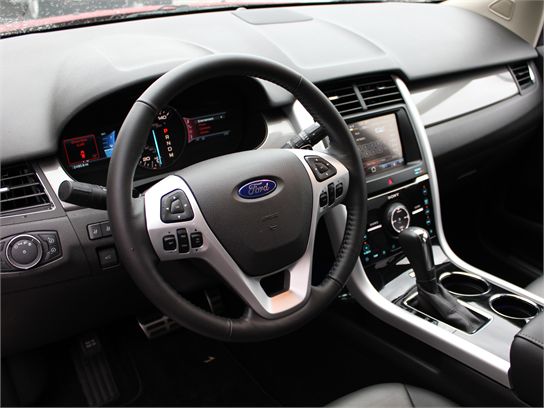 MyFord Touch
Aside from the comfy interior, the real story inside is the introduction of MyFord Touch. This is Ford's new technology that allows the driver to easily interact with the vehicle safely and usually completely by voice. Set the temperature to 72 degrees? Hit the voice button and tell it to do so. Ready to drive on the edge of a building? Simply say "play song 'Miles and Miles'" (do so at your own risk, if it's on your iPod, iPhone, Bluetooth device, USB device, or on-board hard drive). All voice commands have been simplified, along with the user interface of the physical buttons and touch screen. MyFord Touch is being introduced on the Edge, and it really revolutionizes in-vehicle connectivity. Remember those two 4.2-inch color LCD screens I mentioned on the dash board? Those are also part of MyFord Touch. The left screen is used to show vehicle information. It can display a tachometer, fuel economy gauge, trip information, and a myriad of other vehicle stats.
The right side is used to display turn-by-turn navigation directions, audio information, phone information, and climate control settings. Each screen is controlled by their own five-way controller on the steering wheel that will feel like second nature if you've used a cell phone or portable device in the last 15 years. It's really that intuitive. So much so, that I found myself scrolling through options just because I was amazed at how easy it was. Accompanying all of this technology is an optional 12-speaker Sony surround sound audio system that makes any source sound like it's playing from a concert hall or DJ booth. The simulated surround-sound was fantastic, and even simple stereo mode was impressive. It also utilizes the latest and greatest audio technology that uses the lightest speakers and amplifiers possible to maximize fuel economy and performance as well as sound quality. Connecting devices was incredibly easy. Bluetooth was a snap with an on-screen guide under the phone menu, and connecting a USB device was a breeze with multiple inputs in the center console. There was also a power outlet on the side of the console next to the passenger that allowed you to charge your phone or laptop, and there was an accompanying small cubby underneath the dash to stow your device away from prying eyes, or to keep it secure when attacking twisties.

Performance
Nope, "attacking twisties" isn't a typo. The 2011 Edge offers a sport package that's reasonably sporty when compared to the rest of the segment. With revised styling, forged aluminum 22-inch wheels, tuned suspension, paddle shift controls for the transmission, and 305-horsepower 3.7-liter V6, the Edge Sport is a midsize crossover that's poised for spirited driving. Though it's no Mustang, I found quite a bit of body roll in turns and the 3.7-liter V6 was adequately peppy from a stop and perfectly adept at passing and merging on the highway. Equally impressive is its 18 mpg city and 25 mpg highway EPA rating.  At the end of the day, you buy the Sport for its aggressive styling, twenty-twos, and standard MyFord touch with Sony sound system. Sampling a mid-grade SEL model, the base 3.5-liter V6 with 285 horsepower wasn't much of a step-down from the Sport's 3.7-liter, as I once again found ample acceleration for passing and merging. Fuel economy is also slightly improved to 19 mpg city and 27 mpg highway. Cruising on the highway is a joy with not only ample cruising power, but also revised noise isolation improvements that make the Edge one of the quietest in the segment. The 18" wheels on the SEL look sharp, and contribute little-to-no road noise; however the 22" wheels on the Sport were a little more eager to speak their mind on the road. It's by no means annoying, but certainly noticeable.
The ride in the SEL was athletic, but nowhere near rough. Bumps were absorbed with a solid gratifying thud, but you barely feel anything inside the cabin. Even the sport-tuned Sport model was perfectly comfortable over rough pavement and on the highway, only just a tad more stiff. Steering was fine in both, though feedback was minimal; it was precise and made navigating a simple task. In all, the 2011 Edge addresses the minor issues with the previous vehicle, while introducing bleeding-edge (no pun intended) technology, and unmatched comfort and refinement. The midsize crossover segment continues to grow, and with vehicles like the new Edge, the bar continues to be set higher and higher. Considering it's $27,220 starting price and the features that come with it, the 2011 Ford Edge is truly at the leading edge of technology, comfort and value.