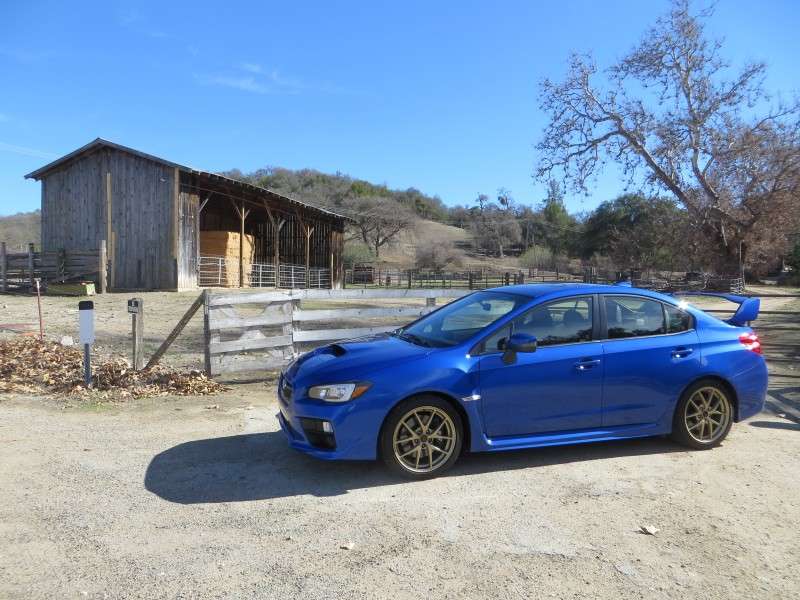 STI.  Three little letters that can make such a difference for fans of one of the world's smallest, but most dynamic car companies.  Subaru Technica International's reputation for breeding race-ready excellence was well established in the trenches of the World Rally Championship, and while the automaker might have moved on to new motorsports endeavors, appending STI to the name of one of its most impressive vehicles – the Subaru WRX – is still enough to whip compact car enthusiasts into a virtual frenzy.
The long-awaited 2015 Subaru WRX STI now rolls among us, having debuted at the Detroit Auto Show a few months after its more civilized sibling (the vastly-improved WRX) made a splash in Los Angeles.  It's been an interesting period for the Japanese brand, which has pour substantial development dollars into honing its sports sedan into a far more effective road-going weapon than ever before, while enduring questions about the decision to eliminate the hatchback body style (which enjoyed only a 30-percent take rate amongst STI buyers) retain the previous model's drivetrain (almost completely intact), and subdue the STI's typically bombastic styling (it's, well, rounder).
Controversy only erupts when passions are ignited, and the good news for loyal customers is that the 2015 Subaru WRX STI is deserving of every iota of their sturm und drang.  After pushing the car to it's limit – or maybe, my limit – at Laguna Seca raceway in California, and subsequently hustling it along the divinely twisted roads that ensnare the Monterey peninsula, I can confidently state that there is no disappointment to be had from behind the wheel of this ultra-capable machine.
It's What You Can't See That Matters
Vast amounts of Internet ink have already been spilled decrying the 2015 Subaru WRX STI's less-extroverted styling, so I'm going to skip any attempt to convert non-believers in the new visual language and drive straight into what matters most about the new model: its chassis.  Like the WRX, the WRX STI rides on a platform that has been dramatically redesigned in order to better separate the car not just from the Impreza sedan on which it is based, but also the previous generation of the STI itself.
How was this accomplished?  Already known for building some of the safest cars in the industry, Subaru turned its high-tensile steel expertise to the parts of the car that are intended to remain as stiff as possible during max-load cornering.  The WRX STI offers torsional rigidity that is 30% better than that of last year's model, and lateral stiffness up front is 14% stiffer than the year before.  The front stabilizer bar goes from 21 mm to 24 mm, while the rear bar has thickened by 1 m to 20 mm in diameter, leading to a welcome 24% increase in overall roll stiffness.
Steering feel has also been improved, as front torsion bars are 125% stiffer along with gearbox mounting bushings that are a whopping 400% more rigid than in 2014.  A quicker ratio of 13:1 ensures more sprightly response to driver inputs (and out-duels the base WRX's 14.5:1 ratio), and a new torque vectoring system that uses the car's front brakes to rotate the car more effectively makes a marked difference on turn-in.  In fact, Subaru has benchmarked the WRX STI as eclipsing the BRZ sports coupe in that particular metric.  Brakes are also larger for the STI than for the WRX (13-inch Brembos up front, and vented at all four corners).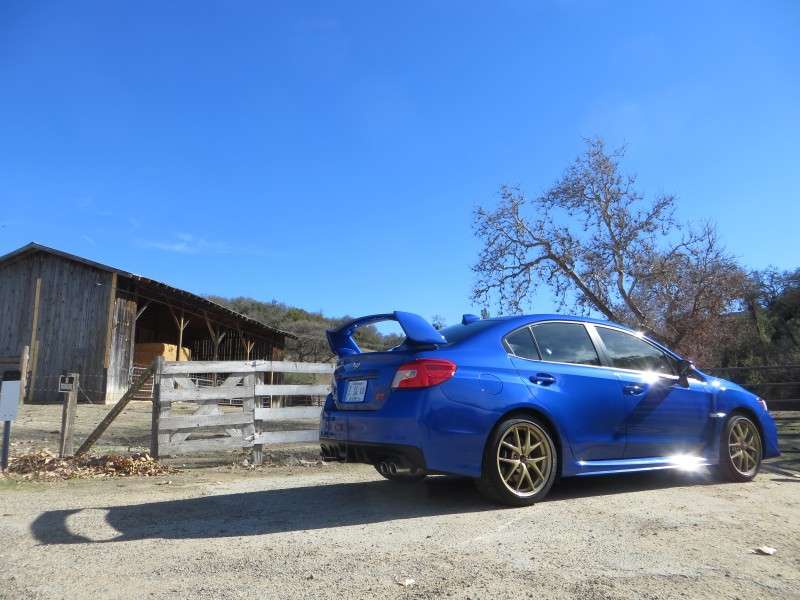 DCCD All-Wheel Drive Still Plays A Starring Role
Of course, the 2015 Subaru WRX STI's handling prowess is further enhanced by the most sophisticated all-wheel drive system available from the company.  The Driver Controlled Center Differential (DCCD) all-wheel drive provides a controller on the center console that allows owners to dictate how much torque is shuttled to the front and rear axles.  When set to Auto the split is normally kept at 41:59 (unless wheel spin is detected), while Auto – allows for the rear axle to snag more power (and for longer) in order to enhance steering feel.  There's also Auto +, which is designed to improve traction in very slippery conditions, as well as a full manual control option that features six distinct center differential settings with which to fine tune torque distribution.  Working in concert with DCCD for 2015 is a more sophisticated traction and stability control system that offers Track and Off settings in order to back down the car's electronic nannies when it's time to turn in some lap times.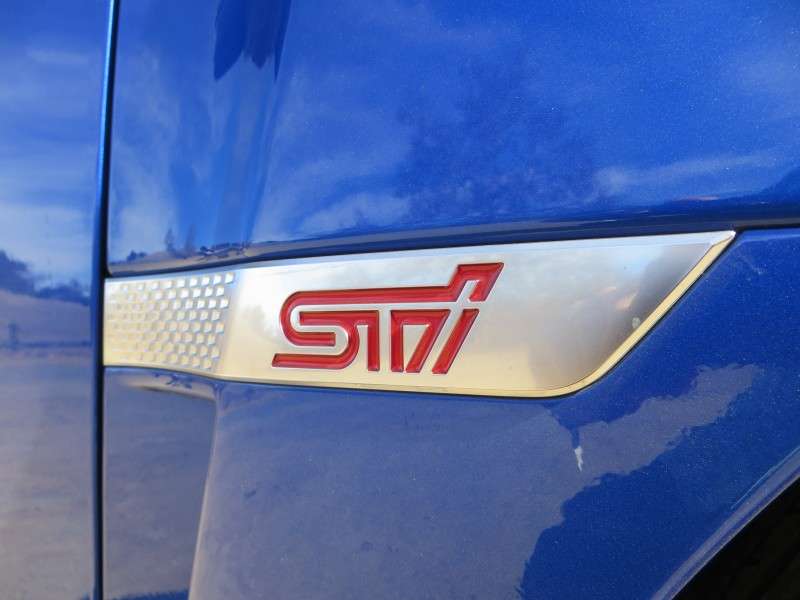 Carry-Over EJ25 Engine Defines WRX STI's Character
One of the biggest surprises at the public debut of the 2015 Subaru WRX STI was the revelation that the model was keeping the 2014 edition's 2.5-liter, turbocharged four-cylinder boxer engine rather than moving to a retuned edition of the standard WRX's all-new 2.0-liter turbo mill. The direct-injected WRX motor seemed like a no-brainer for the STI given its more modern design and the fact that it's found under the hood of the Japanese-market version of the super sedan.
Why did the venerable, if aged, EJ25 get the nod for 2015?  Subaru claims that it wouldn't be possible to tune the WRX's smaller motor to produce the power and torque (305 horses and 290 lb-ft) that American buyers are used to.  I'm not sure I completely buy into that argument, and I think we'll eventually see a 2.0-liter STI in the U.S. in a couple of years time (once sufficient funding has been earmarked for the transplant).  Subaru has managed to reprogram the car's ECU to offer better throttle response, and it's worth noting that the six-speed manual transmission that comes standard with the STI is a heavier-duty unit than the one that is now offered by the standard WRX.  SI-Drive also remains on-hand to offer Sport and Sport # (pronounced 'sharp) modes to further sharpen right foot response.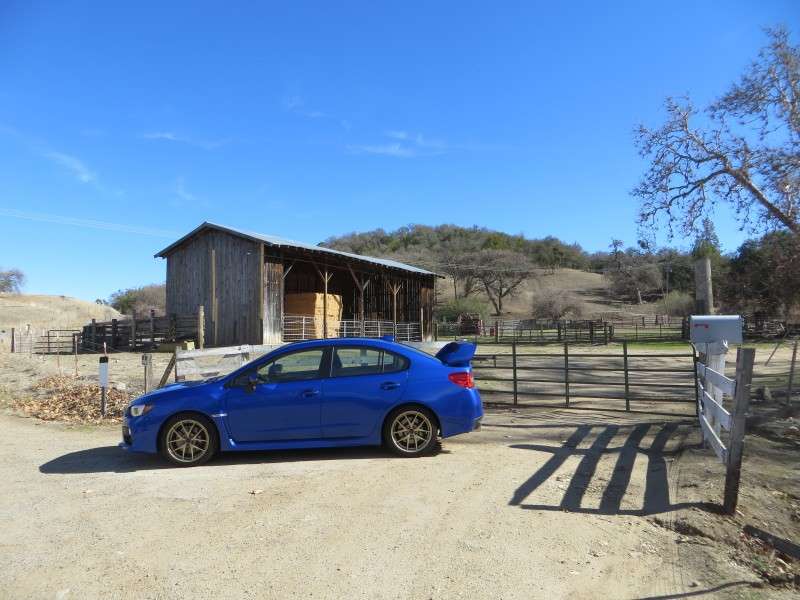 Greater Than The Sum Of Its Parts
Similar power and weight as compared to the now-departed version of the sedan would seem to indicate that the 2015 Subaru WRX STI would be treading water in terms of overall performance.  This is simply not so.  On the challenging asphalt of Laguna Seca raceway, it quickly became apparent to me that the STI's fresh chassis had elevated the vehicle head and shoulders above any previous iteration of the car.  For the first time in a Subaru, I could feel the all-wheel drive system and front suspension involving me in a continuous conversation with tarmac as it screamed by underneath the floorboards, rather than imposing a numb, understeer-laden worldview that brooked no dissent.  The center differential's willingness to keep torque to the rear of the car when set to Auto – not only lightened the car's steering, but it also enabled the WRX STI to rotate more freely and accelerate with greater confidence out of a corner.
The car's 2.5-liter motor also demonstrated that Subaru's faith in its ability to soldier onward alongside the new chassis was not at all misplaced.  14.7 psi of turbo boost came on smoothly above 3,000 rpm, which was much appreciated on a track like Laguna Seca where the opportunities to idle the motor below that point were few and far between.  In the real world, where the majority of WRX STI owners will find themselves wrangling their way through the sedan's six forward cogs, the power band feels wide and generous, enabling easy passing in fourth gear along with relatively drone-free cruising in top gear.  That distinctive off-throttle 'whump' of the boxer engine is now complemented by an engine wail that has been sweetened by way of a pipe that brings a mechanical symphony through the firewall just before boost kicks in (and fortunately, there's no electronic trickery in there – just valving that cancels out harsher frequencies).
Last year's STI featured a chassis that was notoriously better at parsing the parameters of a road course than soothing the shudder of uneven pavement, making it a dubious choice as a commuter car.  It's worth nothing that the 2015 Subaru WRX STI goes a long way towards improving the sedan's on-road manners, reducing the harshness associated with its stiffer springs (as compared to the standard WRX) and proving itself a comfortable companion even on longer drives featuring mixed pavement conditions.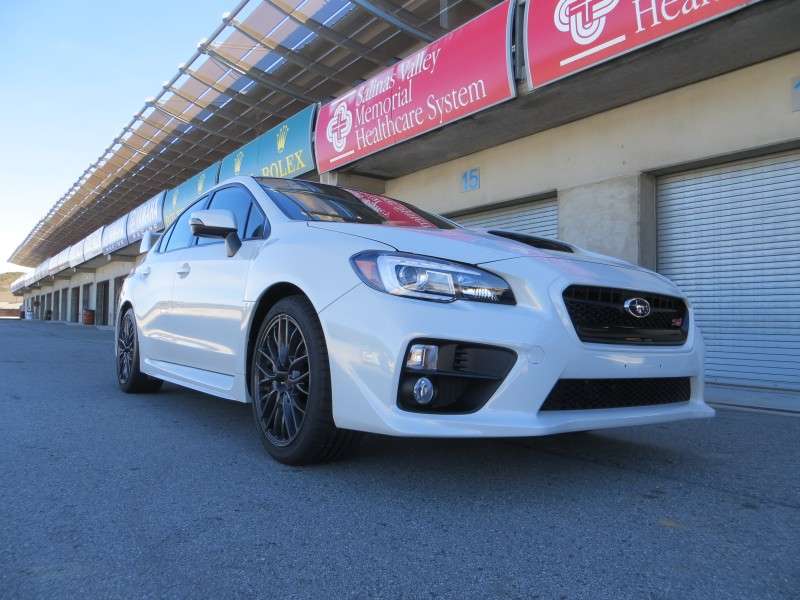 The Most Mature STI
The 2015 Subaru WRX STI follows in the footsteps of the base WRX as proof that even the most truculent hooligans eventually grow up.  The WRX STI might not be ready to take out a mortgage and settle down with 2.5 kids, but in terms of its ability to balance the daily grind with its on-track obligations, it's an engineering triumph for Subaru.  The car's less spartan interior accommodations, increased passenger room, and genuine effort to at least mix form with function in terms of its control surfaces and materials are also a major plus for the sedan.  Collector's take note: if you want gold BBS rims on your STI, you'll have to snag one of the 1,000 Launch Edition models (which also come with numerous other goodies, such as a short shifter and unique trim), as they'll be the only examples to feature this iconic trademark.
Mixing the new with the tested and true has proven a successful strategy for the 2015 Subaru WRX STI, and there's one more area where this shines through: pricing.  For 2015, the WRX STI will sticker for exactly the same amount that it did in 2014 - $34,495 – which is an impressive achievement for such an improved automobile.  It's a screaming deal on a car that will elicit similar vocalizations from your passengers on any appropriately entertaining back road.